My Shopping Tour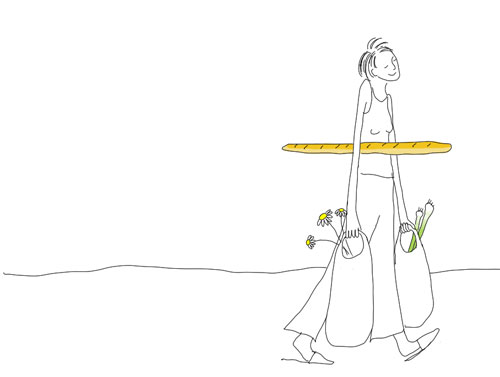 I have always enjoyed food shopping. When I lived in Malmö, Sweden I always biked to Möllevångstorget, which is a multi-cultural market in the center of town. If you ever go to Malmö, it's really worthwhile visiting this colorful and lively place. In the East Village, I am so happy that small specialty food shops still exist. Listed below are food shops I visit regularly.

Porto Rico Importing Co.
This coffee shop has a great selection of coffee beans from all over the world. The smell of coffee is very intense; you can even smell the coffee several feet away from the store. We nearly always buy the organic shade grown Mexican espresso beans. They also have a good selection of tea.
Located at 40 ½ St. Marks Place (and they have other locations in Manhattan)

Farmers Market
Here you can get vegetables, fruit, mushrooms, fresh herbs, meat, fish, dairy, eggs, honey and plants from farmers in the region of New York. Great fun if it's not too crowded.
Farmers markets I go to are on Union Square and Tompkins Square (East 7 street and Avenue A). More locations and opening hours, go here.

East Village Cheese Shop
This shop has a huge selection of discount cheeses. They also sell other culinary items such as herring, pickled gherkins, olives, pasta, olive oil, marmalades, mustards, foreign cookies and crackers, halva, bread etc. I nearly always have the French feta, nicoise olives, forest ham, herring in wine, some blue cheese, manchego, parmesan….
Located at 40 3rd Avenue, just above Cooper Union.
Commodities Natural Market
Commodities sell several organic items such as flour, sucanut, serials, nuts, rice, pasta, spices etc all by weight. They also have a great selection of organic vegetables, dairy, oils, washing liquids, soaps and natural medicines etc.
Located at 165 1st Avenue between 10 and 11th Street.
Russo's Mozzarella and Pasta
For mozzarella, pasta and sausages I go to Russo's on 344 east 11th Street. I think this is the last authentic Italian shop in East Village (strangely enough run by Mexicans!).
Discovery Wines
Discovery Wines has a wide selection of wines from all over the world. It's great fun to visit this shop and they arrange wine tastings nearly every day. The staff is very knowledgeable about wine and is very helpful with recommending wine for all kinds of food, even if it's only for potatoe pancakes. They have never disappointed me! Also open on Sundays!
Located at Avenue A, between Houston and 2nd Street
Tinto Fino
If you are into or curious about Spanish wines you should go to Tinto Fino @ 85 First Avenue, btw 5th and 6th Street. This tiny wine shop have a great selection of wines from several different regions in Spain. They also have great wine tastings…
Essex Street Market
This indoor market has been around since the 1930s. Here you can find good quality vegetables for a low prize (organic is rare), meat, seafood, both local and international cheeses, bread and much more. In the market you will also find lots and lots of Latin American specialties. It's worth a visit!
Located on Essex Street just above Delancey Street.
4th Street Food Coop
Since 1973 4th Street Food Coop has been running a  mostly-organic health food store. This little store is run by its members, who get discount in the store. Like Commodities, they sell many items by the pound. You can also buy tamari, agave and sesame oil by the cup.