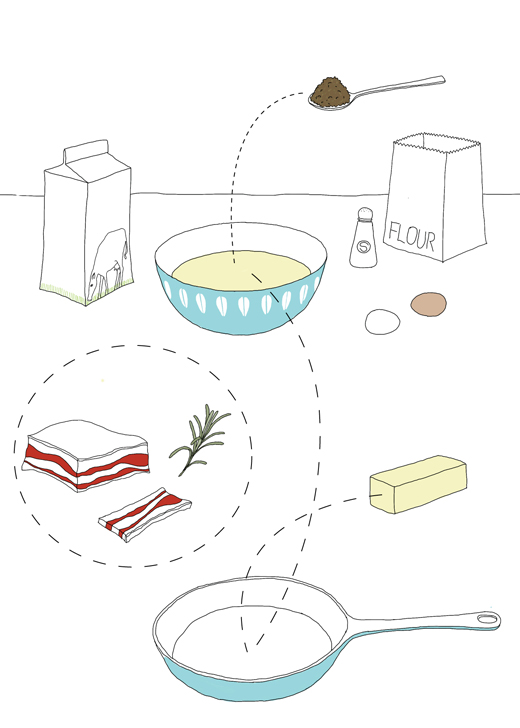 Äggakaga (Eggy Cake) is a South Swedish thick pancake that's baked on top of the stove. This cake is rich in eggs and baked with plenty of butter and pork fat (not for a slim diet). Its creamy and hearty and fills the stomach with pleasure and warmth. Traditionally the cake is served for both lunch or dinner with plenty of smoked bacon and lingonberry jam. As a lunch it will give you strength for a hard day's work. For dinner it gives you comfort and a good night's sleep. It will also be enjoyable as a brunch served with ale instead of mimosas.
My version is made with an addition of fresh rosemary and brown sugar is used instead of regular white sugar. The rosemary works really well with smoked bacon and adds a nice touch to this old traditional dish.
Äggakaga with Rosemary 
for 2 servings
4 eggs
1 2/3 cup (400 ml) milk
¾ cup (175 ml) regular flour
1 ½ tablespoon brown sugar
1 teaspoon salt
plenty of butter for frying
½ lb (250 g) smoked bacon, sliced
2 sprigs fresh rosemary, chopped
Crack the eggs in a bowl and whisk them together with the milk. Add salt and sugar. Sift the flour into the batter little by little to avoid lumps. The mixture is done when all is well mixed and has become a smooth batter. Let it rest on the counter while you fry the smoked bacon. Add the rosemary to the bacon when its almost done. Set the bacon aside and reserve the fat, as that will be use when cooking the pancake.
The pancake should be about 1- 1 ½" thick so a regular frying pan (about 10″-11″ wide) that can fit the whole batter will work perfectly. Heat up the pan  and melt a large lump of butter. Lower the heat to medium and pour in the batter. With a spatula, scrape the bottom and move the firm batter into the middle of the pan to prevent the mixture being burnt. Continue until all batter is firm. Turn the cake by covering the pan with a plate before turning. Add some more butter if necessary before sliding the cake onto the pan again, raise the temperature slightly and cook until the cake has browned underneath. Turn one more time. This time add the bacon fat before sliding the cake onto the pan. The cake is done when it's golden brown on both sides.
Top the cake with the fried Rosemary bacon and enjoy with lingonberry (or cranberry jam). Best served with either milk or beer.
This recipe was first published at Honest Cooking, 26 January 2012.