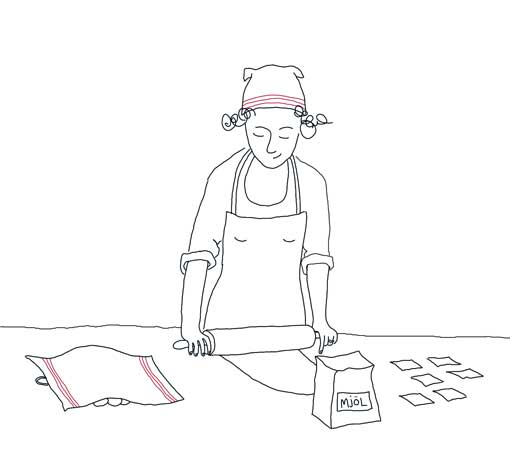 I just celebrated a big thing in both M's and my life with a mingling and eating party in our garden. One of the treats was my own version of Alice's Knäckebröd. I made them into crackers and added rosemary and sea salt. We served them with my Elderflower Gravlax, but they are just as good as snacks! We also discovered that they were excellent with Västerbotten Ost (one of the best cheeses in Sweden) topped with fig marmalade.
(for many many crisp breads)
first
25 grams fresh yeast
1 tablespoon honey
200 ml (almost 1 cup) yogurt
400 ml (1 2/3 cup) water
600 ml (2 ½ cup) rye flour
about 600 ml (2 ½ cup) all-purpose flour
and later
100-200 ml ( ½ – 1 cup) all-purpose flour for rolling the breads
about 2 tablespoons caraway seeds
dried Rosemary
flaky sea salt
Warm the yogurt with the water to 37°C (100°F). Dissolve the yeast in some of the warm yogurt mixture. Add the rest of the liquid and blend in honey, rye and all-purpose flour. The dough will be quite sticky. Cover the bowl and keep at room temperature in a non-drafty area overnight or for at least 6 hours.
Roast the caraway seeds in a dry pan and crush them finely in a mortar. When the dough is ready,  work in the all-purpose flour. Continue to work the dough on  the countertop until the dough is smooth. Preheat the oven to 200°C (400°F).
Divide the dough into 15-20 equal parts. With your fingers crush some rosemary and flaky sea salt into each part and roll them into balls. Use a rolling pin and some all-purpose flour to roll out every ball of dough very thinly. Using a cookie cutter or a sharp knife, cut into approximately 5 cm (2 inch) shapes. Place as many as you can fit on a greased baking tin. Bake the crackers for about 5-10 minutes in the middle of the oven. Depending on your oven you may have to turn them around to get nice all around color. When finished let the breads cool on an oven rack or a clean table. Keep the crackers in sealed containers.