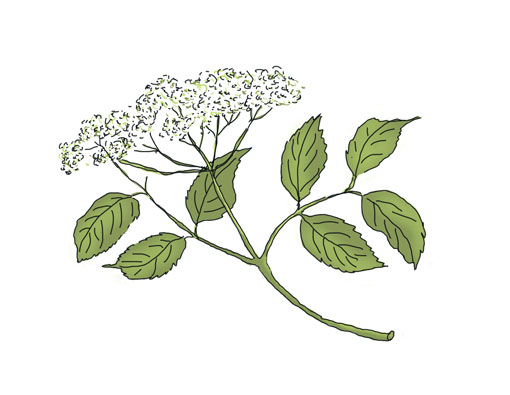 I know I just shared another gravlax recipe, but I can't help myself. This Elderflower flavored Gravlax on homemade "knäckebröd", topped with my dear friend Ingela's Lemon Sauce was an absolutely fabulous start to our Midsummer party! (Its the season for elderflower here in Sweden, at least in my neighbor's horse-field.)
for the salmon
1 kilo (2 lb) salmon fillet
1 teaspoon crushed pepper
4 tablespoons salt
4 tablespoons sugar
8-10 clusters of elderflower
The salmon should be frozen at least 24 hours before you start (just in case there are parasites in the fish). Clean the salmon fillets of any bones but keep the skin. Wash the elder flowers and separate the tiny flowers from the stalk by using a fork or a pair of scissors. Mix together the salt, pepper and sugar. Rub the fillet with some of the mixture. Divide the rest of the mixture on top and add the cleaned elderflower. If you have two fillets, place them together, meat against meat with flowers in between. Place the fillet in a plastic freezer bag and close it carefully. Let the fillets rest in the fridge for 2 days and turn them now and again. (Thinner fillets can be done in 24 hours but thicker pieces need 48 hours to be ready to serve).
After 2 days, unwrap and clean the fillets. Start to slice the gravlax into thin diagonal slivers using a fillet knife (or any other sharp knife that you have in hand) starting at the small end of the fish. Gravlax can be stored in the fridge for nearly a week or longer in the freezer.
As a starter for my midsummer party I used about half of the fish, we were 7.
Ingela's Lemon Sauce

At midsummer's eve I asked Ingela (who is an excellent home chef) if she would like to make the sauce for the gravlax . I thought that a traditional mustard sauce might be too strong. Ingela agreed and did something like this…
first step
one teaspoon brown mustard seeds
4 whole black peppercorns
some salt
one tablespoon honey
fresh-cut oregano or other herb that gives character and freshness to the dressing
Crush mustard seeds, peppercorns and salt in a mortar. Stir in honey and the freshly cut oregano. Set aside.
mayonnaise
one egg yolk
1-2 teaspoons of a good white vinegar
50-100 ml (¼-½ cup)  rapeseed oil or other neutral oil
Whip the egg and at the same time drip the oil drop by drop into the egg mixture.
Now you have a mayonnaise…
and here is the ending twist…
Blend together the honey mustard mixture to the mayonnaise. Add some Greek yogurt, sour cream or cream fresh and season with lemon and maybe some salt and pepper.
Depending on what you are going to serve the sauce with, Ingela suggests that you can reduce the honey and instead use a small amount of Elderflower cordial or even Apple juice to create a fruitier sweetness.