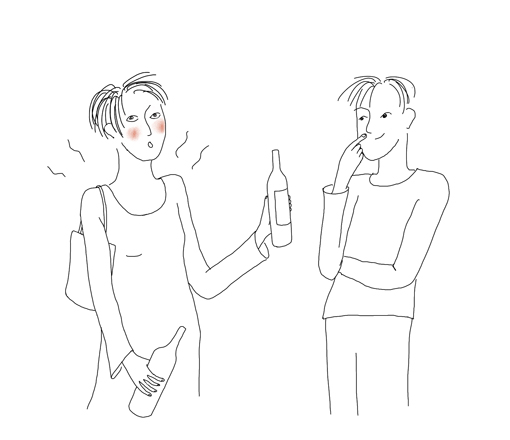 In the middle of cooking I realized that white wine wouldn't be the best for this meal. I turned off the heat and ran down to the wine shop asking for an earthy and hearty red for my lamb stew with anchovies. We started to discuss different options when the wine guy suddenly asked me if I had already started cooking. Until then I hadn't realized that my clothes had a very strong smell of cooking!
for the stew
1 lb lamb (shoulder or any other piece with bone)
2-4 gloves of garlic
red chilies, fresh or dried
3-5 anchovies
1 big onion
rosemary (dried or fresh)
some warm stock (I used my own stock made from lamb bones )
butter
for the stock
bones and the parts you don't want to be in the stew
2-3 garlic, chopped
chili, fresh or dried, chopped
bay leaves
herbs (rosemary,thyme or sage)
half an onion
whole pepper corns
salt
Trim any excess fat and bones from the meat. Cut the rest of the meat into mouth size cubes. You will only use the bones and the fat for the stock. Keep the rest of the meat cool for later.
It's a little hard for me to describe how I make a stock as it always end up different. Its really depends on what I have at home. Sometimes I add carrots, parsnips, dried and soaked shiitake mushrooms, dill or wine, etc etc. So what I will describe here is my basic recipe…
To make the stock, start by heating up a pan with olive oil. On high heat sauté the bones with chili, chopped garlic and onion. Sprinkle herbs before covering with water. Add salt, pepper and bay leaves. Bring to boil on high heat, then reduce heat and cover partially. Let it simmer for about an hour until the stock is reduced and flavorful. Strain stock into a bowl. Keep warm for use in the stew, otherwise cool and store in a refrigerator.
Now its time to make the stew. Heat up a sauté pan with some butter and sauté the lamb cubes on high heat on all sides for about 3-5 minutes. Lower the heat and start feeding the meat with chopped garlic, chili, anchovies and rosemary. The anchovies will melt completely in the pan and give the meat and sauce an excellent taste. Spoon over some warm stock now and again. The meat should not be bathing in stock, just make sure it never gets too dry.
Chop the onion into rings. In a separate pan, sauté the onions in butter (I use a lot) on very low heat until soft. Put aside.
When the lamb is ready (between1-2 hours) feed with more garlic and rosemary and add the onions and the rest of the stock. If necessary season with salt and pepper. (This is also a good time to let the stew rest while you go get the wine.) Before serving, let it cook for about 5 minutes. I normally serve the stew together with sautéed collard greens, baked potatoes and parsnips (and of course with a matching red wine).