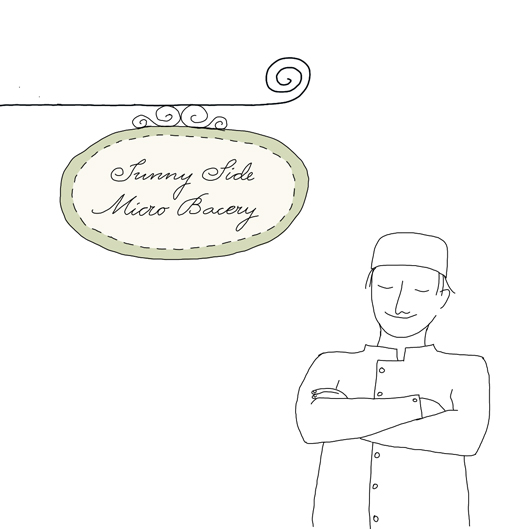 Let me present my next guest blogger here on kokblog: Jeremy Shapiro, a professional chef and incredible baker. For over 20 years Jeremy has been cooking in top kitchens in New York City and beyond. Today he is the head chef  in a super secret private club in New York where he lures customers with endless sweets and savory treats.
Jeremy is also creator and editor of  Stir the Pot, a food blog that he started in 2005. If you visit his site you will soon discover that bread is a major subject. Jeremy explores different kinds of baking methods as well as flour and grain types. He bakes both sweet and savory, including croissants, fruit tarts, rustic rye breads, pizza, baguettes, bagels, loaves and breads with airy crumbs & crispy crusts. This summer Jeremy started a Micro Bakery in his apartment kitchen (just bigger than a bread box according to him). I'm impressed by his energy; he seems to be active, baking and cooking 24 hours per day.
Jeremy also interviews people in the food world that he finds interesting, from professional chefs to home cooks like myself (ahem), including Ibán Yarza who has previously appeared here on kokblog as a guest blogger. He has also connected with Sandor Ellix Katz, Anthony Bourdain, Dan Lepard and many many more. I really recommend listening to his interviews, or just reading through the list of names. It's a great and unusual recourse of inspiration.
Pide
by Jeremy Shapiro
While on my visits in Istanbul cooking for my friend in her restaurant, I would daily pass a pide restaurant. Though I never tried from this specific place, I was able to try some from a young knowledgeable baker employed by my friend. He'd show his amazing hand skills with dough's supple and see through like durum, not the flour of the same name, but the roll up wrap style sandwich bread a common street food in Turkey. When I returned to NYC, I'd often yearn a good pide with suçuk or sujuk, a spicy sausage that can be ground or sliced to accompany a canoe shaped pide, filled with cheese, tomatoes, eggs. When I finally sourced an amazing Montenegro butchers suçuk I was in business. As well as playing with this dough for different guises, like a lamacjun or a Ramadan flat bread.
It's a bit tricky to make pide with sourdough, so an easy and quick yeast dough is just as good.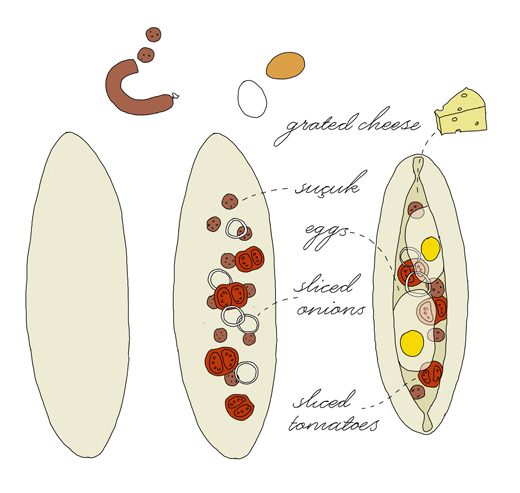 Pide Recipe
500 grams flour (all purpose is fine)
15grams salt
12 grams yeast
25 grams sugar
300grams water
You could approach this basically like any straight dough, mix all the ingredients and bulk ferment till doubled. Then divide and shape according to your desired need. For a pide, or pizza you could take say 80g-100g of dough, roll it out with a rolling pin, or press your hands to flatten the dough oblong about 10 to 12 inches long. Keeping the ends pointy and the sides about 6 inches wide.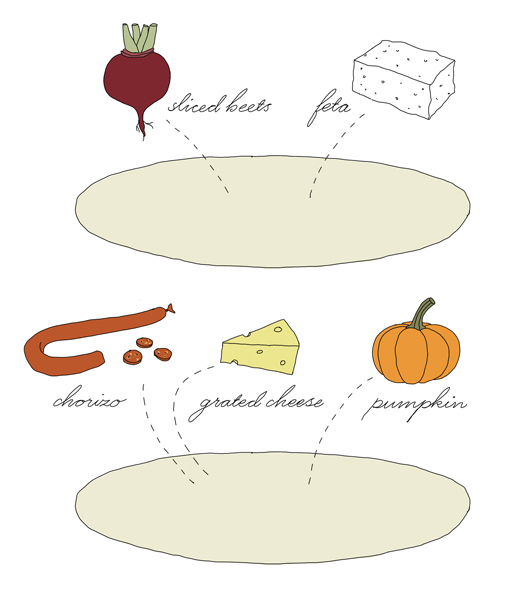 The choice of fillings can be anything, think local if you can, and seasonal… Though I love cheese, onion, tomatoes and egg, and yes, suçuk, that may not be a possibility to find those items. Some nice choices, beet tops and feta, or chorizo with pumpkin?
•••
more about Jeremy:
Bread Inspiration from a Master Baker – zen can cook meeting Jeremy Shapiro
You can also follow Jeremy and his work on twitter, @stirthepots