A couple of weeks ago I was contacted by Sharon Hunt who wanted to contribute a guest post here on Kokblog. I was flattered and happy she chose to post about the Newfoundland specialty, Toutons, which I had never heard of. Sharon Hunt is a freelance writer in Canada. Her food writing has appeared in Edible Toronto, Shambhala Sun, and in Gastronomica.  Sharon also works for the Stratford Chefs School in Stratford, Ontario, which is one of Canada's premier culinary training institutes.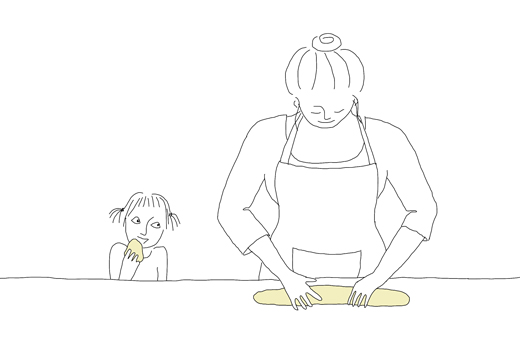 Eating Toutons by Sharon Hunt
Mom Skanes – my maternal grandmother – was proud of two things, her long, dark hair that she braided and wound around her head like a bee hive, and her skill as a baker.
She could bake anything, but what she made best was bread. It had a perfect crust, a perfect crumb, and it never lasted long so she made it almost every day, until my grandfather died.
Mom Skanes had plenty of practice perfecting her bread making skills since she started at four, when she climbed onto a stool by the kitchen counter, and punched and kneaded dough with her tiny fists. Coming from a family of twelve children, there was no time for a carefree childhood. Everyone contributed to the family's survival and being a girl in the early years of the twentieth century meant her contribution was in the kitchen.
In her own kitchen she had a huge oil stove with two ovens, six burners and a warming compartment; the stove was always humming with activity. When I slept over on a Friday night I couldn't wait to run downstairs Saturday morning and sit with my feet wrapped in a towel and propped on an oven door, while she made cocoa and sometimes … oh please, yes, yes, toutons.
Toutons are white bread dough that is fried and served like pancakes.  Mom Skanes would slice off pieces of dough, let me shape them, and then she fried the toutons until each side had a gentle, golden hue.
Having risen as they fried, they were hot and light, crispy outside, and soft but not doughy inside.  The aroma of hot bread and melted butter was intoxicating, and with my first bite the crust cracked and heat filled my mouth. I started to laugh; so did my grandmother. When I was finished, I licked my fingers, the only time she let me do that. Sharing toutons with her on those quiet, early mornings are among my best memories of time spent with my grandmother.
Toutons were originally made using left-over scraps of bread dough, but they became so popular that bread dough was made just for toutons. Here is a half recipe of Mom Skanes' white bread dough so you can try toutons for yourself.
white bread (for toutons)
1 package of dry yeast
½ cup (120 ml) lukewarm water
1 teaspoon white sugar
½ cup (120 ml) whole milk
½ cup (120 ml) cold water
1 tablespoon white sugar
2 teaspoons salt
2 tablespoons butter
4 ½ cups (1.5 liter) sifted all purpose white flour
Dissolve 1 teaspoon of sugar in ½ cup of lukewarm water; sprinkle yeast over the water and let stand for 10 minutes. Combine milk, cold water, 1 tablespoon of sugar, salt and butter in a saucepan; heat to scalding point, then remove from the heat and cool until the liquid is lukewarm. Stir the yeast mixture and add it to the lukewarm liquid. Place sifted flour in a large bowl and make a well in the center. Add the liquid and mix into a stiff dough. (Another ½ cup of flour can be added if necessary.) Turn the dough onto a floured surface and knead for 10 minutes. Form into a ball. Place the dough in a greased bowl; grease the top, cover the dough and let it rise in a warm place until doubled in bulk (1 ½ hours). Punch down, and divide the dough in half. (Because each half will make 6 to 8 medium sized toutons you can freeze one half of the dough for another time.)
Cut the dough into equal-sized pieces, form into balls and then flatten into pancakes. Heat butter in a heavy frying pan, add toutons and cook on medium heat until each side is golden and a knife piercing the center shows the dough cooked inside (about 10-12 minutes). Sprinkle with salt and enjoy (caution, they are hot).