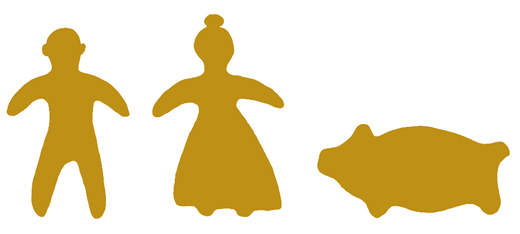 My memories of making gingerbread cookies (pepparkakor) are limited to my childhood when my sister and I rolled out dough and cutout shapes like the classic gingerbread men, women and pigs. It was fun for awhile, but our efforts only used up half the dough before my mother took over and cut out about 100 more. There were always too many gingerbread cookies in the house, no one seemed to eat them so they often lasted until Easter. At which point my mother had enough and fed them to the birds.
My mother's cooking has always been a great inspiration but I'm afraid to say that gingerbread cookies isn't one of them. So I decided to asked Anna Brones to join me in a gingerbread post. While creating the article together, I realized what my mother's dough was missing. Anna (and her mother) always doubled the spices!
Read Anna's gingerbread story at EcoSalon.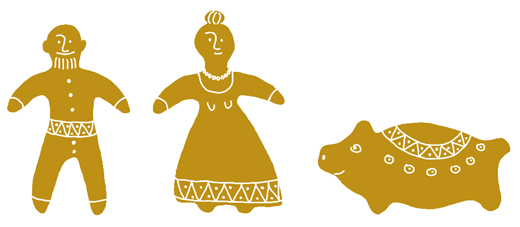 Anna's Pepparkakor (Gingerbread Cookies)
(about 75-100 cookies)
¼ cup (50 ml) heavy cream
2/3 cup (150 ml) light syrup* or molasses
almost 1 cup (160g) sugar
3 ½ oz (100g) butter
1 tablespoon ground ginger
1 tablespoon ground cloves
1 teaspoon ground cinnamon
1 tablespoon ground cardamom
1 teaspoon baking soda
3 cups (420g) flour (+ some for the rolling out)
Melt the butter and the syrup on low heat. Let cool before adding the other ingredients. Work the dough well. It's important that the spices are freshly milled. Let the dough rest overnight in a cool place so the spices have time to fully develop their aromas. The resting will also make it easier to roll out the dough.
Roll out the dough and cut out shapes with gingerbread cutters. Bake in the oven at 375ºF (190ºC) for about 6-8 minutes. Keep an eye on them as they burn easily.
This dough can also be used for a gingerbread house. Just roll it out slightly thicker. Have fun!
This recipe is a modification of the original at the Swedish shop Svensk Hemslöjd in Stockholm.
*You can buy light Syrup (ljus sirap) at Ikea. You can also use "Lyle's Golden Syrup" that you can find in British food stores.
*
Anna's Franska Pepparkakor (French Gingerbread Cookies)
1 cup (almost 250 ml) almonds, chopped
7 oz (200 g) butter
1/2 cup (100g) sugar
1/2 cup (120 ml) molasses
4 tsp ginger
4 tsp cinnamon
4 tsp ground nutmeg
4 tsp cardamom
2 tsp allspice
1 tsp black pepper
1 tsp baking soda
3 cups (420g) flour
Cream butter, sugar and molasses.
Mix dry ingredients with almonds, then combine with butter, sugar and molasses. Knead together with your hands.
Roll dough into cylinders, about 12 inches long and wrap in wax paper. Refrigerate for 30 minutes.
Cut dough into 1/4 inch slices. Bake at 380 for 10-12 minutes.
This recipe is adapted from the Swedish classic: "Sju sorters kakor."
*
Other Swedish baked classics
Semlor – cardamom rich bun is filled with almond paste and heavy whipped cream
Kanelbullar – Swedish Cinnamon Bun
Lussebullar – Saffron Buns
Mazariner – Guest post by Anna Brones