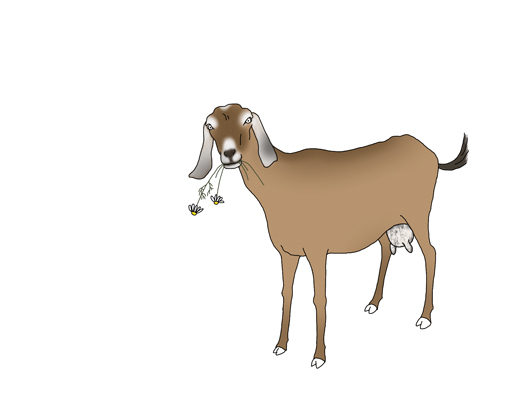 A couple of posts back I had Tenaya Darlington, aka Madame Fromage, as a guest here on the blog. She wrote a beautiful and fun post about How to Turn Your Desk Into a Cheese Board. We enjoyed working together and decided to continue with a series that will highlight great dairy and pairings for each season. For our first seasonal post: what can be better in life than Spring, flowers and goat cheese?
Your Spring Goat Cheese Primer
By Madame Fromage
Along with daffodils and Easter bonnets, spring is the season of great goat cheeses. They appear like ice-white confections at cheese counters across the U.S. and in Europe, where they are often spectacularly cloaked in petals, pink peppercorns, or green herbs.
Some of the most sought-after specimen look like pug puppies, with ashy coloring and heavy wrinkles. Don't be afraid. Most of these come from the Loire Valley, the seat of sweet, tender goat cheese that the whole world admires. In Paris, pairing one of these gems with a glass of Sancerre or rosé is a rite of passage.
The taste of Paris in spring can be yours, too, if you know how to identify superb fresh goat cheese (it should taste balanced, never sour) and what to serve with it. If you want to be clever, you can tell your friends why fresh goat cheese enjoys it's fashion season in spring: it has to do with wee shoots and wildflowers.
The first meadow greenery is essentially extra-virgin grass, and when those lady goats enjoy their first romps'n nibbles, they produce milk that is sweetly delicate, even herbaceous. This makes the finest cheese.
Oh, bliss! Here are a few of my spring favorites…
Five Must-Try Goat Cheeses
The best place to shop is a reputable cheese counter. Remember, darlings, buying nice cheese is like buying diamonds — if you go bargain hunting, you won't get the Tiffany-blue box. Avoid shrink-wrapped logs that are mass-manufactured. They're fine for crumbling onto salads but, trust me, they will not induce reverie.

Selles-sur-Cher
This ash-coated round the size of your palm should resemble a very large Girl Scout Thin Mint. Selles-sur-Cher (pronounced sell-sur-SHARE)  is Loire Valley goat cheese at its best. Mild and very fresh, it has the consistency of damp earth. After several weeks of proper ripening, it becomes oozy around the edges and a little more pungent. Serve with rosé and anything raspberry. I love to eat it for breakfast with raspberry jam.

Caprino Fiorito
If you spy a little muffin topper from Piedmont rolled in petals – often chamomile blossoms – nab it before anyone else does. Great goat cheese starts with great milk, and the pastures of Piedmont produce lovely chèvre that tastes as pretty as it looks. Pour a glass of Prosecco, and enjoy Caprino Fiorito without any trappings, preferably after a long bath. It's basically a cheese bath bomb; it will fill you with warmth, ease, and delight.

Saint Maure
You simply can't miss this silvery log because it has a shaft of wheat running through its center. It's really the Prada bag of goat cheeses, gorgeous and functional. The reed stabilizes the cheese and creates a little air tunnel so that the center won't be mushy. Expect a light, dry texture, and a slightly flinty taste. This is a pretty cheese to drizzle with honey as you sip Sancerre over a plate of sliced Asian pear. Watch a French weepy, and call it your spring cleanse.

Clochette
Beautiful Clochette is bell-shaped (no surprise: the name means "little bell"), making it a perfect selection for Sunday brunch or an engagement party. Some refer to the rind as "wrinkly," while others prefer to call it "textured." Either way, don't be afraid of the fleecy surface. It's delicate and supple, a lovely contrast to the dense, damp center which is as rich as night cream. Pair this with lemon marmalade and French 75s after a vampish night on the town.

Wabash Cannonball
This little snowdrop speckled with peppercorns represents one of the best goat cheeses coming out the United States. Any cheese made by Judy Schad of Capriole Farm in Indiana is a must-nibble. It's so compact and perfect, you should share it with a lover over glasses of sparkling lambic or eat it alone on a park bench without any disruptions, other than butterflies. Wabash C. is hard to find and very spendy, but worth every penny. Psst…don't try to slather this on a baguette. It should be devoured like the best bon-bon in the world.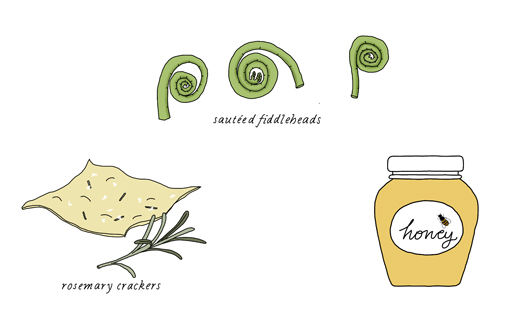 How To Dress Your Goat Cheese
Great fresh goat cheese needs no accompaniment, but if you're searching for good matches, then reach for other spring fare. Every fresh thing from the farmers' market pairs well, especially…
Wild strawberries
Raspberries
Homemade berry jam
Meyer lemon marmalade
Rhubarb compote
Honey, light and dark
Sautéed ramps
Sautéed fiddleheads
Steamed baby vegetables
Baby greens or micro greens
Radishes, thinly sliced with salt
Rosemary crackers
Describing Goat Cheese to Your Lover
Good goat cheese tastes bright. Like sunlight, like citrus. That's because it's acidic (think: lemons), more so than cheeses made from other milks. Fatty, it's not. Goat cheese is very light and easy on the stomach. If you want to eat a cheese in bed, this is the one. If you have eaten goat cheese that tastes sour, tangy, or gamy (called "bucky," after a male buck), you've probably eaten a goat cheese of poor quality.
Here's what good fresh goat cheese often tastes like (saying these words makes for lovely pillow talk): herbaceous, floral, delicate, grassy, clean, bright, citrusy, mellow, woodsy, flinty.
Here are some common textures:
damp, dense, light, fluffy, smooth, creamy, clay-ey, icy, cool, downy (rind), rumpled (rind)
~
Note: Thank you for reading Part I of our 4-part series. We are excited to share these seasonal cheese posts with you and hope that they inspire you to dream, to eat, to explore. In June, look for our post on great summer cheeses. Once we've completed all four seasons, we hope to present a calendar!
Late Summer Cheese Picnic (part 2)
Smoke and Funk: A Fall Cheese Board (part 3)
Winter Blues: A Pairing Party for 8 to 12 (part 4)
 ~
This post was also published at Madame Fromage.