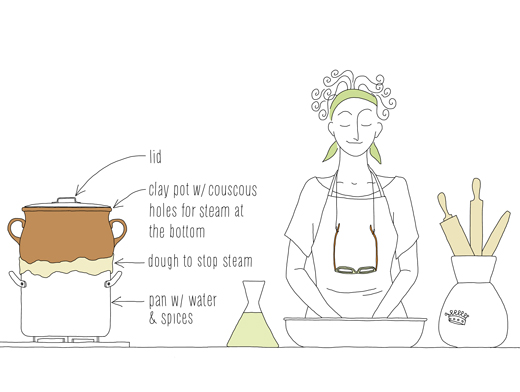 After driving on serpentine bumpy roads lined with wild fennel, through a beautiful hilly landscape of vines and wheat, we arrived at Case Vecchie and Anna Tasca Lanza Cooking School. Fabrizia Lanza, our host and director of the school welcomed us with sparkling wine and appetizers in the courtyard. We were all (me and 3 other food writers) invited to participate in the Arm to Table workshop and to be part of the cooking school's 25th anniversary. The school was started by Anna Tasca Lanza, Fabrizia's mother  in 1989 to teach authentic Sicilian cooking.
In the moonlight we all went down to the garden to have gazpacho followed by anchovy cake  and salad.
The next day our workshop started with a visit to Fattoria Di Gèsu, a farm that grows ancient wheat such as Tumminia, Perciasacchi and Realforte, as well as green chickpeas, lentils, fava beans, tomatoes and almonds. Their produce and products (flour, pasta, almond paste, dried legumes etc) are sold and used by locals and local businesses such as bakeries and restaurants.
We also visited  and watched the shepherd and cheese maker Filippo Privitera, who milks 400 sheep by hand every day (twice a day in the winter) to make ricotta and Pecorino. The fresh ricotta (that was made in front of our eyes) was mind blowing. I couldn't stop thinking of a plan to persuade my neighbor (who has a few sheep) what a great idea it is to make cheese.
In the afternoon we all had a wonderful lunch with fresh ricotta, varieties of pecorino, several types of dried sausages, potato salad with a Cataratto wine from the Regaleali Estate (the winery of the family). Now we were all ready for our afternoon task: to create a four course dinner with ingredients from the land around us and product of Natura in Tasca. The result was excellent and was served in the courtyard later that evening.
At this point, I knew I was  in paradise! (although I still regret, that I didn't fill my pockets with pistachio cookies before I went to bed that night).
*
Arm to Table Menu

The Saint
Bloody Mary alla Case Vecchie
by Marek
Panelle
(chickpea fritters)
by Fabrizia
Wild Fennel Knäckebröd
by me (recipe below)
Fava Bean Pesto with Busiate Pasta
by Fabrizia & Lauren
Rabbit in Red Wine & in-House Tomato Paste
with couscous (see illustration above)
by Fabrizia and Linda
Green Cauliflower with eggs
by Rachel
Torta della Nonna
(with fresh sheep ricotta and pine nuts)
by Pille
Pistachio Cookies
Ricotta & Caramelized Pine Nut Ice Cream
by David
*

The Birthday Party started with mingling in the courtyard where we were treated to bubbly rose and chickpea panelle. An hour later we all took a walk up to the school's vegetable plot where we all (about 160 guests) sat down at an endlessly long table surrounded by broccoli,  green chickpeas and vine.
As the school is all about farm to table, the lunch consisted of exclusively in-house or locally farmed produce. There were pickled artichokes, capers, anchovies, chickpeas, lentils, flavorful aborio rice, aged pecorino, amazing olive oil, different kinds of salt, fresh basil & mint, cold cut meats and at least three types of bread. My absolute favorite were the tomatoes that was served fresh, pickled and dried. The lunch also included different kinds of wines and endless amount of  desserts. To save energy and water, all the dishes (including the sweet treats) were served on the same ceramic plates which we all  could bring with us home.
I never wanted this to end.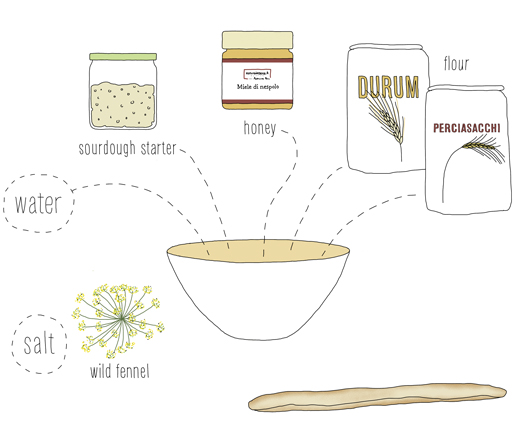 Wild Fennel Knäckebröd at Case Vecchie
I usually bake my knäckebröd with wheat and rye but even before I entered the Case Vecchie kitchen I was eager to try to bake it with other kinds of flours. In this version I used durum wheat flour together with the very aromatic flour, perciasacchi semola. It worked really well. And Lauren Mikus (the school's intern) did a wonderful job cranking them out thinly through the kitchen's motorized pasta machine.
60 gram (lively) sourdough starter
2 tablespoons wild flower honey
240 ml (1 cup) water @ room temperature
250 gram durum wheat flour
120 gram perciasacchi semola (ancient wheat flour from Sicily)
1 tablespoon toasted wild fennel
2 teaspoons salt crystals, slightly crushed
In a large bowl, mix together the sourdough starter with the water and honey. Add all the flour and work the dough well together. Transfer to a floured surface and knead for about two minutes. The dough should feel a little sticky to your hands when kneading.
Place the dough in a bowl and let it rise in room temperature overnight or for at least 6 hours. In a warm kitchen like Fabrizia's it was ready to bake within two hours. However with a longer rise the dough will develop a richer flavor.
When the dough has finished rising add caraway seeds and sea salt. Knead the dough for about 2 minutes on a floured counter top. Add more flour if necessary. The dough should feel smooth and should not be sticky to the surface or your hands. Let the dough rest for about half an hour while your oven heats up to about 200°C (400°F).
Cut approximately 3/4 inch x 3/4 inch sized portions of the dough and flatten every each slightly between your hands with some flour. On a generously floured counter top, roll out long (1 ½ – 2 inch wide) stripes until very very thin. To avoid the dough sticking to the table, continuously flip the dough over and roll again. Add more flour as needed. The length of the stripes depends on the size of your baking pan. I normally roll them out in my hand cranked pasta machine (until level 5) to about 12- 15 inches.
Place the long stripes on olive oiled baking sheets. Bake for about 4-6 minutes. Adjust the temperature and time if necessary. The knäckebröd is done when they have got nice color and look crisp. The sides tend to bend upwards which gives them an interesting shape.
Let the crackers cool completely on a rack. Don't stack them until they are completely cool as that will just make them soft. Keep the crackers in sealed containers.
Serve the knäckebröd plain or together with aged Pecorino, anchovies or dried sausages. Linda came up with the idea of topping the bread with fava bean pesto. It was excellent. The bent shape seem to be made for this kind of topping.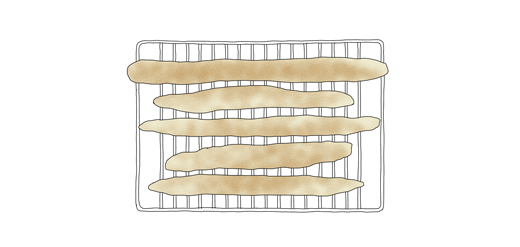 Thank you Fabrizia, Lauren, Costanza, Linda and everyone in the kitchen, winery and garden. You are all amazing! And it was great and inspiring to meet you Rachel, Pille and David!
*
Other posts about the workshop, 25th birthday party and more…
my photos on flickr
on red and white in Sicily by Rachel Roddy
Sicily, Again by David Lebovitz
Case Vecchie and the Anna Tasca Lanza Cooking School by David Lebovitz
Making Cassata alla Siciliana, in Sicily by David Lebovitz
Recipe for Torta della Nonna by Pille Petersoo
anna tasca lanza cooking school {25 years} by Elizabeth Minchilli
cavatelli + sage pesto {cooking in sicily} by Elizabeth Minchilli
remembering anna tasca lanza by Peggy Markel
*
Interested to visit Anna Tasca Cooking school? Check out their school program.
If you are a chef you should check out the Cook the Farm Chef School that will take place in the beginning of 2015.
And my review of the book Coming Home to Sicily by Fabrizia Lanza