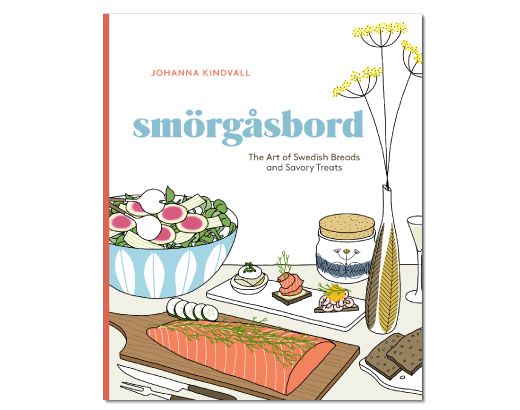 Smörgåsbord: Art of Swedish Breads and Savory Treats
Ten Speed Press,
September 26, 2017
"Swedish author and illustrator Johanna Kindvall recently released an illustrated book of classic dishes and baked goods that will have you hypnotized. A primer on Swedish cuisine, holidays, design, coffee and culinary traditions as much as an art book, Smörgåsbord is a must-own for any lover of all things Scandinavian. We're particularly obsessed with the following foods to the point we may have to get tattoos of them." – Illustrated Guide, Food Republic
"Her first solo book is "beyond beautiful. She's a wonderful artist and illustrator. It's got all the elements of hygge in it, and it offers a new way of thinking about small plates." – Judith Rosen, Publishers Weekly
Smörgåsbord is a celebration of the Swedish tradition Smörgåsbord which is a festive buffet with dishes like cured herring, gravlax, cold cuts, pickles, salads, and meatballs. This table with its well balanced flavors of sweet, sour, and salt is an excellent display of Nordic cuisine.
As the word Smörgåsbord is composed of two words; smörgås (open-faced-sandwich) and bord (table), the dishes are always served with several different types of bread, butter, and cheese. A smörgåsbord is most often set up in a separate room and the table can sometimes be several meters long and consist of over 100 dishes.
At a time when we have too many things on our minds, it's hard to find the time to prepare a whole smörgåsbord. The intention of this book is to inspire you to make smaller portions as festive starters or individual smörgås bites. Every dish in the book includes pairing suggestions so you can easily create your own personal smörgåsbord spreads. The dishes can be as simple as deviled eggs, or more ambitious with freshly baked rye bread paired with hot smoked salmon, homemade pickles, and marinated mustard seeds.
You can pre-order the book in several bookstores online: Random House, Powell's, Barnes & Noble, Indie Bound, Amazon (US), and Amazon (UK). The book is also listed at the Swedish bookstores Bokus and Adlibris.
*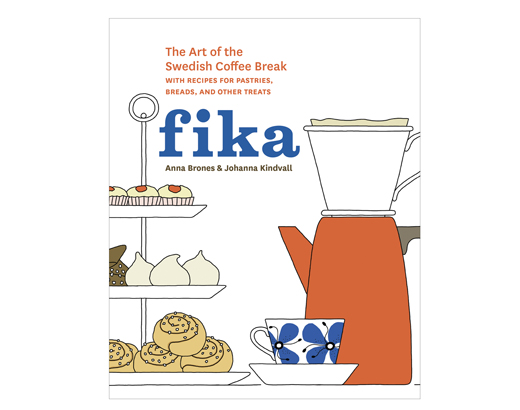 Fika – The Art of the Swedish Coffee Break
by Anna Brones and Johanna Kindvall
Illustrations by Johanna Kindvall
Published by Ten Speed Press, 2015
The book is a celebration of the Swedish coffee break, fika. Something that most Swedes do daily, sometimes even twice. At work, at home or together with friends. Doesn't matter where, when or how, for a Swede this break is essential. And the best fika comes with a treat, sweet or savory.
In the book Anna and I share our favorite fika recipes, both sweet and savory. The book has almost 50 recipes of cakes, cookies, torts, buns, jams & cordials, breads and crackers. It's recipes we grew up with or regularly bake at home. It's a mix of old traditional recipes like tunnbröd (a soft flat bread), classics like Kardemummabullar (Cardamom Buns) and some totally new  like Hazelnut & Coffee Cake.
"Therefore, it's not just because you bake a certain cake and serve a cup of coffee that you have fika. To truly fika requires a commitment to making time for a break in your day, the creation of a magical moment in the midst of the routine and the mundane. Fika is the time when everything else is put on hold. This book is intended to inspire you to do just that." – Anna Brones, Fika – The Art of the Swedish Coffee Break
The book is available in many bookstores in the US and online bookstores around the world. The Fika book has also been translated to both Chinese and Korean.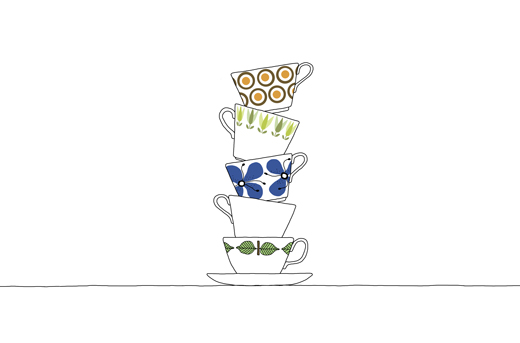 a few words from others…
"For those looking to bring fika vibes to their lives, the book is a wealth of Swedish recipes and cooking tips. Swedish classics like kanelbullar (cinnamon buns spiced with cardamom) and hasselnötsflarn (simple cookies best dipped in a fresh cup of coffee) are easily explained and aided by Kindvall's upbeat illustrations."– Hans Aschim, Cool Hunting
"To aid readers in integrating the practice into their own lives, Brones and Kindvall trace the history of the concept and cleverly lay out all the necessities from baking tools and methods to mastering the Fika vernacular, and include suggestions for where (anywhere!), when (all the time!) and how to enjoy it."– Lindsey Tramuta, NYTIMES
"With whimsical descriptions and playful illustrations, the book is as charming as the tradition itself." – Alison Spiegel, Huffington Post
a selection of recipes in the book
Vetebullar (Cinnamon and Cardamom Buns)
Kardemummakaka (Cardamom Cake)
Apelsinsnittar (Orange Almond Slices)
Finska Pinnar (Finnish Sticks)
Muskotsnittar (Nutmeg Slices)
Hasselnötsflarn (Hazelnut Crisps)
Chokladbiskvier (Chocolate Buttercream Almond Rounds)
Kokostoppar (Coconut Peaks)
Kladdkaka (Sticky Chocolate Cake)
Kronans Kaka (Almond Potato Cake)
Rabarbersaft (Rhubarb Cordial)
Flädersaft (Elderberry Cordial)
Kinuskikaka (Kinuski Caramel Cake)
Fyriskaka (Classic Apple Cake)
Semlor (Swedish Cream Buns)
Marängtårta med Hasselnötter (Hazelnut Meringue Torte)
Fruktkaka (Fruitcake)
Lussekatter (Saffron Buns)
Pepparkakor (Swedish Gingersnaps)
Mjuka Pepparkakor (Soft Ginger Cookies)
Mandelmusslor (Almond Tartlets)
Kumminskorpor (Caraway Crisps)
Anis och Hasselnöts Biscotti (Anise and Hazelnut Biscotti)
Fikonmarmelad (Fig Preserves)
Rågbröd (Rye Bread)
Knäckekex (Crispbread Crackers)
Want more? I suggest you read my behind the scenes story about the process in creating the book.
 *
The Culinary Cyclist
by  Anna Brones
Illustrations by Johanna Kindvall
1st edition, Elly Blue Publishing, US July 2013
2nd edition, Microcosm Publishing, US 2015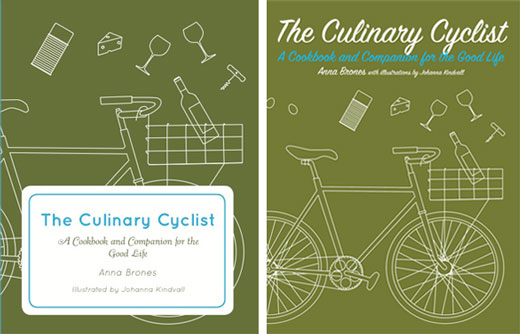 The Culinary Cyclist is written by the passionate food writer and cyclist Anna Brones. The book is not just a cookbook, it's a guide to hedonistic two-wheeled living, either in the city or the countryside. The recipes are gluten free and most of them are vegan. Examples of mouth watering recipes are Homemade Ginger Ale, Chocolate Sea Salt Cake, Raw Walnut Butter and Quinoa Apple Spice Cake. The book also gives you tips on bulk shopping by bicycle, two-wheeled picnics and how to successfully host a dinner party. There is also an instruction on how to sew your own produce bag for your bulk shopping (illustrated). The illustrations in the book are all made by Johanna Kindvall, the editor and illustrator of Kokblog.
If you want your own copy or to give away to friends and family you can purchase it here or directly from the publisher here.
"Illustrator Johanna Kindvall adds charm and clarity to the essays and recipes. The book is packed with clear, simple, Swedish-inspired recipes that include such delights as baked eggs in avocados (perhaps the ideal breakfast food) and a classic, creamy chocolate cake that happens to be made without gluten." – Microcosm Publishing
You can see more books illustrated by me here.