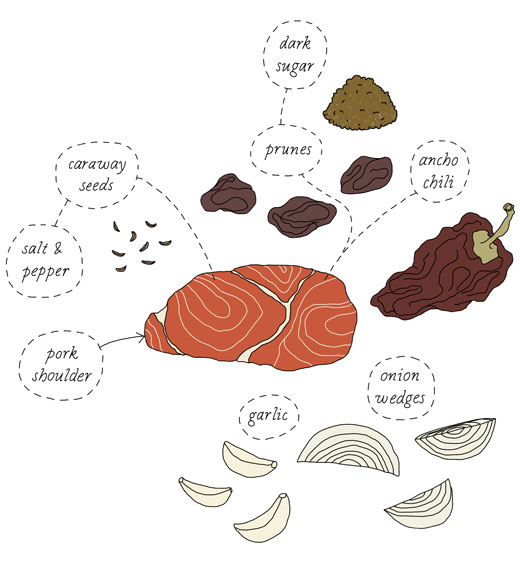 My favorite meat this summer is this simple slow cooked pork shoulder. Its perfect as there is almost no work to it. In the oven the meat takes care of itself while I work in the garden, draw or just enjoy the sunshine (in the shade).
Rub about 1 kilo (enough to feed 4-6 people) with caraway seeds, salt & pepper. Mix together prunes, dark sugar, a little water and chili in a food processor (I use dried chilies such as ancho or pasilla, pre-soak in hot water until soft). Spread the paste all over the meat. Bake the meat at 125°C (just above 250°F). After 1 hour you can place onion wedges and whole cloves of garlic to the side of the meat. Add some water to the bottom of the pan so it doesn't get stuck. Baste the meat now and again. After about 5-6 hours the meat is probably ready, it should feel soft and almost fall apart if you poke a fork in it. The onions by this time are gorgeously caramelized.
Slice or just pull the meat apart with a fork. Serve together with the caramelized onions, a tomato sauce*, salad and bread (such as homemade tunnbröd, soft Swedish flatbread).
* I make a simple sauce by roasting fresh tomatoes, garlic, onion and chili. Mix in a blender together with herbs, such as oregano or sage. Season with salt & pepper and a little sugar. See also  Kinna Jonsson's article about tomato sauce (in Swedish).
You may also like this post, Akvavit Cured Pork Belly