My friend Andrew Janjigian, who is behind the #quarantinystarter project on instagram, texted me to ask if I ever used sourdough discard when making my knäckebröd (Swedish rye crispbread). Andrew was already testing it in his home kitchen and it looked pretty good. Even if I never have any discard on hand (I cook and bake with it several times a week), I decided to give this a try.

And I'm so glad I did, because the extra amount of starter gives the crispbread a perfect and very pleasant sourness that works so well with the caraway seeds. I like them with creamy goat cheese, honey and fresh thyme. Or why not try them with pickled herring, gravlax, or hot-smoked fish and pickles.
The starter I used in this recipe was a thick batter like all-purpose starter. You will need to adjust the recipe if your starter is different. If your starter is very lively it will most likely be ready to roll within 4 hours. If you want a slower rise you can have it rise in the fridge overnight. If you don't have any caraway on hand, I suggest using fennel seeds, sesame seeds or rosemary (fresh or dry).

Knäckebröd is most likely one of the oldest breads in Sweden and today they are a staple in almost any Swede's pantry. Traditionally, in order to store these crispbreads, they were baked with a hole on the middle so they could be threaded onto a horizontal wooden stick and hung from the ceiling to dry. My version here is a thinner version than a store bought knäckebröd.

This recipe and post was also featured on Andrew Janjigian's Substack page here.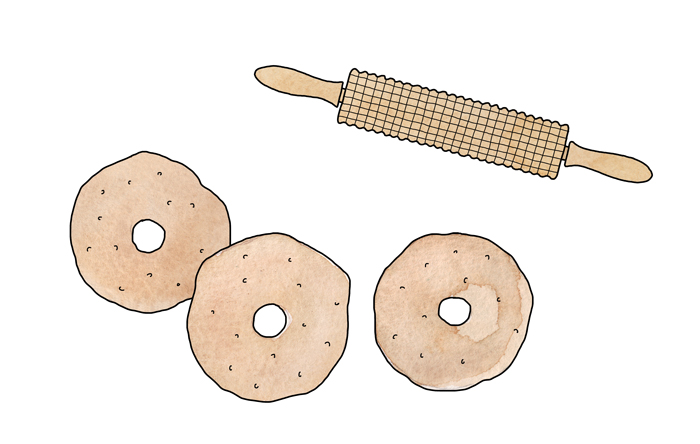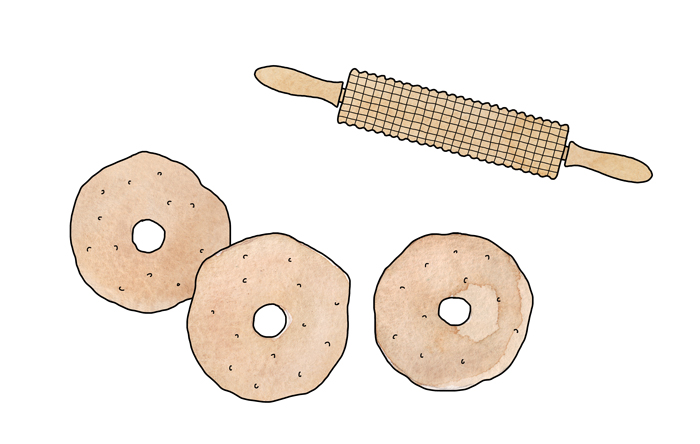 SOURDOUGH DISCARD KNÄCKEBRÖD
(adapted from Smörgåsbord – The Art of Swedish Breads and Savory Treats by Johanna Kindvall, Ten Speed Press)
(makes plenty of crispbreads)
DOUGH
150 g (1¼ c) rye flour (or whole wheat flour)
485 g (almost 2.5 c) sourdough discard
about 3 tablespoons all-purpose flour, if needed
(plus extra flour for rolling out)
1 tablespoon caraway, toasted and coarsely crushed
2 teaspoons salt
TOPPING
about 1 tablespoon flaky sea salt (optional)
MIXING THE DOUGH
In a large bowl, mix together the rye flour, sourdough discard, caraway seeds, and salt. Work the dough together until well combined. If needed, add the all purpose flour. It's OK if the dough feels slightly sticky but it shouldn't be wet or too dry. Adjust with more flour or water if necessary. Transfer the dough to a lightly floured flat surface and knead for about 3 minutes. Shape the dough into a ball and let rest in a covered container. Let rise at room temperature in a draft-free place for at least 4 to 6 hours or in the refrigerator for up to 48 hours. The dough might not rise to double but it should show some growth and feel softer when you poke your finger into it.
When you are ready to bake, preheat the oven to 400°F (200°C). Grease one or two baking sheets lightly with oil.
SHAPING AND BAKING
On a generous floured flat surface, roll out one piece of dough at the time until it's as thin as the caraway seeds (see shape ideas below). If using, sprinkle some flaky sea salt on top and roll a few more times to get the salt to stick better. The crispbread will bake well as is, but if you don't want the crispbread to puff up during baking, I suggest pricking the surface with a fork or roll it once or twice with a knobby rolling pin.
Arrange as many as you can fit on a baking sheet and bake for 4 to 8 minutes, until the crackers are golden brown and crisp. If they are still soft, bake them just a little longer, but keep an eye on them because they burn easily. Remove the baking sheet from the oven and let the crackers cool on a flat surface. To ensure that they stay crisp, do not stack the crackers until they are completely cool.
Store the crackers in an airtight container for up to 1 months.
SHAPE IDEAS
You can roll these crispbreads out with a rolling pin into small and large individual rounds or roll it out in large portions that can be cut into squares or bake whole to break up as you go. To make it simple, you can also use a pasta machine.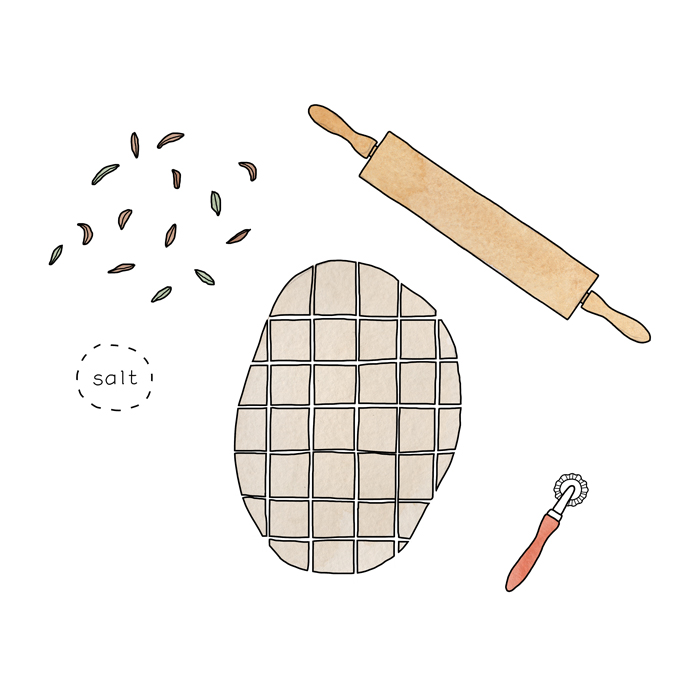 ABOUT ANDREW JANJIGIAN
Andrew is an associate editor at Cook's Illustrated Magazine, a passionate baker and a mycologist. He regularly holds bread and pizza classes at King Arthur and on top of everything he is an excellent photographer. In the early days of the covid-19 pandemic, Andrew started his #quarantinystarter project on instagram to teach followers more about baking as well as cooking with sourdough. In the past, Andrew and I have collaborated on some projects for e.g., here on kokblog he is behind two popular recipes, Mushroom Confit and Chile Crisp. You can follow Andrew on instagram and twitter.
LINKS
How to Build your own Sourdough Starter, illustrated diagram
Everyday Sourdough (1), Art Print
Everyday Sourdough (2), Art Print
Wild Yeast Starter, step by step illustrated recipe
Stack of knäckebröd, post on instagram
Wild Fennel Knäckebröd at Case Vecchie, Sicily
Skållat rågbröd (Scalded Rye Bread), illustrated recipe
Sourdough Bread with Rye, illustrated recipe
Plain Sourdough Bread, illustrated recipe