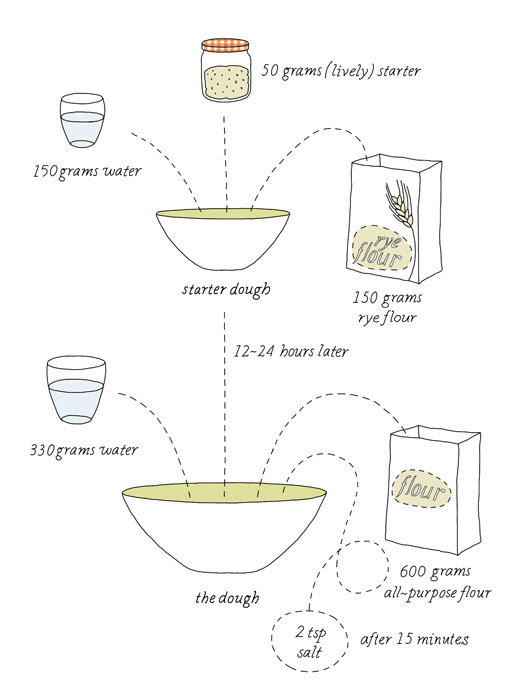 One of my fun jobs this summer was to design chocolate packaging for Francoise Villeneuve at Wiggley Leroux Confections. My job was to create a label and a chocolate bean pattern for the chocolate bar wrapping paper. It was such a pleasure to work with Francoise on this project and her delicious confections are now available at BaconN'Ed's food truck, Reston Station, Washington, DC.
Last week I was in Laramie, Wyoming to draw animals for the public art installation AnimalEyes by Walczak & Heiss at the Berry Biodiversity Center. It was great fun and I learned loads of cool stuff about local animals such as horned lizards, prairie dogs and bumble bees etc. Did you know that an ant queen can reach an age of 30 years? And that there used to be camels here?
On this trip I brought bread, which our hosts welcomed enormously. They served it with their in-house Roman dried tomatoes and pheasant gizzard confit. Wonderful!
This bread is also excellent, sliced thin, topped with aged cheddar and slices of fresh red pepper. This Autumn, I will have it as much as I can with a cup of strong black tea in front of the fireplace (or with my feet up on the radiator).
Sourdough Bread with Rye
one small boule
starter dough
50 gram well fed and lively sourdough starter
150 gram water (about 2/3 cup)
150 gram (1¼ cup) rye flour
2nd dough
330 gram (about 1 1/3 cups) water
600 gram (about 4¼ cups) all purpose flour
2 teaspoons salt
starter dough: For the 1st dough, mix together the starter together with water and rye flour. Cover and let sit for 12-24 hours in room temperature.
the dough: Add water to the starter dough and stir before adding the flour. Mix everything well together. Let rest for 15-30 minutes before adding the salt. Work the dough some more to distribute the salt evenly and form a ball (I find it easier to do this directly on the countertop). Place in a slightly greased bowl. Cover with a plastic bag.
Stretch and fold 3 times with 45 min intervals. After last stretch and fold let the dough rise for about one hour.
Shape the dough into one round boule. Set aside for about 10 minutes and shape again. Place it with the seam side up in a round floured banneton. You can also use a normal bowl with a well floured tea towel.
Cover with the plastic bag and let prove for 2-4 hours.
About 30 – 60 minutes before baking your bread, set the oven to 500°F (260°C). Place a baking sheet or baking stone into the oven. A stone will need more time to heat up than a baking sheet. If you want steam during baking, place a tray under the baking sheet. I fill it with boiling hot water just before I bake the bread.
When it's time, take out the warm baking sheet (or stone) from the oven. Carefully transfer the shaped boule onto the hot baking surface. Score the dough (see scoring links below) before transfer it to the oven. Lower the heat to about 450°F (230°C). Bake for 15 minutes, open the oven door to let out some steam. The bread should have risen up nicely and started to get some nice golden color. Bake for another 30 – 45 minutes.
The bread is done when it sounds hollow when knocking on the bottom. You can also check the breads inner temperature, which should be around 208°F (98°C).
Let the bread cool completely uncovered on a cooling rack before slicing.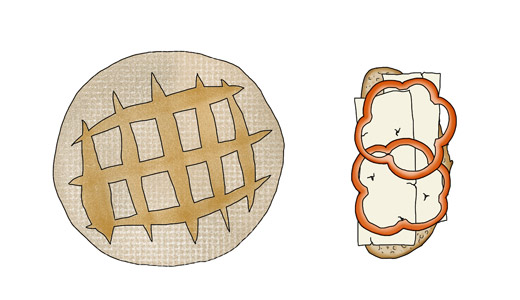 *
More sourdough breads on kokblog
Plain Sourdough Bread
Sourdough Knäckebröd
Other useful links
Slashing or Scoring your Dough by Azelia's Kitchen
Scoring Bread – post at Fresh Loaf