Tag Archives: ArtofSmorgasbord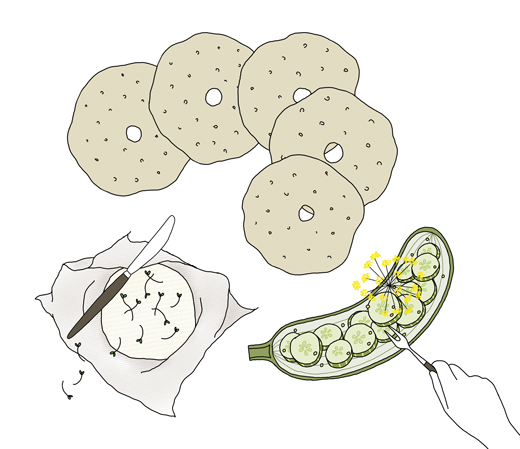 In my latest cookbook, Smörgåsbord: The Art of Swedish Breads and Savory Treats, I want to encourage you to make small portions of a classic Swedish Smörgåsbord. A little like a Smörgåsbord tapas! Together with a flavorful bread, it's a concept that works for everyday smörgås (open-faced sandwich) meals as well as for festive starters.
The first chapter is dedicated to Nordic breads, both classic and new creations, baked with either yeast or sourdough starter. As rye bread is the most distinctive type of bread throughout the northern countries, I have included five different types. But there are some tasty wheat based breads too and a stove-top baked flatbread made with barley flour.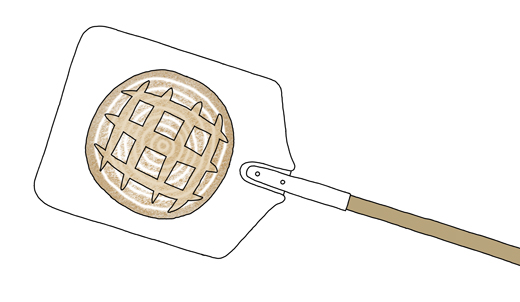 The rest of the chapters concentrate on spreads and toppings you can serve with the breads for every day smörgås, seasonal treats or more festive occasions. The last chapter is where you will find condiments like pickles, whole grain mustard, crispy onions, and classic sauces. It's that addition that can turn any dish or open-faced sandwich into something more special. In my opinion the best smörgås is built up with several combined toppings.
As a starter for your upcoming holiday dinner parties or just as a treat for yourself, I suggest you serve a few of the dishes arranged separately at the counter and have everyone build their own little treat. You can also create snittar, Swedish tiny open-faced sandwiches, by cutting the bread into squares, rounds or triangles, and top them with any spreads of your choice. Here are a few of my favorites snittar that are based on recipes from the book: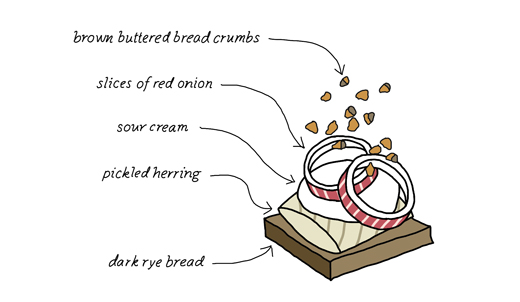 Pickled Herring with Sour Cream, Red onions & Brown Buttered Bread Crumbs – Pickled herring is a staple in Sweden and comes in many different flavors, either in vinegar or with cream. I love herring and like many Swedes I eat it all year around. In the book I share two of my favorites, a creamy mustard herring and a vinegar based herring spiced with rhubarb, cloves, and cinnamon.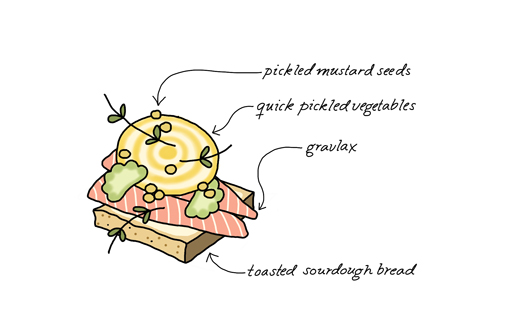 Gravlax on Toasted Sourdough Bread topped with Fresh Pickled Vegetables and Pickled Mustard Seeds – If you plan ahead, gravlax is a simple and festive smörgås topping that can be flavored and paired in many different ways. The most classic is to serve it with simple mustard sauce or as in Finland with Fresh Pickled Cucumber (pressgurka). My version of gravlax is cured with fennel seeds and I warmly recommend it served on toasted sourdough bread and topped with Quick Pickled Vegetables and Pickled Mustard Seeds. (You can find all these recipes in the book).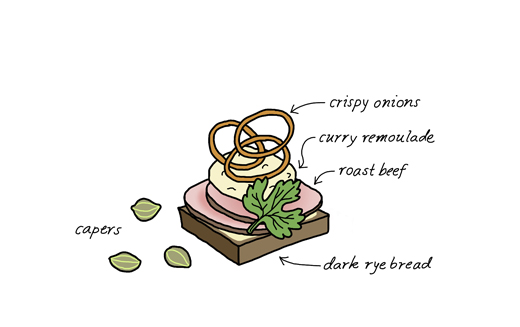 Roast Beef with Danish Remoulade and Crispy Onions on Danish Rye Bread – This is a very common smörgås or smørrebrød combination in both Sweden and Denmark. The remoulade, which is a mayonnaise based sauce spiced with curry, pickles, capers, parsley and tarragon, is simply whipped together and pairs surprisingly well with roast beef and crispy onions (rostad lök). The Danish rye bread, baked with loads of whole rye berries, sunflower seeds, flax seeds, and toasted sesame seeds, is a delicious and wholesome bread. Instead of roast beef, I'm sure this little treat can easily be done with some leftover Thanksgiving turkey.
For every recipe in the book you will find several more pairing suggestions. I hope you will find it useful and inspiring enough to find your own special Smörgås combinations.
And there is of course always the option to create a whole feast too! If you plan it well, it doesn't have to be that complicated and for many dishes like cured ham, gravlax, and pickles most of the process takes place when you are at work or doing other things.
If you bake or cook anything from the book, I would love to see it! Please share it with me here in the comments or tag it with #ArtofSmorgasbord on instagram, twitter, or facebook.  A selection will be re-posted or linked to here on kokblog.
*
Smörgåsbord
cooking & baking by others:

Danish Rye Bread & Rustic Rye Bread
baked by Kira Nam Greene
Tweaked version of Rustic Rye Bread
baked by Jeremy Shapiro
Rustic Rye Bread
baked by Kira Nam Greene (1st bake)
*
other related links
upcoming Smörgåsbord events
talking Smörgåsbord on Off the Menu
with Dara Moskowitz Grumdahl
at WCCO | CBS Local Minnesota
(October 28, 2017)
Foodrepublic
want to make Smörgåsbord tatoos
Smörgåsbord interview
on Martha Stewart
you can read more about the book
here and here
Don't have your own copy of Smörgåsbord? You can get it in almost any bookstore online all over the world! Here are a selection of bookstores… Random House, Barnes & Noble, Indie Bound, Amazon (US), and Amazon (UK).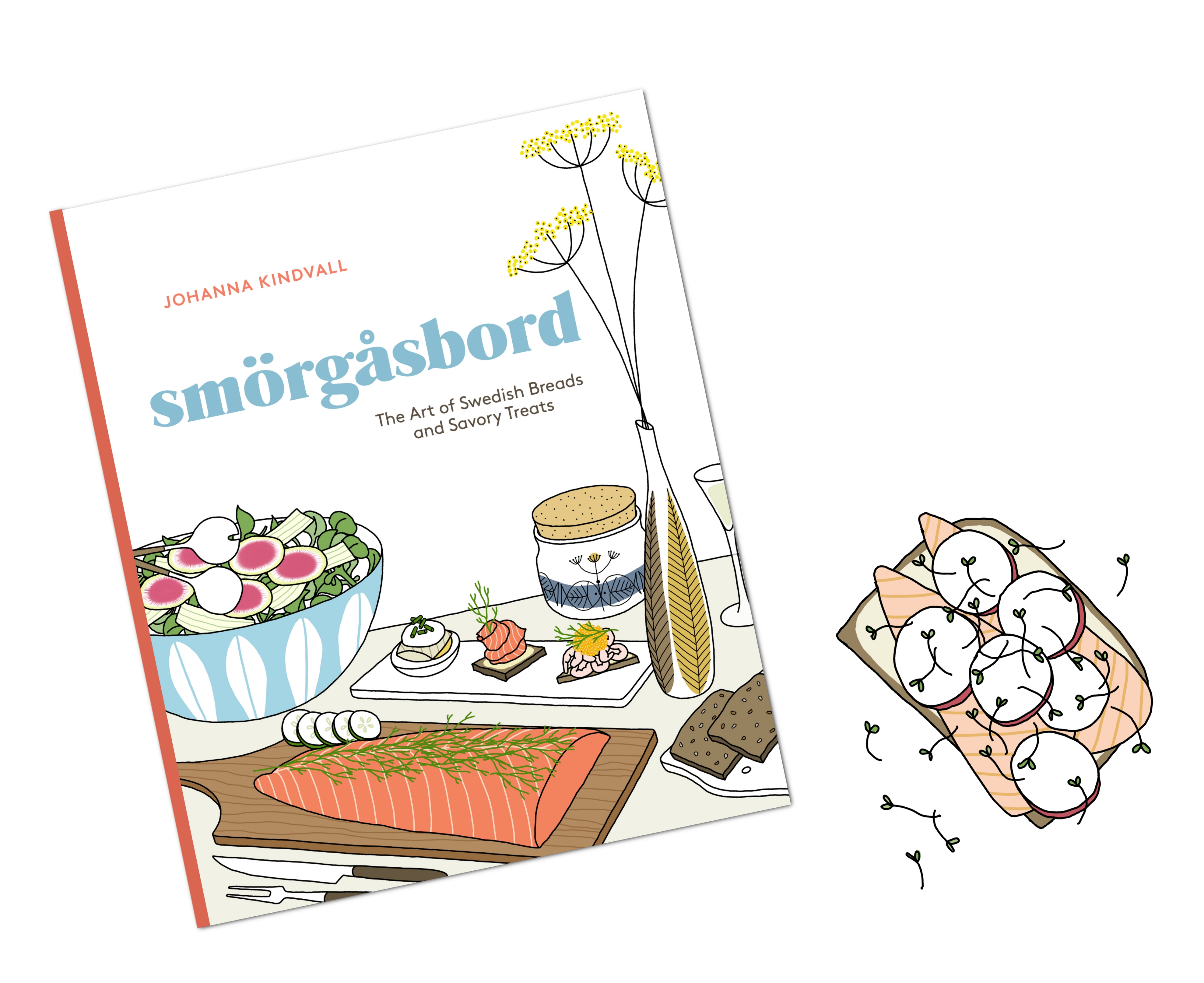 "Cultured butter shaped into roses sitting next to breads that smell of rye, fennel, and caraway seeds. Different kinds of herring lined up in separate ceramic jars next to a glorious Cheddar wrapped in cotton. A platter of salmon, mildly sweet with a smooth texture that melts in your mouth. Generous mounds of pink shrimp, piled up in a crystal bowl, just waiting to be dipped into a creamy sauce or eaten just as they are, salty and fresh. Strong flavors like mustard and horseradish— faithful companions to the spread of charcuteries like pâté, smoked goose breast, and wrinkled juniper- smoked sausages. This table, with its light and well- balanced flavors of sweet, sour, and salty, is the ultimate display of Nordic cuisine. In Sweden, we call it a smörgåsbord." – Page 1 of  Smörgåsbord: The Art of Swedish Breads and Savory Treats, Ten Speed Press, September 26, 2017
This is the first paragraph of Smörgåsbord, my second cookbook that goes on sale today (September 26, 2017). I'm super thrilled and celebrating with champagne and by baking bread from the book. I hope this book will inspire you to cook and enjoy the Nordic flavors as much as I do. And that by cooking from it you will find your own favorite combinations that you share with your friends and family for weekday treats as well as when celebrating something special. I also hope to hang out with you at any of my planned book events (listed below). Please also check my event page for updates.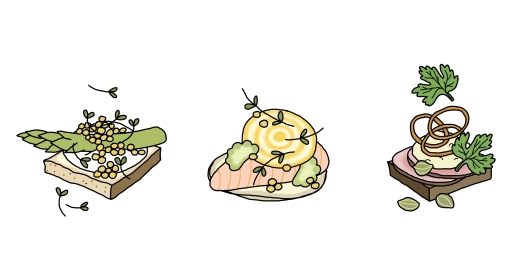 The book is a celebration of the Swedish tradition smörgåsbord which is a festive buffet with dishes like cured herring, gravlax, cold cuts, pickles, salads, and meatballs. While a full represented smörgåsbord in all its glory can have up to over 100 dishes, this book wants to inspire you to create and share it in smaller portions, as entertaining hors d'oeuvres or everyday smörgås bites.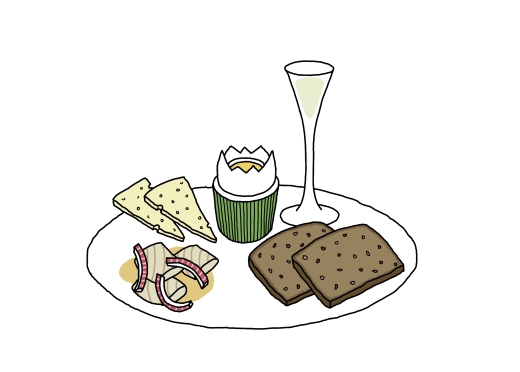 Mustard Herring with egg, cheese and Danish Rye Bread.
And a shot of Aquavit.
Except for a few sides, most dishes are things you can put on a piece of bread to create a smörgås (Swedish open-sandwich). All through the book, I suggest different combinations so the reader and cook can easily combine the spreads into a mini version of the real thing. To get some Nordic flavor for your next cocktail party, this can be as simple as whipping together some Smoked Fish Salad spiced with horseradish and serving it with some fresh pickled vegetables and homemade bread.  But if you wish, you can always go ahead and prepare the whole feast too.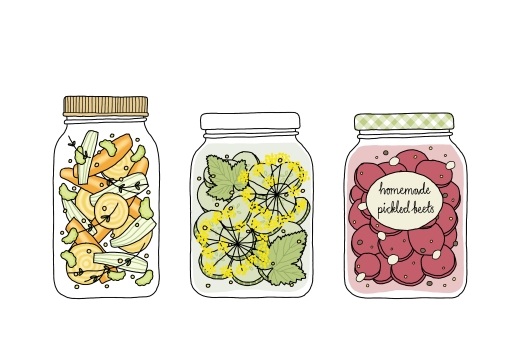 Quick Pickled Vegetables, Dill Pickled Cucumbers,
and Pickled Beets
The recipes in the book are my selected favorites on a traditional smörgåsbord. Dishes I grew up with and things I cook regularly at home. Many of them are iconic dishes in Nordic cuisine. In the kitchen I like to cook with easy and simple tools, therefore most of the recipes in the book are simple enough to do without a heavily equipped kitchen. The book also share step-by-step bread baking methods (especially sourdough), sausage making, and tips for simple pickles.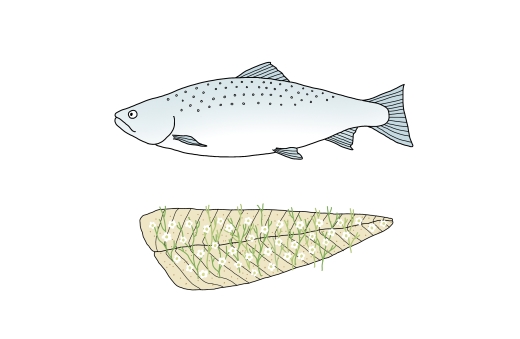 Elderflower-Cured Rainbow Trout which is amazing
on Knäckebröd (Swedish Crispbread) and Fresh Pickled Cucumber
I spend most of last year researching the history of smörgåsbord, collecting anecdotes and munching treats while recipe testing. When my kitchen couldn't fit another piece of bread or dish, I invited my friends over to feast around my table. Parallel to the cooking and writing I worked on the illustrations to accompany the story as well as the recipes in the book.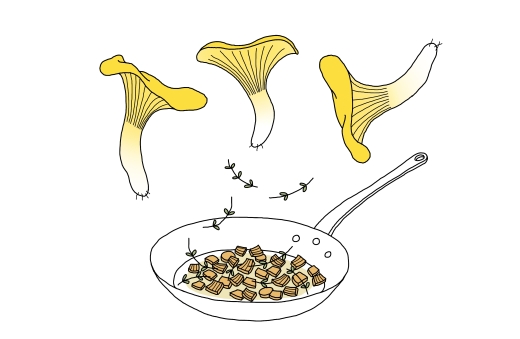 one of the most satisfying Autumn treat is
Butter-Fried Chantarelles with Walnuts
I have along the way many to thank in the making of this book. First of all I want to thank my husband Marek, who is always there supporting me and finding words when I'm blocked. He also forces me to take breaks when I haven't moved from my desk in several hours by making coffee or pouring me a glass of wine. Second, I want to thank my friend Tenaya Darlington, who did the first edits of the manuscript. Your comments were inspiring and encouraging. You really pushed me forward. And most of all I want to thank my editor Kaitlin Ketchum at Ten Speed Press for being such a wonderful person and editor. Thanks for believing in me and this project! And a big thanks to Lizzy Allen and the rest of the team at Ten Speed Press who did a splendid job in the making of this book. I think it looks smashing!
To celebrate the release, I'm having a giveaway of the book. Share your favorite spreads for bread on Instagram. Doesn't have to be typical Scandinavian, it can be almost anything as long it's something you would have with a piece of bread. To participate: tag me @johannakindvall as well as the hashtag #ArtofSmorgasbord in the post. Entries needs to be posted by Thursday October 5. If you don't have Instagram, no worries, post a comment here and tell me your favorite.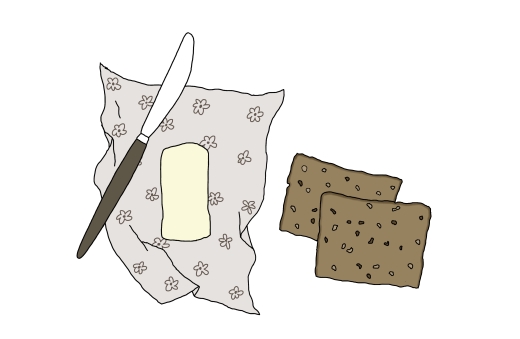 homemade Cultured Butter and Danish Rye Bread
If you can't find the book in your local bookstore you can order it online all over the world. Here are a few examples: Random House, Barnes & Noble, Indie Bound, Amazon (US), and Amazon (UK). The book is also listed at the Swedish bookstores Bokus and Adlibris.
*
upcoming events
also check my event page for updates
Wednesday, November 8
Autumn Smörgås Table with chef Renee Baumann
at 61 Local, Brooklyn
Tickets: $80
If you are interested, send me a message
and I will gladly send you an invite.
Monday, November 13
Breaking Breads
bread baking workshop + dinner
in support of GrowNYC's Grain Program
with Feast & Fight, Juanli Carrion, Stefani Bardin
at Lighthouse, Brooklyn
more details & tickets  –> here
Saturday, December 9, @ 7pm
Cocktails+Smörgåsbord with The Darlingtons at COOK, Philadelphia
more details soon
*
said about the book:
"Her first solo book is "beyond beautiful. She's a wonderful artist and illustrator. It's got all the elements of hygge in it, and it offers a new way of thinking about small plates." – Judith Rosen, Publishers Weekly
*
related links
my first cookbook: Fika: The Art of the Swedish Coffee Break
more about the Smörgåsbord book here and here
How Moving to New York Changed my Approach to Cooking
by Johanna Kindvall, Signature Reads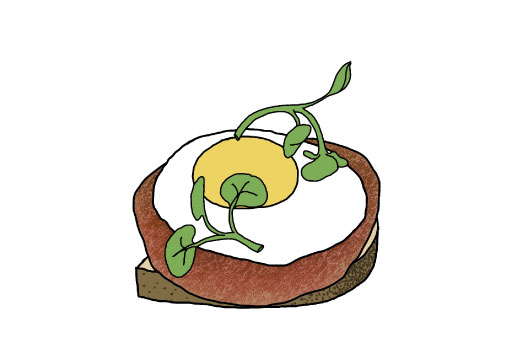 The retro classic The Parisian – the open-faced hamburger
with a beef & pickle beet patty and a sunny side egg