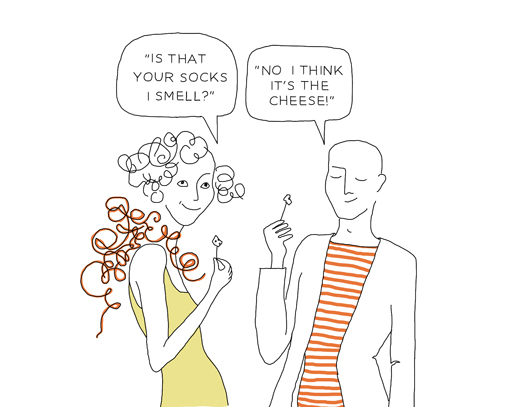 I hope you all are having a wonderful start of 2015. Winter is here and it's time for Tenaya Darlington, aka Madame Fromage and my final post in our seasonal cheese calendar, Winter (below you can find links to the other posts). As it is the end of the series, we thought it was suitable to celebrate with a blue cheese pairing party.
I hope you have enjoyed our Seasonal Cheese Calendar as much as we have. Eventually we will create cards and prints. They will be for sale in both our shops.
Cheers.
Winter Blues: A Pairing Party for 8 to 12
by Madame Fromage
Late winter is an ideal time to host an Around the World with Blue Cheese party. In the cold months, who doesn't dream of traveling abroad? Since so many countries make iconic blues, it's delightful to take one's taste buds on a cruise from Stilton to Roquefort, then home again for a taste of artisan American funk.
Blues vary widely in taste and texture. Some swing savory with notes of creamed spinach, fresh herbs, or even pine — while others deliver a sweet song to the tongue. Gorgonzola Dolce tastes like ice cream (try it with cherry jam and graham crackers), and Valdéon can deliver notes of grape and white chocolate. Other blues make me think of oysters – all minerals and brine. Exquisite.
Here's what to do if you want to host a blue cheese pairing party:
1) pick a wide range of blues, like the ones listed below – aim for five or six hunks, you'll need ¼ or ½ pound each.
2) Invite 8 to 12 friends, and tell each person to bring an after-dinner drink: stout, barleywine, Scotch/whiskey, or a fortified wine (like Port, Madeira, or Sherry).
Then, set out all of your cheeses – let them come to room temperature before serving, and use notecards to label them – and garnish them with some grapes, dates or apricots, walnuts, berry jam, honey, and dark chocolate.
At your tasting party, let the blues talk. Try them one at a time with a variety of beverages. You'll go through every glass in your cupboard. Between bites, you can eat grapes or baguette slices to cleanse your palate. At the end of the night, snap photos of your favorite pairings. If you forget, don't worry – everyone will remember the night they came to your house for a blue cheese initiation.
Note: if you don't want to mix too many kinds of alcohol, just pick dessert wines or stout/barleywines.
Five Iconic Blue Cheeses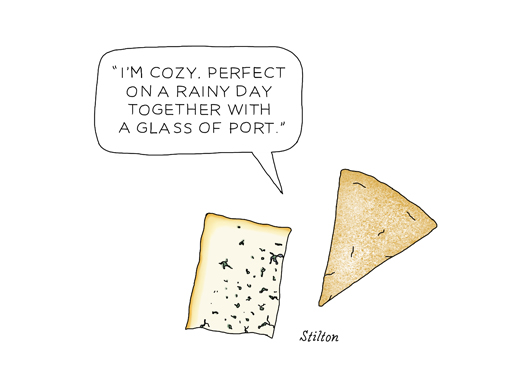 Stilton
Britain's iconic blue is savory with hints of tobacco and leather. It's sold in wheels with a cigar-colored rind, making its whole disposition rather grandfatherly. Think of it as a craggy, cozy old character – ideally suited for slushy days and a back-drop of scratchy folk records. "Potted Stilton" is sold in crocks – a sort of holiday treat. It's soft and pungent, delicious with chutney and a plate of oaty biscuits. For a much-loved pairing, sip a glass of Port (or even Scotch). Stilton also loves stout.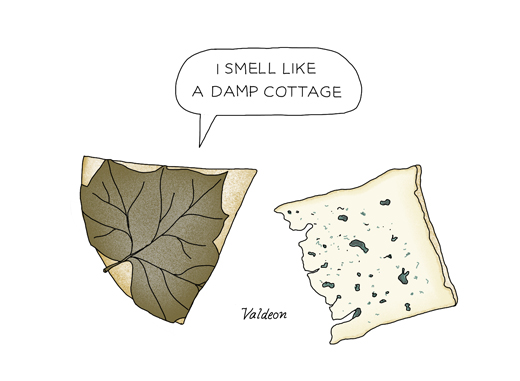 Valdeon
Spain's most famous blue is a "granny" cheese, sweet and a little salty with a shawl made of Sycamore leaves. Lean in and you'll smell a damp cottage with a front walkway made of slate and violets sticking up between the cracks. Lovely for dessert, try serving it with a spot of dark chocolate – it has a hint of white chocolate on the finish, which is lovely to play off. Walnuts and honey are a fine pairing, too. Sherry and barleywine make especially good matches.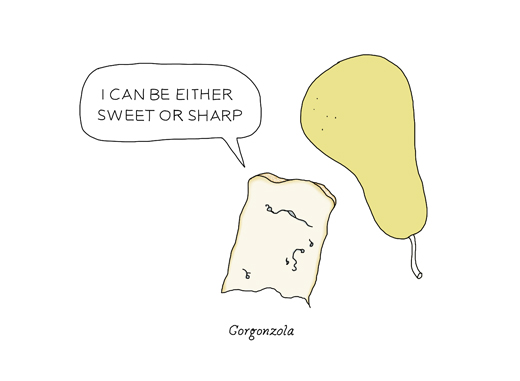 Gorgonzola
Italy produces a pair of twin blue cheeses, dolce (sweet) and piccante (sharp). Piccante loves pasta and is terrific shmeared on steak or stirred into white bean soup. Dolce loves a light clear honey and a crack of black pepper, alongside some pears – it's so gooey, you can spoon it up like mousse. Try pairing it with a fruity lambic (Kriek) or barleywine.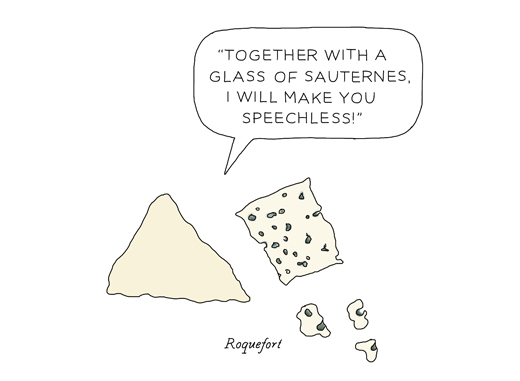 Roquefort
Really good French Roquefort tastes like a cheese from the sea – salty and mineral bright. Its indigo veins shimmer, and its paste is the consistency of melting butter, thanks to sheep's milk. Roquefort gains its extraordinary combination of flavors from aging in seaside caves that are famous for their "fleurines" – fissures that allow the damp air to circulate. Quality Roquefort (I like Carles), served with a chilled glass of Sauternes, will leave you speechless.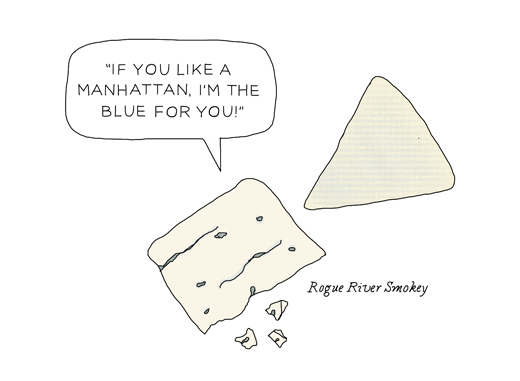 Rogue River Smokey
One of the great American artisan blues, RRS tastes like bacon in the form of cheese. It loves camping, pancakes, and long walks on the beach. Rogue Creamery, in Oregon, makes a dozen different blues, each one subtly different. This selection is gently smoked over hazelnut shells, making for a nutty, buttery rogue. Pair it with an achingly dark stout or a Manhattan.
Wondering how blue cheeses get their dark veins? They're pierced with long needles. The piercings allow air to flow through the wheels, and that promotes "blue-ing." Many people think that blue mold is injected into the cheese, but that's not so. The "blue" develops naturally, thanks to a special culture (Penicillium Roqueforti) that cheesemakers stir into the curds. That said, "blue" likes to wander, so you'll want to store your blue cheeses away from other cheeses in your fridge.
*
Please also read the other parts in this Seasonal Cheese Calendar:
Your Spring Goat Cheese Primer (part 1)
Late Summer Cheese Picnic (part 2)
Smoke and Funk: A Fall Cheese Board (part 3)
 *