My third guest on Kokblog is Jules Clancy, who lives and works in Sydney and the Snowy Mountains, Australia. Jules is a food scientist, writer, minimalist, photographer and the author of the site thestonesoup.com. I really enjoy Jules' minimalistic approach to cooking and her concept of 5 ingredient recipes is inspiring! We met on twitter about a year ago. Since then we have kept in contact through emails and tweets.  I also have the honor to make drawings for her web site and her Virtual Cooking School that started in Autumn last year. Last week we finally met for real and went for brunch here in New York City.
A Boy and His Pie
by Jules Clancy
Mention that classic dessert, Lemon Meringue Pie and my thoughts turn instantly to my gorgeous not-so-little brother. For as long as I can remember Dom has been fanatical about his pie, think Homer Simpson and his devotion to beer or doughnuts and you're not even in the same ballpark as to how much Dom loves LMP.
From when he was little, whenever Mum would give Dom the option of what to have for dessert there was only one answer. I can't remember him ever having a normal Birthday cake, it was always LMP.
One year, I think it was around his 21st, when Mum asked Dom what he would like as a birthday present he somehow convinced her to make him one pie a day for 21 days.
So she did and not even that sort of over exposure was enough to dampen his love for the pie.
It's a bit of family legend that Dom was so good at asking for his favourite dessert that he was able to get it out in just one syllable 'lemeringuepie'. No mean feat for a small boy, try it yourself.
Last year we had a bit of a belated Birthday dinner for my favourite (and only) brother and there was no question when it came to the dessert decision. It was my second attempt a recreating my Mum's legendary LMP, using the recipe she had lovingly hand written into her little cook book. And while it came nowhere near close to looking like my Mum's creation, I'm pretty sure for Dom it was better than no pie at all.
Think rich lemony goodness in the filling balanced by light-as-air-sweet sweet meringue and you're there.

mum's legendary lemon meringue pie
serves 1 if you're my brother or approx 6 normal people
I was always impressed that my mum went to the effort of making her own pastry, and one of my strongest memories is of her is how clever I though she was balancing the pie on hone hand while trimming the pastry edges with a knife. The sound of the knife rubbing down the ceramic pie edges still reminds me of her.
I've copied this across from my mum's recipe book and this is exactly as she had it written down. Apologies if it seems a little confusing but it felt wrong trying to re-organise it.
Sift together 1 cup plain flour, pinch salt.
Rub in 2oz (60g) butter until like fine breadcrumbs.
Add 2 tablespoons water and mix well.
Roll dough to fit an 8in pie plate.
Prick base lightly with a fork.
Bake in a moderate oven for 15mins only, cool.
Combine:
1 400g (14oz) can Nestles condensed milk
1/2 cup lemon juicegrated rind of 1 lemon
3 egg yolks
Place in shell
Beat egg whites until stiff. Gradually add in 1/4 cup castor sugar. Beat until dissolved.
Place meringue on top of filling.
Bake in moderate oven 15 minutes, or until golden.
It seems a little sacrilegious to admit it, but I have always thought of the pastry as the weak link in her pie. If you're looking for the crunch of a more of a classic short crust try my favourite sweet pastry recipe here. And bake blind for about half an hour before filling.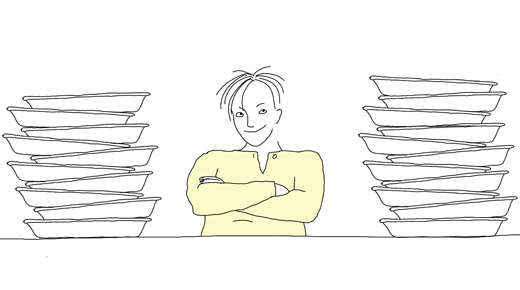 You can follow Jules on twitter, @jules_stonesoup