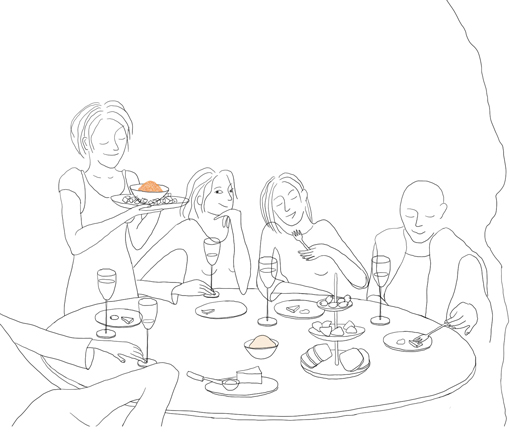 Last summer we went to visit some new friends in Sweden. We were invited to dine under their old oak tree. The lady of the house, Sabine spoiled us with a number of unbelievable and unforgettable treats. One of them became my extra extra favorite: lingonberry cream with North Swedish caviar. Believe me when I say, lingonberries and caviar are a surprisingly good combination!
the cream
200 ml (almost a cup) Creme Fraiche
About two tea spoons of lingonberry or cranberry jam (not too sweet)
Red caviar (mild or slightly salty)
Mix the cream fraiche and the lingonberry jam together. The mixture should have just a slight taste of lingonberry and have a light pink color. Serve the caviar and lingonberries together with thin Swedish crisp bread (knäckebröd) or Finn Crisp.
For Thanksgiving I used my Raw stirred Cranberry Jam and served the caviar with gentle and soft Muscat wine.
Sabine's version is slightly different from mine. She mixed the lingonberries with whipped cream and served it on a soft flatbread from the north of Sweden. The north Swedish caviar she served was very delicate and not so salty. I normally prefer this myself but I discovered that a slightly salty caviar blends well with the sweetness in the lingonberry cream.
Thanks Sabine and congratulations to your new cooking book, "Restresan".