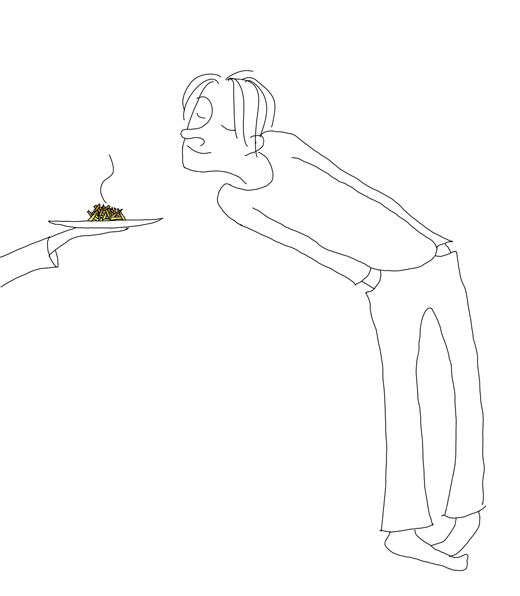 Introduction to the Swedish Classic: Jansson's Frestelse
by Anna Brones
Translating Janssons frestelse is always a funny thing. It doesn't quite have the same ring to it in English. But if anything, this dish sticks true to it's name: tempted you will be.
Commonly part of the Swedish Christmas table it's a classic dish that also makes its way onto the menu at Easter. In true Swedish fashion, the gratin-style potato dish is full of cream and butter; there's no better way to eat potatoes. A traditional dish that's sure to tempt everyone at the table.
Jansson's Temptation
serves about 4
8 big potatoes
1-2 yellow onions
about 20 Swedish cured sprats*
1 ¼ cream or half and half
salt (but just if necessary the sprats can be very salty)
handful bread crumbs
butter
Peel the potatoes and cut them in thin strips. Slice the onion thinly. Saute the onion in a little butter until they soften. Layer the potatoes and the onions in a baking dish. Open the tins of anchovies and poor the juice over the potatoes. If you want the anchovies in smaller pieces cut them into halves and divide them over the potatoes. Pour half of the cream over. Sprinkle some bread crumbs and divide small lumps of butter over the dish. Bake in the oven at 440°F (200°C) for about 45 min. Just before it's finished baking, poor over the rest of the cream.
In Sweden they serve it with beer or milk!
* In Sweden they call this fish type of cured fish ansjovis but its not real anchovies (which is called sardeller in Swedish). I, Johanna have cooked Jansson's with anchovies without knowing it wasn't correct. Its tasty and flavor full BUT but doesn't get the correct flavor. We really recommend to get get hold of some Swedish cured sprats. IKEA sells them as skarpsill at IKEA.
(the recipe was adapted by Johanna Kindvall from the Swedish cook book Vår KokBok)
This article was originally published on Foodie underground on 29 March 2013.