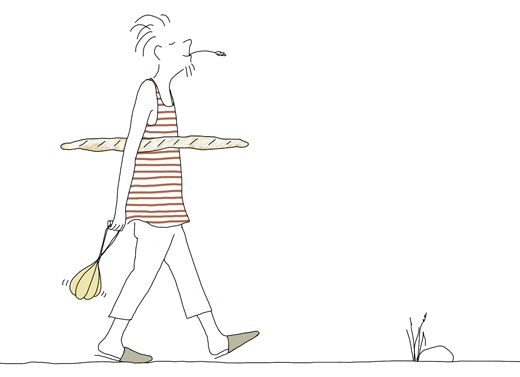 Both Tenaya Darlington and I have separately experienced Italy earlier this summer. As you know I visit Case Vecchie in Sicily while Tenaya was leading a story telling workshop in Puglia. Now she is back in Philadelphia and has set up a decadent cheese picnic for us to crave for this summer.
Late Summer Cheese Picnic (part 2)
by Madame Fromage
Summer is the season to eat cheese in the wild. What's lovelier than eating Pecorino in a pasture strewn with wildflowers? As you eat, you can taste the grassiness of the milk, and the experience becomes doubly sensual. If you can't picnic near actual ewes, stare up at the clouds and picture a pastoral life. In the summer, shepherds throughout Europe still lead animals into the hills to feast on wild grasses and herbs (mint, fennel, dill). Animals that gobble gorgeous feed produce beautiful milk. And thus, the best cheeses come to be.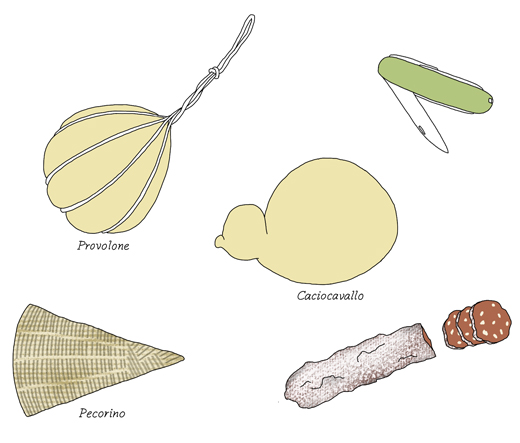 For a summer picnic, I love to buy cheeses made from grass-fed milk. Farmers' markets are a great source for these beauties, and so is a cheese counter that specializes in artisan cheese. You can also learn to discern grass-fed cow's milk cheese just by sight; cows cannot digest beta carotene, so they produce golden summer milk. If you see a butter-yellow cow's milk cheese, chances are it was made from a grass-fed gal.
Picnic cheeses should be easy to pack and easy to pair. Here are a few suggestions for mid-summer cheese combinations that you can toss into a hamper and assemble quickly. If you have your wits about you, grab some toothpicks and a Swiss Army knife. Otherwise, just grab a baguette and a blanket for the grass.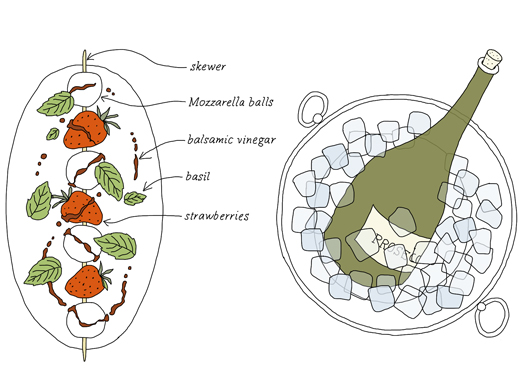 1. Mozzarella balls in brine are a lovely first bite. You can skewer them with cherry tomatoes and fresh basil – or try strawberries and basil – then drizzle them with balsamic vinegar. This is lovely with Prosecco.
2. Fresh ricotta comes alive with fresh herbs and sea salt. Pack some thyme from your windowsill, or forage in the wild. Bring a bottle of extra virgin olive oil for drizzling. Also, you can stuff fresh ricotta into peach halves or apricot halves, or use the fruit as scoops. Try topping these with toasted almonds and honey.
3. Soft cheeses that come in balsa wood boxes (Camembert) or little crocks (Saint-Marcellin) or leaves (Banon, Robiola) are excellent picnic mates. They are gooey enough to spread with a stick, if need be, and they all pair wonderfully with dried fruit, nuts, and honey. Try this: Camembert, green apples, honey, walnuts, amber honey, and a jug of dry hard cider.
4. Swiss Army Knife cheeses include Provolone, Caciocavallo, Pecorino and other sturdy birdies. Choose one or two hunks and load up on olives, cured meat, celery sticks, pickled mushrooms, and olive oil crackers. A bottle of red? Enough said.
5. Gooey blue (like rich Gorgonzola Dolce) makes for a lovely dessert, especially with graham crackers and honey or cherry jam. A goat's milk blue, like Cremificato Verde Capra, is also a good choice because it's light. Try packing some dark chocolate and candied nuts, or bring a box of dates and stuff them with blue cheese and almonds.
Storing cheeses for picnics: If you have a hot day or a long bike ride ahead of you, pack your cheeses on frozen water bottles or a chilled bottle of wine. Sheep's milk cheeses tend to sweat in the sun, so keep them covered with a cloth nappy.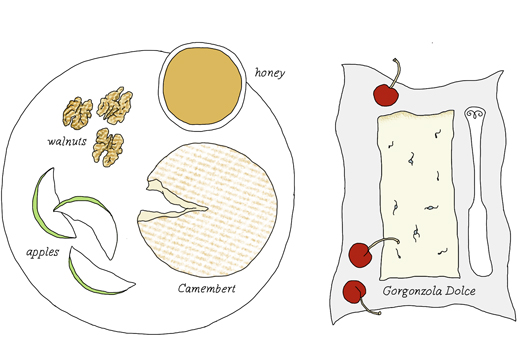 Please also read the other parts in this seasonal cheese calendar:
Your Spring Goat Cheese Primer (part 1)
Smoke and Funk: A Fall Cheese Board (part 3)
Winter Blues: A Pairing Party for 8 to 12 (part 4)
More by Madame Fromage on kokblog
Guest Post: How to Turn Your Desk Into a Cheese Board
and check out her wonderful cheese book