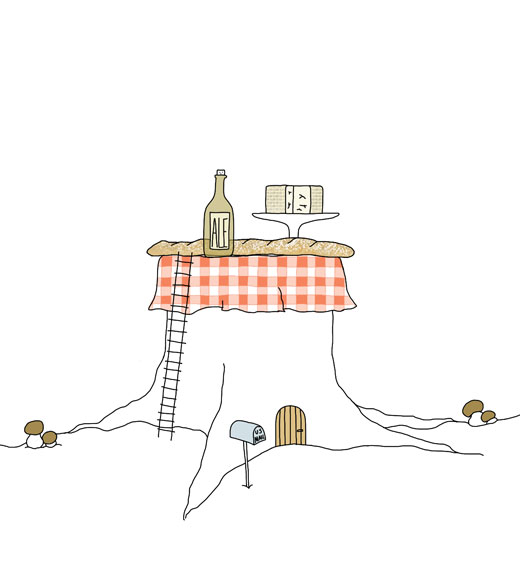 Fall is just around the corner (or at least here in Brooklyn) and it's time for part 3 of the seasonal collaboration with Tenaya Darlington, alias Madame Fromage. This time of the year I just want to put my wellingtons on and pick loads and loads of mushrooms. And a proper mushroom hunt needs a picnic and together with Tenaya there will of course be cheese.
Smoke and Funk: A Fall Cheese Board (part3)
by Madame Fromage
In fall, I love when the air smells of damp leaves and wood fire. It's a good time for a hike with wool hats and a hamper of cheese. Find a smooth tree stump or an overturned log without too many mushrooms, and you can create a woodland snack scape fit for a band of hobbits.
Such an adventure calls for cheeses that bring earth and forest to mind.
Clothbound cheeses. Leaf-wrapped cheeses. Bark-bound cheeses. Cheeses smoked over wood. And my favorite: booze-washed cheeses that are supple and mushroomy with a kick of rank funk.
Here are a few fall favorites with unusual coverlets and trappings…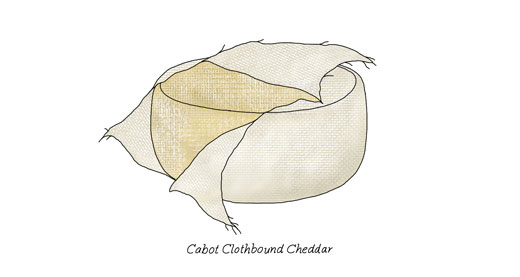 Clothbound Cheese
Long before block American Cheddar appeared, traditional British Cheddars were wrapped in muslin and smeared with lard to keep them moist inside cellars. Aging a cheese in a cellar or a cave kept cheeses cool and allowed them to develop unique tastes – let's call that taste "earthy." Today, several traditional Cheddar makers still produce clothbound Cheddar – ask for samples of Montgomery's, Keen's, or Quicke's next time you visit a good cheese shop. A handful of American makers have been inspired to wrap their Cheddars in cloth, too, including Cabot Clothbound and Beecher's Reserve.
If you haven't tried a clothbound Cheddar before, now is the time! As the days grow shorter, don't you long for the taste of mushrooms and butter? Clothbound cheddars are 'shroomy and supple, perfect to serve on Halloween – invite your friends in to taste mummified cheese from a cave. They'll find it more compelling than candy.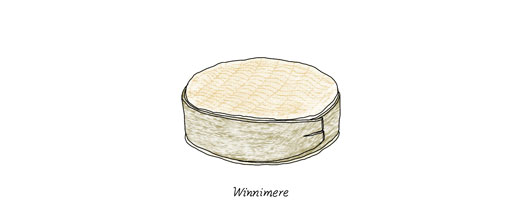 Bark-bound Cheese
In fall, seasonal cheeses that are wrapped in bark begin to appear in markets. In France, the best-known varieties are Vacherin Mont d'Or and Epoisses. These small moons turn so soft and gooey that cheesemakers use "belts" made of bark (Birch or Spruce) to hold the wheel in tact. Think of them as cheeses that need girdles. This European tradition has, once again, inspired several American artisans to follow suit with special cheeses, like Harbison and Winnimere, from Jasper Hill in Vermont.
You can warm these cheeses very gently on a lipped plate or a crock – try 200 degrees in your toaster oven for 20 to 30 minutes. Then, plunge steaming new potatoes into them. This is how the Swiss make it through fall and winter. Be sure to serve a round of Doppelbocks.

Smoked Cheese
One of the best smoked cheeses, Idiazábal, comes from the Basque region of Spain — a nutty, buttery sheep's milk cheese that is lightly smoked over a fire to impart a fragrant taste. This smoky accent is part of a mountain tradition; the same cheese from the valley around Navarre is not smoked. Idiazábal is often compared to Manchego, from the same region. Both cheeses are traditionally paired with quince paste or quince jam. The bright, acidic taste of the fruit offsets the dense, woodsy flavor of this cheese.
Sit by the fire with some mulled cider or a Spanish red. On a cheese board, this darling is wildly versatile. Try pairing it with toasted almonds, meaty green olives, cured meats, dried apricots, and pine honey. If you want to add another rare smoked beauty, make it Rogue River Smoky — a stunner from Oregon with midnight veins.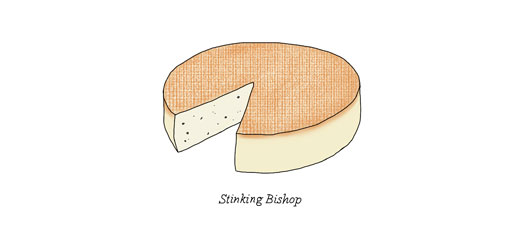 Booze-washed Cheese
Long ago, monks hatched the idea to wash wheels of cheese with beer and spirits — dampening the rinds adds moisture to the paste but also turns the exterior a wee bit sticky and funky. Stinking Bishop, from England, is washed in a spirit made from pears, called perry. Epoisses, mentioned above, is washed in Marc de Bourgogne – a dazzling brandy. Chimay is washed in Belgian Chimay. If you're a fan of beefy cheeses, this is the season to break out these fudgy wedges and let the breeze carry the scent away from the rest of your family.
I love to serve these stinky monsters with a side of beef stew – they adore braised meat and onions. And, of course, you'll want to wash it all down with a pint of Belgian ale or a snifter of Brandy. Maybe both, depending which way the wind blows.
*
Please also read the other parts in this seasonal cheese calendar:
Winter Blues: A Pairing Party for 8 to 12 (part 4)
Late Summer Cheese Picnic (part 2)
Your Spring Goat Cheese Primer (part 1)
* If you want to dig into more cheeses, I recommend you to check out Tenaya's cheese book. It's wonderful!
* And I can also let you know that she is working on her 1st cocktail book together with her brother, André Darlington. Cheers.