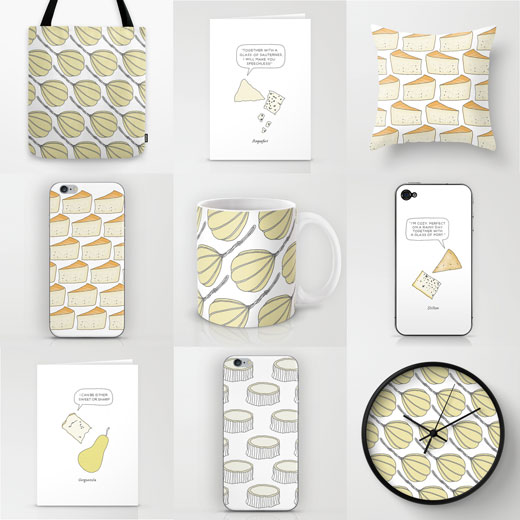 As many of you know, last year Tenaya Darlington (Madame Fromage) and I worked on a series of seasonal cheese articles. We were both dreaming of turning these cheeses into some kind of illustrated products. And today we are finally opening the doors to our cheese collection over at Society6*.
I'm totally over the top excited about doing this with Tenaya and the best thing is, I'm learning so much about cheese.  And don't you agree that for any cheese loving person, these products makes great holiday gifts?
Our cheese selection includes art prints, greeting cards, iPhone cases, laptop sleeves, tote bags, pillows, mugs, wall clocks, hoodies and T-shirts etc. One of my favorites is this pillow with a Provelone pattern. It's decorative and hilarious at the same time! In the future we hope to add duvet covers and shower curtains to our cheese collection. Or how about some blue cheese leggings? We also hope that Society6 one day will add tea towels and aprons to their standard products.
We really hope you will enjoy our selection.
 *
See also…
Madame Fromage's Cheese Lovers Gift Guide
Cheese Calendar by Tenaya Darlington & Johanna Kindvall
Your Spring Goat Cheese Primer (part 1)
Late Summer Cheese Picnic (part 2)
Smoke and Funk: A Fall Cheese Board (part 3)
Winter Blues: A Pairing Party for 8 to 12 (part 4)
Selection of cheeses in my portfolio.
*Society6 is an online print-on-demand shop which offers many different product with printed artworks on them. Which is great as we don't have to keep everything in stock. The product will be printed and handled just when ordered.  Society6 ships anything almost anywhere in the world.