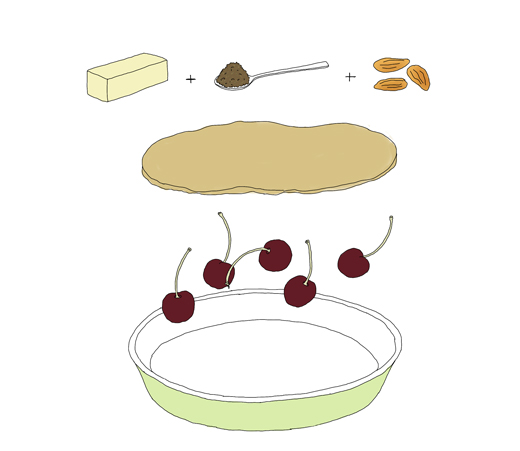 There is an old railroad path where the tracks have been gone for many years. Nasty weeds such as stinging nettles are about to take over as almost no one walks there anymore. Along the path a little further on grows some black cherry trees.  The cherries are tiny, sweet with a slight almond taste. They are absolutely fantastic and something I long for every summer.  Its a great treat (despite the burning weeds) to eat directly or to freeze for pies and hot sauces in the Autumn. As they are just too good to be left on the tree for the birds to eat, I will continue coming back each year.
Wild Cherry Pie
serves 4
almond dough
300 ml (1 ¼ cup) milled almonds
100 g (3 ½ ounces) butter
5 tablespoons sucanat
about 750 ml pitted black wild cherries (or similar)
With your hands mix together butter, milled almonds and sugar. Work the dough together. As this is not a crumble, the dough should feel a little sticky. Let it rest in the fridge for about an hour. Grease a 9 ½ inch pie form and arrange the cherries in the form. Flatten some of the dough out in your hand and place over the cherries. The crust should be about 1/4" thick. Repeat until all the cherries are covered. Bake the pie in the oven at 200°C (400F) until the crust has started to get color, about 15 minutes. The crust should be a little crisp and still buttery. Serve warm with some whipped cream.
This recipe was first published at Honest Cooking, 1 September 2011.