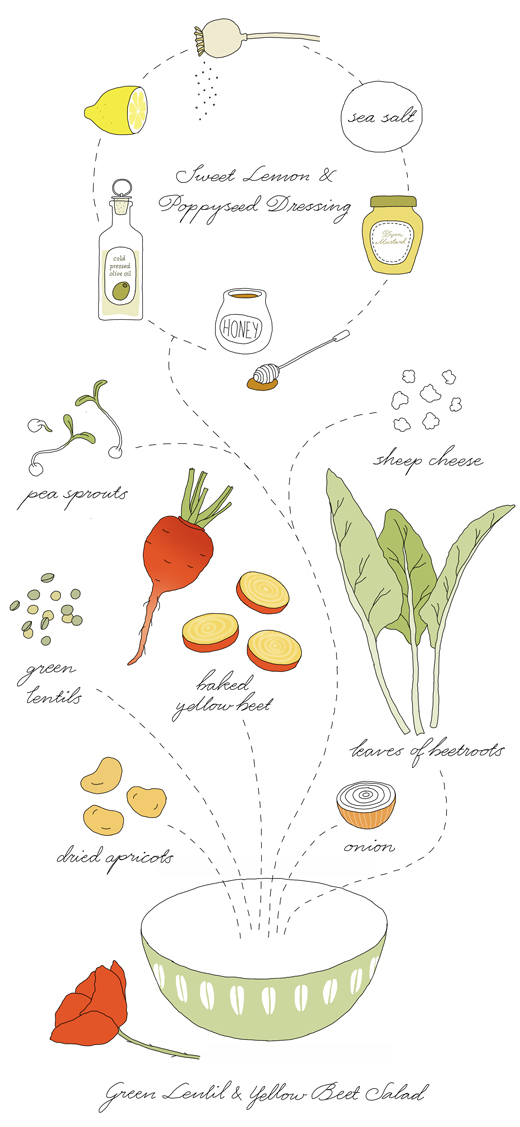 A couple of weeks ago David Frenkiel and Luise Vindahl at Green Kitchen Stories asked me to illustrate a recipe for them. As I always enjoy visiting their site the answer was easy. The recipe is a beautiful Yellow Beet Salad with green lentils, sheep cheese, pea sprouts and apricots. The salad has a simple mustard dressing flavored with poppy seeds. I'm already in love with the combination of beets, lentils and sheep cheese. But with the addition of pea shoots, apricots and poppy seeds this dish becomes much richer in flavor and texture. Very inspiring! Read the whole article and get the recipe here.
David and Luise lives in Stockholm, Sweden together with their daughter Elsa. This Spring (in April) their first book, The Green Kitchen will be released in both UK, Australia and US. In the US the book will have the name Vegetarian Every Day. The recipes in the book (and the recipes on their website) are all creations of their own everyday vegetarian cooking.
Some of my favorites from their sites are their Lemon & Coconut Bars and this Spinach Kale Soup with Tahini Dressed Chickpeas.