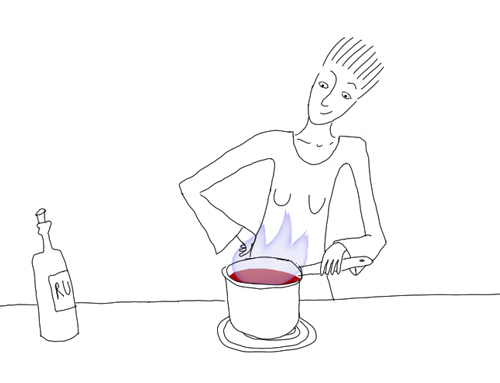 I have never in my life done my own Glögg until now. Glögg is a warm wine drink that is very traditional during Christmas time in Sweden. In fact it's a very old tradition and I have heard that it was a way to cover up a bad wine!
1 cup rum,or vodka or 50/50
1 bottle of a full bodied red wine (ex. Merlot, Cabernet Sauvignon)
dried figs
75 ml (0.3 cups) sucanat (or sugar cubes)
blanched almonds
raisins
spices
3 cinnamon sticks
1 teaspoon whole cloves
1 teaspoon ground nutmeg
2 peels of an orange
5 whole cardamoms
1 small piece of ginger, chopped
20 raisins
Heat up the wine. It's important to not let the wine boil! Put all the spices in the warm wine, turn the heat off and let it rest covered for at least 4 hours.
Seive the spices from the wine. Heat up the wine together with the figs to 60º C. In the meantime prepare a stainless steel net (for example a steel strainer) with sucanat or the sugar cubes. When the wine has reach the right temperature, place the steel net over the saucepan. Pour the rum over the sugar and light the alcohol steam below (flambé). Let the burned sugar drip into the wine mixture. Take the saucepan from the heat. Cover with a lid to stop the flames.
Serve the glögg warm with raisins, blanched almonds and the warm figs. Great after a walk in the snow!
(There are many ways to do your own glögg and what you choose to make it out of. I got inspired by Bengt Frithiofssons recipe, "Glödgande Glögg". Frithiofssons talk about wine on the Swedish TV Channel TV4.