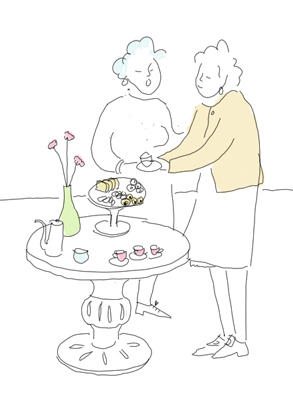 In Sweden old ladies have this kind of cake (baked with regular sugar and often without the fruit) at their coffee parties. They serve the cake with at least seven other cookies, while they are chatting about now and then.
Well I serve my cake when I have brunch parties. And we talk about things and how we got here.
2 egg
250 ml (1 cups) sucanat
75 gram (2.6 ounces)  butter
100 ml (0.4 cups) milk
300 ml (1¼ cups) flour
1½ teaspoon baking powder
½ banana
½ apple
crushed cardamom
Mix egg and sucanat until it is light. Heat up milk and butter and pour mixture over the egg mix while mixing intensely. Blend flour and baking powder before you stir it into in the cake mixture. Mash the banana and slice the apple into very small pieces. Mix the fruit and some crushed cardamom (to your own taste). Bake in the oven at 200°C (392F) for about 25 minutes.
This cake can also be baked as muffins.