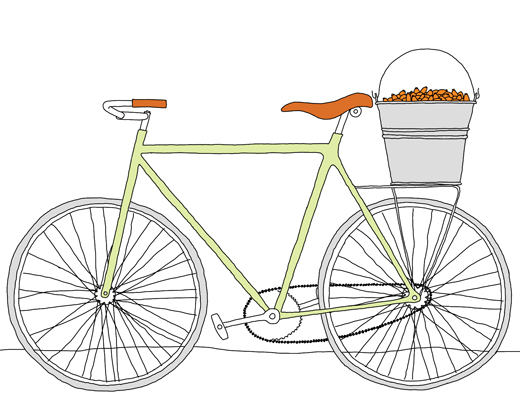 The other day I took my bike on a long long bike ride  to get to the sea through neighborhoods I never new existed. The idea was to get away from the city to breath fresh salty air and eat some newly caught clams. The bonus was that I got to pick ripe rose hips. The rose bushes where growing in the sand just at the edge of the beach. As a rose hip loving Swede, this was a happy moment and I picked as many as I could find.
Rose hips are very high in vitamin C and there are plenty of things to make with it. For example, the outer fruity part of the rose hip (often orange or red) can be dried and used for soup and tea (which can be done with the fresh fruit as well). A rose hip soup is very popular in Sweden especially among children. I love it. The soup can be eaten warm or cold, with ice cream or tiny almond cookies (mandel biskvier) that are best soaked in the soup. My favorite is to serve the soup while cross-country skiing, smoking hot directly from a thermos. I can't think of a better energy treat than that!
If you ever have split open a rose hip you probably know that the hairy part that surrounds the seeds creates itchiness on your skin. Its annoying but totally harmless. (It's actually used as an itching powder).
Fresh rose hips are often used to make jam, marmalade or jelly. You can also make schnapps, liqueur or, why not some rose hip sherry? My sister Anna Kindvall has become sort of an expert at making sherry out of rose hips. So well that a restaurant recently wanted to put it on their dessert wine list. In her wine cabinet you can find different vintages of the wine and like many other wines this wine gets better with age. The wine is sweet and flavorful. It works well with desserts or different kinds of cheeses. It's also great in cooking and, I agree with my sister, a dash of rose hip sherry in a chantarelle sauce is heavenly.
My sister (and others) claims that the most flavorful rose hips are the once with long narrow fruits. I have also heard that the best time to pick them is after the 1st frost (however my sister picks them always before). Here in Brooklyn it's still summer and the once I picked were all small and round (with a really nice aroma). I couldn't get hold of winemakers yeast so I'm using instant yeast. Oh well, in time we will see how my batch of  wine will turn out.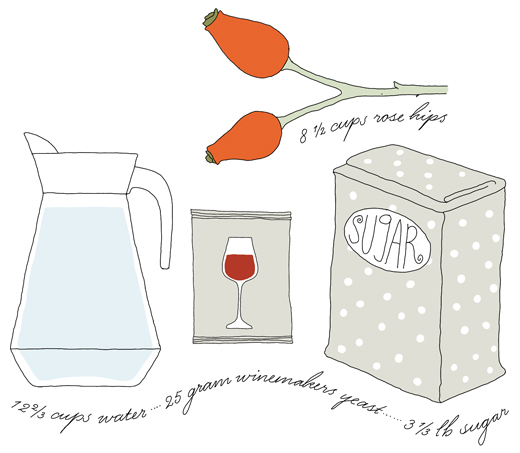 Anna's Rose Hip Sherry
8 ½ cups (2 liters) rose hips (preferably the long narrow fruits)
3 1/3 lb (1 ½ kg) sugar
12 2/3 cups (3 liter) water
25 gr wine maker's yeast (or fresh yeast, it might even work with instant yeast)
Roughly trim the rose hips but don't rinse them with water as the surface contains natural yeast that are useful in the process (or that's what I've heard). Make a sugar syrup by heating up the sugar together with the water. When the sugar has dissolved let it cool. Use some of the liquid to dissolve the yeast. Let the yeast start (there will be bubbles on the surface) before mixing with the rest of the sugar liquid and the rose hips in a bucket or a glass carboy. Cover the jar and let the wine sit still for three months. At this time the liquid should look clear and the rose hips have fallen to the bottom of the jar.
Tap the sherry into dark bottles (for example on 12 fl oz (33 cl) beer bottles). To avoid the sediment at the bottom Anna recommends spooning up the sherry instead of pouring (can be hard with a carboy). Seal with a suitable cork or cap. Let the sherry stand for at least one more month before drinking.
If you are patient enough to store it, or at least with some of it, my sister thinks it's best to drink after 5 years.
This article was originally published at EcoSalon, 13 september 2012
In this Autumn Foraging Series also check out, Autumn Foraging – Apples with an Apple Cider Vinegar recipe