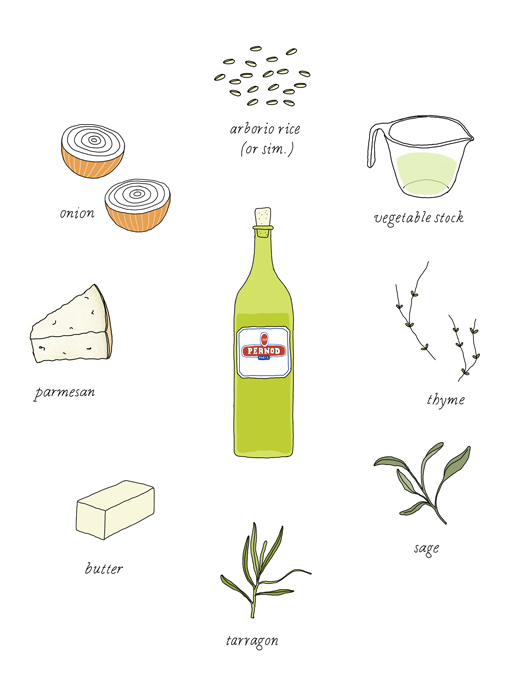 Now, in the beginning of summer, there is not much I can harvest in the garden. But there are a few things like rhubarb, mint, black currant leaves, thyme, sage, oregano, tarragon and parsley etc. The sage and the tarragon are  doing well, so the other day they were successfully used in a simple risotto together with some Pernod that I found in my liquor cabinet. The risotto was served with just an apple and carrot salad, however I can imagine it will work as a side dish with  many other things.
This is pretty much how I put it together: Start by sauteing some chopped onion at low heat with a generous amount of butter until soft and golden in color. Raise the heat and brown the rice for a bit before adding a little Pernod. When it starts to caramelize pour in enough vegetable stock (homemade) to cover the rice. Add fresh sage and thyme. Stir and feed with more stock whenever you need to until the rice is tender but still a little al dente. The risotto should feel thick and creamy. Add a lump of butter and freshly grated Parmesan. Stir carefully. Remove from heat and let the risotto rest covered for a couple of minutes. Decorate with fresh tarragon before serving.
Later on I will have lettuce, mustard greens, kale, spinach,beans, zucchini, carrots, beets, coriander, dill, strawberries, raspberries, gooseberries, elderflower, black & red currants and many other things in my garden. Down the road there will be wild apples and black cherries. But until then I'm pleased with what I have already.
More Risotto links
My Mushroom Risotto
Squid Ink Risotto by Hank Shaw
Spring Lemon Risotto with Asparagus and Fiddlehead Ferns from theKitchn
Cheddar Risotto Cakes from Vintage Kitchen