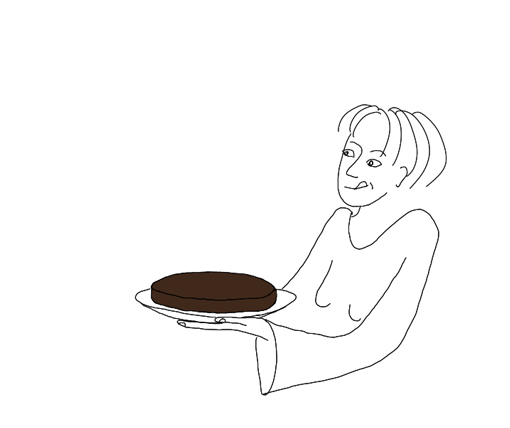 My favorite sweet is licorice; sweet, salty or both. Unfortunately its hard to find my favorites outside Scandinavia. This has made me dream of making my own licorice treats.
This winter I finally got my hands on some licorice powder. I was so totally happy that I wanted to tell the whole world about my treasure. One person I told was a sale's women in my favorite candy shop in Malmö (Sweden). She was impressed (or rather amused) and offered me a taste of some of their exclusive chocolate bars. One of them was a dark chocolate with a touch of licorice. I was sold…
for the Chocolate Cake
2 eggs
1 cup (250 ml) sucanat
4-6 tablespoons unsweetened cocoa powder
1 pinch of salt (only if you're using unsalted butter)
2/3 cup (150 ml) pastry flour
4 oz (a little more than 100g) butter, melted
Whisk eggs and sucanat in a bowl. In a separate bowl sift flour together with cocoa powder and salt. Add the flour mixture to the eggs and stir until combined. Pour in the butter and stir until smooth.
Pour the mixture into a greased 9" pie form. Bake the cake in the oven at 350 F (150°C) for about 15-20 minutes. The cake should be sticky inside. Let the cake cool off.
Ganache with Licorice
2/3 cup (150 ml) cream
½ cup (100 ml) sucanat (use no sugar if chocolate is sweetened)
3.5 oz dark chopped chocolate (I used Lindt Excellence 85% Cocoa)
1 teaspoon licorice powder*
two table spoons butter
Bring the cream and the sucanat to a boil. Lower the heat and add the chocolate and the licorice powder. When chocolate is melted take the pan aside and add the butter. Stir until smooth.
Spread the ganache over the cooled chocolate cake and let it cool for at least an hour.
At last I have to say that I got very inspired by the lovely recipes in the new Swedish cook book, Lakrits, Mint & Choklad (Licorice, Mint & Chocolate) by Elisabeth Johansson.
*licorice powder is a licorice flavoring in powder form. Unfortunate I haven't found this product in the USA. However it may be possible to buy it online from Panduro Hobby (folow this link if you are in the UK)
You can also find licorice flavoring at Essence Fabriken in Stockholm. They take orders by phone or fax. Hopefully they take orders from other countries than Sweden.