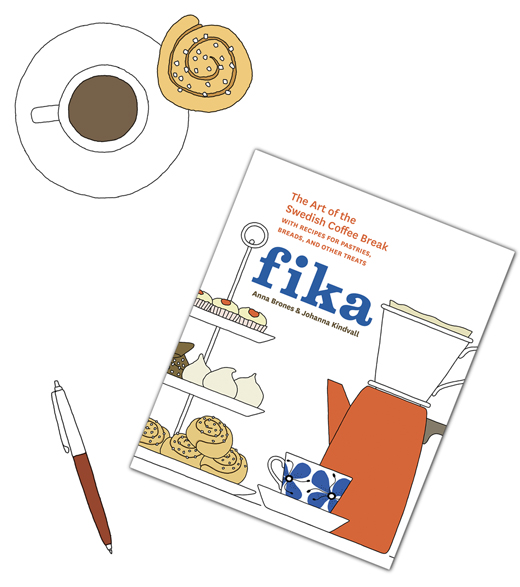 Do you want to fika with me?
Next week we are celebrating by having some Fika – The Art of the Swedish Coffee Break events here in NYC, at various cool places around town.
Both Anna and I will be there! I'm very excited!
Not in NYC? There is also an opportunity to meet Anna on the west coast later in May or meet up with me in London at the beginning of June.
Hope to see you all over a fika!
Manhattan
Book signing at Fika NYC on Monday May 4, at 3 to 5pm
Join us for a chat while having fika. Psst! I have heard there will be chocolate balls!
Address: Fika Tower's Loft  – 824 10th Avenue btw 54 and 55 th Street
Brooklyn
Book signing at the Nordic coffee shop Budin on Wednesday May 6, at 5 to 7pm
Join us over a chat while having some Scandinavian Drop Coffee with your fika.
Budin also has a great beer selection!
Address: 114 Greenpoint Avenue, Brooklyn
Book signing at the bar of 61 Local on Thursday May 7, btw 6 – 8 pm
Join us for some fika talk over a beer and cardamom buns (made from our recipe)!
This bar has a great selection of crafted beers.
Address: 61 Bergen Street, Brooklyn
Anna will continue to…
West Coast
Fika at Book Larder on May 12, btw 6:30 to 8pm
Address: 4252 Fremont Ave N, Seattle.
Anna will be there and talk about Fika

Fika at Broder Nord on Friday May 15, btw 6 to 8:30pm
There will be cinnamon buns, aquavit cocktails and kroppkakor.
Address: Broder Nord, 2240 N Interstate Ave, Portland
Tickets here.
And Johanna will go to…
London
Book signing at Fika London on June 3, at 5-7pm
Come chat with me while having fika. Pssst they have kladdkaka (chocolate sticky cake), Swedish Pancakes  and  Cinnamon Buns. And more!
Address: 161 Brick Lane, London
Hope to see you all!
You can read more about the book here.