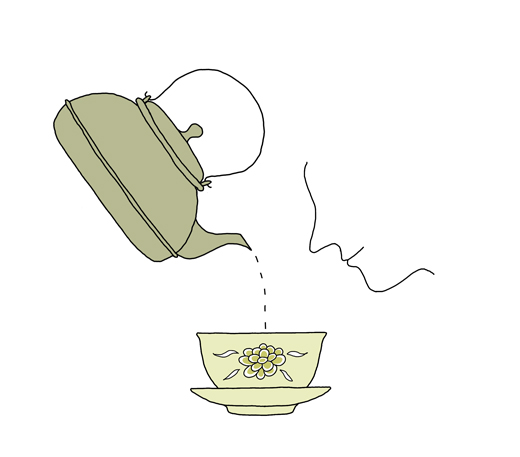 A week ago, I hosted a tea pairing event in my kitchen with Rachel Safko and Ulrika Pettersson (Unna Bakery).  Rachel, who's a writer and tea specialist, selected six different teas and paired them with traditional Swedish treats baked by Ulrika and me.
The three of us ladies got to know each other by talking and tasting a lot of coffee, tea and treats for an article Rachel wrote for Edible Manhattan, issue No 44, 2016 about the Swedish tradition of fika. We'd hosted a small fika for the Edible crew back in the fall that became the cover of the drinks issue (photographed by Scott Gordon Bleicher) and felt inspired to host a larger tea & fika event.
We were so happy and honored to share these with such wonderful guests on a late winter day in New York and hope this list will give you a sense of the surprising and very delicious flavor combinations that can come from pairing tea and Swedish snacks.
Tea Paired with Swedish Cookies and Treats
written by Rachel Safko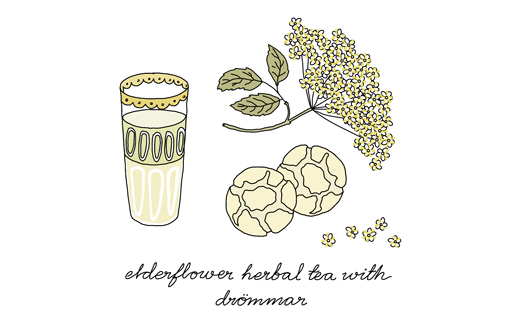 Elderflower herbal infusion from In Pursuit of Tea with Unna Bakery's dream cookies: A springlike aperitif, with rich, delicate elderflowers complementing the sparkle of Unna's airy cookies.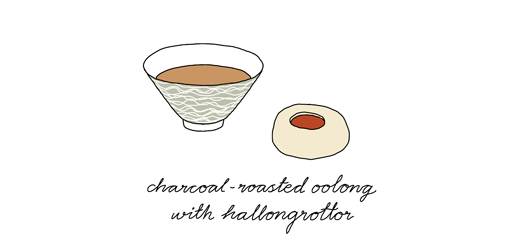 In Pursuit of Tea Tung Ting Oolong with Unna's raspberry cave cookies. A nice transitional snack from late winter to spring: this green, woodsy, medium-oxidized charcoal-roasted oolong has darker undercurrents of smoke and sweet berry jam that suit the cookie's marvelous mix of tart and sweet.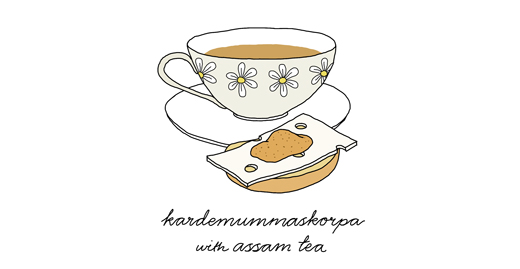 Joseph Wesley Assam tea with sharp cheddar, Johanna's cardamom skorpor and handmade orange-thyme marmalade. The cinnabar-esque brightness and warmth of this classic Indian Assam stand up to the cheddar's bite and bring out the orange and cardamom notes in this traditional Swedish snack, matching its complexity. You can find a similar recipe (with caraway seeds instead of cardamom) in Fika: The Art of the Swedish Coffee Break by Anna Brones & Johanna Kindvall–just switch out the caraway seeds for 4-5 teaspoons of freshly crushed cardamom.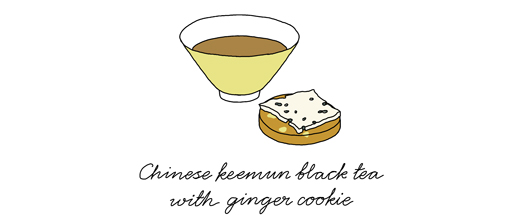 Joseph Wesley Keemun with Unna's gingersnaps and blue cheese. This elegant, mellow Chinese Keemun tames the punch of the blue cheese and the cookie spices, "calming the palate like a blanket." A surprising winter hors d'oeuvre—terrific for parties.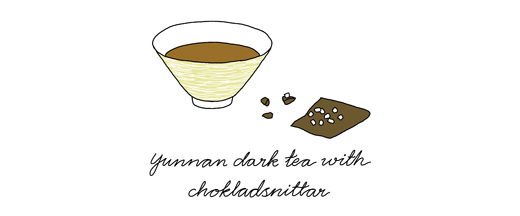 In Pursuit of Tea Shu Puerh with Unna's chocolate-caramel cookies. With earthy, barnyard flavors characteristic of teas from China's Yunnan province, this coffee-like dark tea melds with the deep richness of the cookies; its barnyard notes are also somewhat soothed by waves of pure caramel and big, bright bursts of sugar.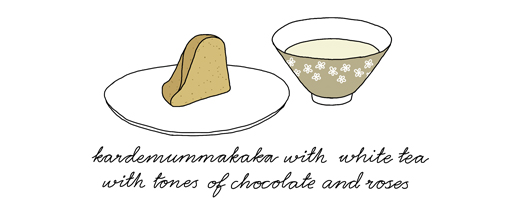 Surprise pairing for a late winter day on the cusp of spring: Bellocq Shire Antlers white tea with Johanna's cardamom cake. This unusual white tea combines light delicate notes with underlying chocolate and rose, offering a lovely backdrop for this spicy yet delicate cake, made with hand-crushed cardamom pods. You can learn how to make it from Johanna's book Fika: The Art of the Swedish Coffee Break.
We hope this inspires you to make your own fikas at home and to try new kinds of tea! We'd also be delighted to help if you'd like to host any events with tea and Swedish snacks. The three of us can be found here: Rachel, Ulrika and Johanna.
Enjoy spring!
*
related links
The Harmony Of Tea + Fika by Sara Shacket (a review of the event)
Pairing Tea and Food by Rachel Safko, Fresh Cup
Global Tea & Food Traditions: Russia by Rachel Safko
Ulrika Pettersson & Unna Bakery at Food52 (about Unna Bakery)
Unna Bakery & dream cookie at Edible Brooklyn
Savory Caraway Crisps (from Fika book), by Anna Brones @ The Kitchn
A New Cookbook Imparts the Art of the Swedish Coffee Break by Lindsey Tramuta, T Magazine, NYtimes