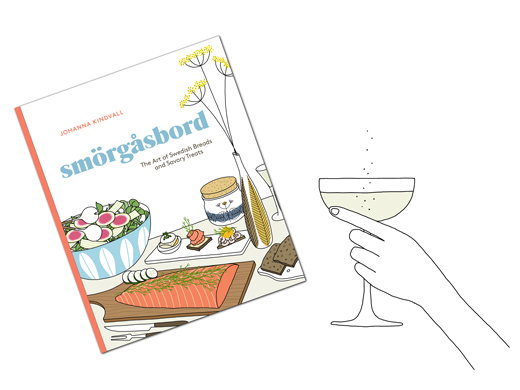 One year ago today my 2nd cookbook Smörgåsbord was published by the lovely people at Ten Speed Press. I wrote this book because I think the classic Swedish smörgåsbord is a perfect display of Nordic Cuisine, with dishes ranging from cured fish to small meatballs, including bread, butter, and cheese. It's also a wonderful, traditional way to enjoy food with friends and family.
This first year has been loads of fun meeting cooks, bakers and serious eaters. For example, last Autumn I hosted a special Smörgås dinner with chef Renee Baumann at 61 Local (Brooklyn) together with Jamie Schler I held a special Orange/ Smörgåsbord potluck party, and at Union Square market I shared bread and taught market visitors how to bake Swedish thin bread. I have also taught a smörgås/ smørrebrød class at Archestratus in Greenpoint and at COOKS in Philly I created a Smörgåsbord Christmas dinner together with cocktail duo Andre & Tenaya Darlington. And my neighborhood restaurant Otway with chef Clair Welle, cooked up a whole smörgåsbord menu to celebrate the book. I have really enjoyed talking and sharing breads and special treats with you all. Thanks everyone for your support and curiosity to learn more about Scandinavian cooking. The 2nd year I will continue with more classes and dinners so please check my event page for updates.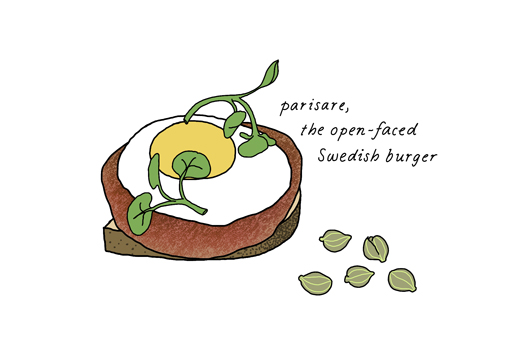 To celebrate, I'm sharing my Smörgåsbord recipe for parisare, which in the book is translated into the Swedish open-faced burger, as it simply is a burger without a top. A parisare (Parisian in English) is a Swedish retro classic with an unclear past. It might be related to something French but nobody seems to know the origin of this dish.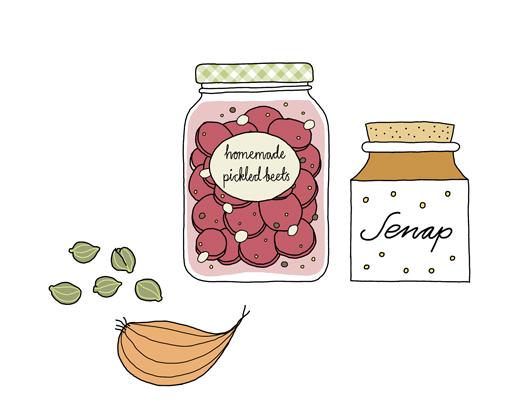 The best parisare is made with the Swedish iconic biff à la Lindström, which are tasty patties spiced with pickled beets, capers, and mustard. Unlike a traditional burger, a parisare is assembled on a slice of toasted bread (preferable a light sourdough) and topped off with a sunny side egg, peppery garden cress (similar to mustard greens or watercress), and sprinkled with freshly ground white pepper.  I also recommend frying the bread together with the patty which unite the bread and the meat into a perfect deliciousness (see recipe below).
Serve parisare with roasted potatoes and condiments such as horseradish relish, pickled cucumber, and mustard. All these condiments are super easy to make and I share my simple recipes of all three in the book.
If you bake or cook anything from the book, I would love to hear about it! Please leave a comment or tag me if you share it on social media. I'm @johannakindvall on instagram and @kokblog on twitter. You can also tag your bakes and dishes with #ArtofSmorgasbord. I will most likely share your post with the rest of my followers.
Cheers!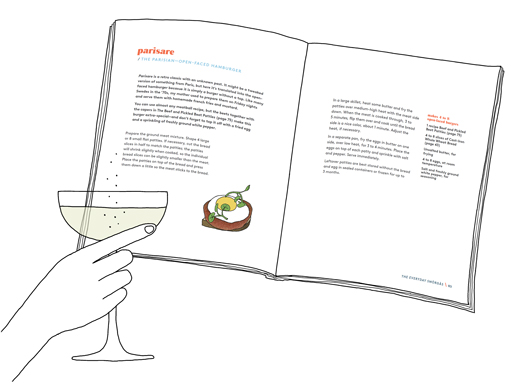 Parisare
(The Parisian – Open-Faced Hamburger)
From Smörgåsbord: The Art of Swedish Breads and Savory Treats
makes 4 to 8 open-faced burgers
1 pound (450 g) ground beef
2 tablespoons minced shallot
¼ cup (1.5 oz, 42 g) finely chopped Pickled Beets*
2 tablespoons finely chopped capers
1 tablespoon Dijon mustard
1 egg, beaten
½ to 1 teaspoon salt
½ teaspoon freshly ground white pepper
4 to 8 slices of sourdough bread**
unsalted butter, for frying
topping
4 to 8 eggs, at room temperature
salt and freshly ground white pepper
garden cress (mustard greens or water cress)
In a small bowl, combine the beef, shallot, beets, capers, mustard, and egg. Add the salt and pepper and mix until evenly blended. To check the seasoning, take a small piece of the meat mixture and fry it in a pan; adjust the seasoning, if necessary.
Prepare the ground meat mixture. Shape 4 large or 8 small flat patties. If necessary, cut the bread slices in half to match the patties; the patties will shrink slightly when cooked, so the individual bread slices can be slightly smaller than the meat. Place the patties on top of the bread and press them down a little so the meat sticks to the bread.
In a large skillet, heat some butter and fry the patties over medium-high heat with the meat side down. When the meat is cooked through, 3 to 5 minutes, flip them over and cook until the bread side is a nice color, about 1 minute. Adjust the heat, if necessary.
In a separate pan, fry the eggs in butter on one side, over low heat, for 3 to 4 minutes. Place the eggs on top of each patty and sprinkle with salt and pepper. Serve immediately.
*
* Smörgåsbord has a simple and delicious recipe for pickled beets but you can also find these type of pickles in many well stocked supermarkets as well as in any Scandinavian or eastern European food shops.
** From the Smörgåsbord book, I suggest to use the Rustic Rye Bread (page 46) or the Cast Iron Whole Wheat Bread (page 43). You can also use this bread or this one (or any other light sourdough bread) .
Reprinted with permission from Smörgåsbord by Johanna Kindvall, copyright © 2017, published by Ten Speed Press, an imprint of Penguin Random House LLC.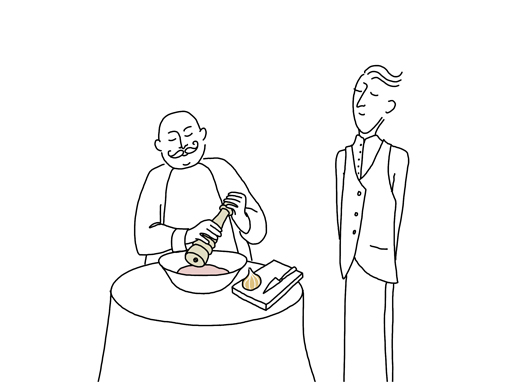 *
related links
If you want your own copy of
the Smörgåsbord cookbook you can get it here.
Smörgåsbord cover animation
my christmas table + recipe of vörtbröd 
more about the Smörgåsbord book here and here
my 1st book: Fika: The Art of the Swedish Coffee Break
by Anna Brones & Johanna Kindvall
(Ten Speed Press, 2015)
*