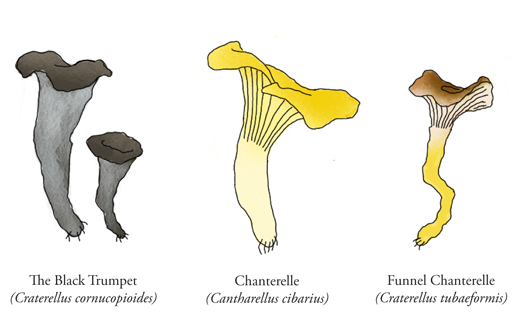 This summer many of my friends in Sweden bragged about the number of baskets of yellow chanterelles they carried home from the woods. I came home with none. But I smiled along and remembered last year, when I couldn't carry home all the King Boleteus I stumbled over in the woods. I still have plenty left, dried in big glass jars in my pantry.
But, I got to pick other treasures such as Black Trumpets and Funnel Chanterelles which are both equally delicious.
(read the whole story over at EcoSalon… )
Toast of Trumpets
an appertizer for two
about ½ -1 cup dried Black Trumpets (or Funnel Chanterelles)
*½ cup or more white wine (for example, a dry Riesling)
salt and pepper
about 5-7 sprigs of fresh thyme
butter
one shallot
about ½ cup cream
a small handful of walnuts, toasted and chopped
freshly grated parmesan
sliced baguette, toasted
Soak the dried mushrooms in just enough white wine to cover all the mushrooms for at least 30 minutes until soft. In the meantime, chop the shallot into tiny pieces. Sauté on very low heat with plenty of butter until soft and golden.
Drain the mushrooms and reserve the wine for later. Heat up a dry pan, set the heat to medium and add the mushrooms. If the soaked mushrooms get stuck on the pan, add some of the soaking water, in this case the soaking wine. When the water is gone add a big lump of butter to the pan. Add thyme and sauté the mushrooms until they start to get some color (can be hard to see with black mushrooms). Raise the heat and add the shallots and the rest of the soaking wine. Let simmer and reduce to about half. Add cream and season with salt and pepper. When the cream has thickened divide it equally over the toast. Top with toasted walnuts and freshly grated parmesan. Serve this Trumpet Toast with a simple tomato salad. Enjoy!
If using fresh mushrooms you should skip the soaking part and only add the wine at the end.
* if you are not able to pick Black Trumpets or Funnel Chanterelles yourself, you can find them dried in well-stocked food shops. There are also plenty of online shops that sell them. Other dried mushrooms such as King Bolete work mighty fine as well.
Story and recipe was originally posted at EcoSalon on 26 October 2011.
More mushroom stories on kokblog:
Mushroom Pie (recipe)
Mushrooms (preserves)
Mushroom Risotto