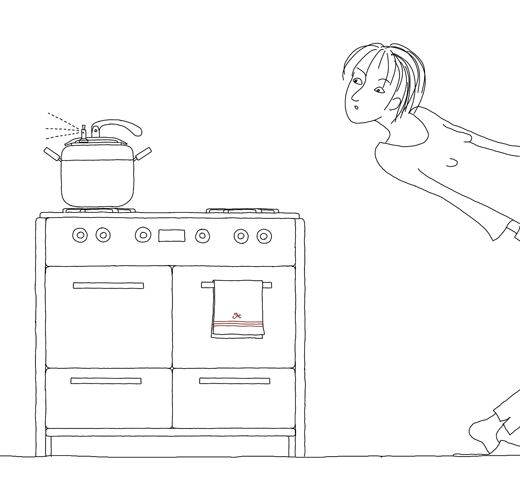 I feel more and more secure about using our pressure cooker even if I sometimes still think its going to explode. In this dish it may look like it actually happened, as it's not a particularity attractive meal! However this hearty stew is perfect for lazy evenings when its freezing cold outside. It's warm and delicious and shamelessly easy to make…
(for two people)
6-7 slices of bacon
1 medium onion
fresh or dried thyme
one small parsnip
one medium potatoe
a small piece of celery
1 cup (240 ml) dried split peas
2 ¾ cups (650 ml) of stock (preferable your own home made: veg., meat or chicken)
1-2 bay leaves
1 clove garlic
(salt and pepper)
Cut the bacon into thin slices and fry in a pan on medium heat until it starts to get a little crisp. Chop the onions and sauté in butter or with remaining bacon fat on very low heat until soft and almost transparent. At the end add some thyme (if using dried). Place onion, bacon, split peas (rinsed), chopped potato and parsnip in the pressure cooker. Add stock, bay leaves and press in some garlic. (If necessary season w/ salt and pepper). Stir everything and bring the mixture to a boil. Close the lid and bring pressure to high until the steamer begins to steam. Lower the heat and continue cooking for 15 minutes. Remove the cooker from heat and let cool. When the pressure has completely gone open the lid.
Serve the stew with a nice ale.
We use both yellow or green spit peas for this dish. However I have noticed that the yellow split peas gets mushier and at the same time drier. Therefore I cook them for only 13 minutes and use just a little bit more stock. You can also use other vegetables such as: turnip, carrot and celery. This recipe came originally from a soup recipe at cd kitchen.