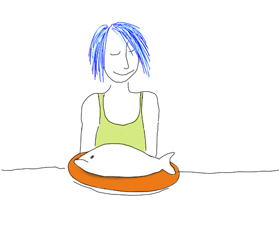 Yesterday we had Sophia over for dinner. Sophia used to live in our building long before I met M and moved over here. M remembers her as the girl with the blue hair. Some time ago M was teaching architecture, he had told the students to draw where they came from. Suddenly he recognizes his building and the girl with the blue hair, she is one of his students! She had drawn their house and she had also added some Manhattan likely crowns on top of the ugly buildings across the street. She thought they needed it. I think it would be more fun too.
salmon filet
shallots
dill
olive oil
vinegar
lime
pepper
tiny amount of chili
cold sauce
mayonnaise
sourcream
dill
feta
potatoes
arugola
Marinate the salmon for half an hour with olive oil, balsamic vinegar, chili, pepper, lime and the shallots. Bake it in the oven in a covered dish or foil for about 15 minutes at 350 F. Prepare the sauce by mixing one part mayonnaise and one part sour cream together. Add some chopped dill. Serve the salmon together with the mild sauce, boiled potatoes, feta and a simple arugola salad.