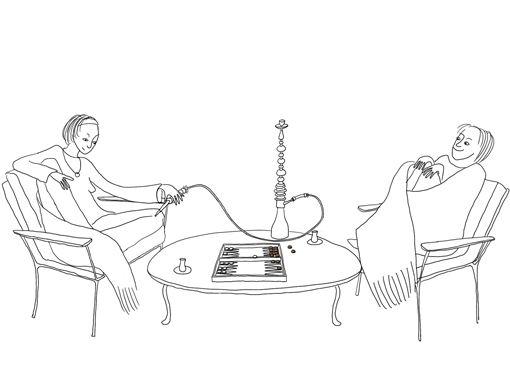 My friend Maria and I used to spend long evenings out in her garden, playing backgammon and smoking water pipe. At that time, we often start the evening by cooking something together, while listening to Middle East pop music and drinking some exotic tea. Well Maria spent over a year in the Middle East working at a rehabilitation center. In her free time she learnt scuba diving or went for long overnight walks in the desert all by her self. She must be one of the bravest persons I know.
This shrimp stew has nothing to do with Maria's adventure in the Middle East. This stew is inspired by one of her original recipes. However I have changed it a bit. She made it as a creamy soup and it was perfectly suitable for our long early summer backgammon session in the garden.
half kg raw shrimps
two or three cloves of garlic
chili flakes
mustard seeds
½ teaspoon cumin powder
½ teaspoon coriander powder
½ teaspoon turmeric powder
three fresh tomatoes
one yellow onion
150-200 ml (0.6-0.85 cups) cream or heavy milk
paprika powder
thyme
fresh dill
one red pepper
salt and pepper
fresh cilantro
Heat up some olive oil and sauté one clove of chopped garlic together with some chili seeds. When the garlic starts to get a little yellow add the shrimps. Sauté on high temperature until they are done. Put the shrimps on the side and pour 150ml (0.6 cups) water in the sauté pan and let it boil for a minute. The liquid is going to be used later. Peel the shrimps when they become cooler.
Heat up new olive oil and add a teaspoon of mustard seeds. When the seeds starts to pop add cumin, coriander, turmeric and chili flakes. Sauté for ½ a minute before adding the chopped onion and one or two cloves of chopped garlic. Slice the fresh tomatoes and add them to the onions as they are getting soft. Sauté for a short moment before adding the shrimp water. Cover and cook for 3-4 minutes. Add the cream and bring it to the boil. Lower the heat and season with paprika powder, thyme, salt and pepper. The stew should have a nice balance of sweet and spiciness. Just before serving add the shrimps, chopped cilantro, dill and the red pepper. The red pepper should be crispy.
Serve with rice and a simple salad (I often do arugula with apples and walnuts).
See also recipe for Grilled Spicy Shrimps