Last summer, when I helped my mother pack down her house that she'd lived and worked in for almost 50 years, I found her old struvjärn. Obviously I snuck it out right away, slightly afraid that she or any of my siblings might object! In Sweden struvor (rosettes in English) are a deep fried pastry that's most common around Christmas but I think they work all year round, by themselves or together with chocolate sauce and ice cream.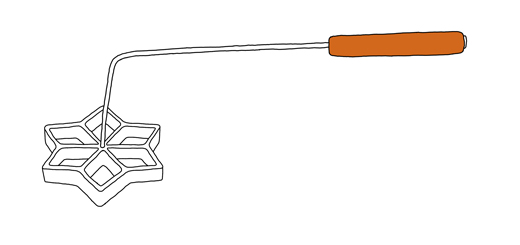 These cookie-like pastries are made with a struvjärn which is preheated in hot oil, dipped into a pancake like batter, and then deep fried until golden brown, crisp, and light. The iron tool comes in many different decorative designs like stars, snowflakes, butterflies, and hearts. They are best eaten freshly made, dipped in granulated sugar spiced with cardamom. The granulated sugar gives an extra crunch to this airy deliciousness.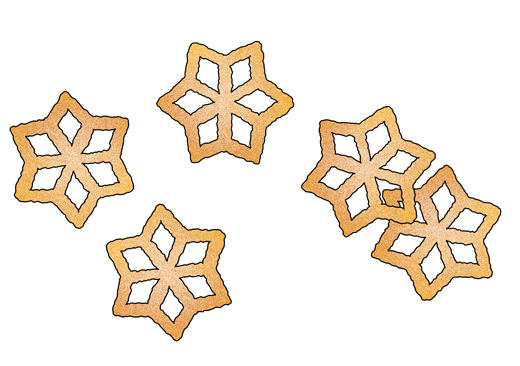 The batter for the rosettes is pretty much the same batter you use to you make Swedish pancakes or crepes. In general the batter is just flavored with a pinch of salt and occasionally with a dash of vanilla. In US it's common to add sugar to the batter but in most Nordic recipes it's not. The Finnish struva, which are called tippaleipä (similar to funnel cake) are made with yeast and simply piped out with a pastry bag (or a bag with a cutoff corner). Talking about it on Instagram, I learnt that there are several similar pastries around the world, (see list below). If you know of any other variations and types, please share in the comments and I will add it to my list.
The recipe here is originally a recipe by Johan Sörberg which I liked because he suggests to add a few tablespoons of porter to the batter. Instead of porter you can use stout or any other beer. Except for the addition of cardamom to the topping, I haven't really changed this basic recipe more than made it work in both metric and imperial measurements.
Serve the rosettes as they are or together with vanilla ice cream. They are also delicious to  dip in chocolate sauce.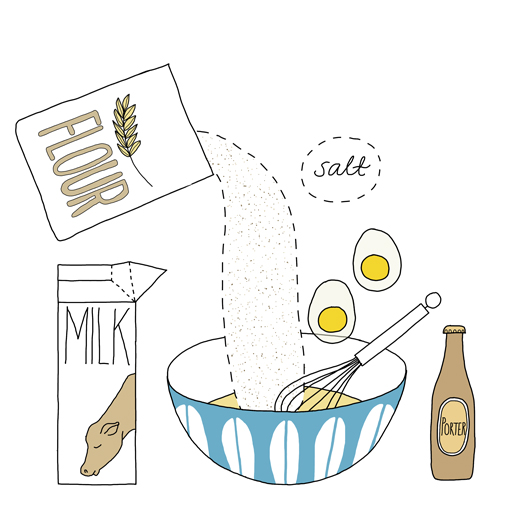 Struvor (Swedish Rosettes)
plenty to feed 6 to 8 for dessert or a special fika
batter
1 ¼ cup (300 ml) whole milk
2 eggs
pinch of salt
2 ½ tablespoon porter (or stout)
1 ¼ cup (6.25 oz, 180 g) all purpose flour
1 cup (250 ml) neutral vegetable oil such as sunflower oil, plus more if needed
topping
granulated sugar
ground cardamom, to your liking (or ground cinnamon)
Whisk together milk, eggs, salt, and porter. Sift in the flour and mix until a smooth batter.
In a saucepan, heat up the oil to at least 355°F (180°C).
Prepare a plate with enough sugar to dip the finished pastries in. Add the ground cardamom to your taste and mix well.
When the oil has reached the right temperature, dip the rosette iron into the hot oil and let it heat up for a few seconds, then dip it in the batter. The batter should just reach the top edge of the rosette (if the rosette is totally covered you will have a problem releasing the fried rosette from the iron).
Now dip the battered iron into the hot oil and let it fry until golden, less than a minute. Shake the iron or use a fork to loosen the rosette from the iron, let it fry a little longer to make sure both sides get a nice color. With a large tweezer or a slotted spoon, transfer the rosette to a paper towel to drain before dipping into the sugar & cardamom mixture. Repeat until all the batter is finished.
Best eaten fresh but leftover pastries can be stored, when completely cooled, in an airtight container. Leftover batter can be stored in the fridge for at least 1 to 2 days. The batter can also be used for thin pancakes.
NOTE: Rosette irons are available in many stores online. But you can also try to pipe the batter out with a bottle or plastic bag as when making funnel cake. 
*
similar pastries around the world
Rosettes (US)
the Spruce
Tippaleipä (Finland)
similar to funnel cake but made with yeast – by Anna Billing
Funnel Cake(US)
made with baking powder and piped out – Smitten Kitchen 
Kokis (Sri Lanka)
with coconut milk, rice flour & turmeric 
Kuih Loyang (beehive cookies, Malaysia)
with coconut milk & rice flour – Lisa's Lemony Kitchen 
Bunuelos de Aire (Mexico)
Abuela's Kitchen
Kue kembang goyang (Indonesia)
made with coconut milk & rice flour – Borneo recipes
Filhós de forma (Portugal)
with orange – by Mónica Pereira da Silva
Frittelle croccanti Altoatesine (Italy)
(roughly translates to "South Tyrolean fritters")
Churros (Spain)
Cannelle Vanille
Xuxos & Churros (Spain)
kokblog post
Krustader (Nordic)
made with a special type of iron that creates shell like cups – the shells can be filled with either sweet or savory fillings –
via Smagsløgene
*
credits:
Animation & illustrations by Johanna Kindvall
Music in movie: Talkies by Huma-Huma