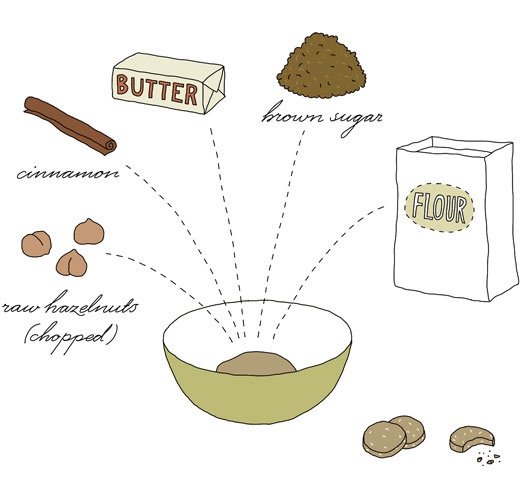 As you've probably noticed I haven't been posting articles for a bit – which is a good sign I've been drawing other projects. Anna Brones and I have now almost finished our first draft for our book (scheduled to be published in Spring 2015). So if I haven't been in the kitchen developing recipes I've been at my drawing table drawing them (or on a ladder patching and painting walls for my new home). In late July the book "The Culinary Cyclist" by Anna Brones was published. The book is illustrated by me and it's for sale here in my SHOP. I also have many other drawing projects that I will share with you when the time is right.
Autumn is here and I don't know about you but I think its a perfect time to crawl up on the couch with some cookies and a book.
Hazelnut & Cinnamon Cookies
35 cookies
5 oz (140 gram) butter
1/3 cup (67 g) brown sugar
2/3 cup (95 g) raw hazelnuts
1 cup (140 g) all-purpose flour
2 teaspoons cinnamon
Turn the oven on to 350°F (175°C).
Toast the hazelnuts in a skillet. Blend them roughly in a food processor (or chop them into tiny pieces).
Mix together hazelnuts, sugar, butter, flour and cinnamon in a wide large bowl or directly on top of the counter. Work all quickly together with your fingertips (or with a knife) into a dough. Form two separate 7″ long rolls, about 1″ in diameter. Let the dough rest in the fridge for at least 30 minutes.
With a sharp knife, cut about 18-20 slices to each roll. Bake for 12-15 minutes or until they are a nice color. Let the cookies cool separately from each other on a flat surface before storing them in sealed containers. The cookies can also be stored in the freezer.
Want more cookies… Coconut Macaroons