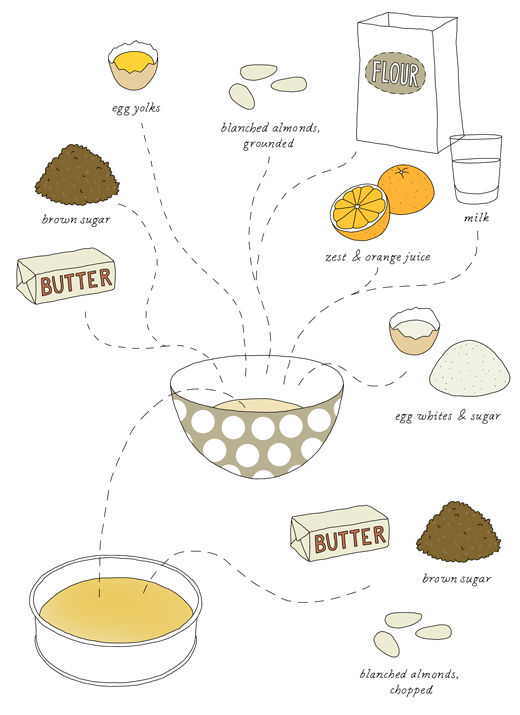 Toscakaka med Apelsin (Swedish Almond Cake with Orange)
by Anna Brones
When spring rolls in, I always think of my mother giving me a package of pink, yellow and blue feathers. They had thin metal wire at the tips, to be wrapped around branches. From the kitchen window I could see my mother cutting thin branches from the birch tree. She would bring them inside, set them in a large glass vase, and I would get to work attaching the feathers.
In Sweden, just like at Christmas you decorate a tree, at Easter time you get out the påskfjädrar and decorate a collection of branches, a tradition that dates back to the late 1800s. And my mother was sure that we always had a few bags of påskfjädrar on hand so as to make our house a colorful celebration of the season.
Many people in Sweden celebrate Easter, whether or not they have religious leanings. In fact, today it's mostly celebrated as a secular holiday, one where everyone gets time off to celebrate the long weekend. Easter weekend is a time to gather with friends and family and eat good food together. There are the traditional Swedish holiday dishes like pickled herring, but whatever is served on the table is always an indicator of the season, with spring-friendly foods. And there are eggs of course. After a winter of heavy foods, the Easter celebration can be refreshing.
If you're lucky, you may be gifted a cardboard egg, full of sweets, and if that isn't enough for you, there's sure to be an assortment of cakes to go with coffee. Because in Sweden, there is always cake and coffee.
Which brings us to the question: what kind of cake to serve?
Toscakaka is a classic Swedish recipe; you'll find it in many an old cookbook, and it's often an option at pastry shops. Its almond and caramel top makes it a step above ordinary cakes, which makes it a good option for a festive and celebratory meal. But the magic of this recipe is when the caramel seeps into the cake during baking, making for a moist and flavorful cake.
As we come out of the winter and citrus season, we thought it only fitting to celebrate the arrival of spring with an infusion of orange. The orange zest and juice in the cake pair well with the rich caramel on top, and giving it the perfect balance of flavors. You'll often find this type of cake made with baking powder, but we opted to make it rise by separating the eggs and whisking the egg whites, similar to making a meringue.
Glad påsk!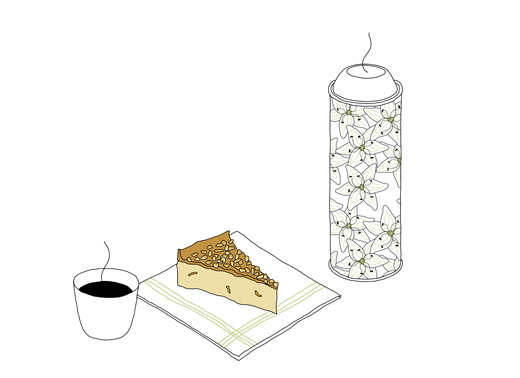 Anna & Johanna's Toscakaka with Orange
one 9" cake
cake
3 ½ oz (100 grams) unsalted butter, room temperature
¾ cup (3 ¾ ounces, 106 grams) blanched almonds
3 egg yolks, room temperature
3 egg whites, room temperature
1/2 cup (3 ¾ oz, 106 grams) brown sugar
1/2 cup (3 ½ oz, 100 grams) natural cane sugar
1/2 cup (2 1/2 ounces, 71 grams) all-purpose flour
3 tablespoons milk
1 tablespoon orange zest + 3 tablespoons orange juice
almond & caramel topping
3 ½ oz (100 grams) butter
1/3 cup (2 ½ ounces, 71 g grams) brown sugar
3/4 cup (3 ¾ ounces, 106 grams) blanched almonds
Preheat the oven to 350°F (175°C).
Grease a 9" spring form pan and sprinkle some breadcrumbs evenly.
Grind the blanched almonds for the cake in a food processor until almost finely ground; there could still be a little chunks of almonds left.
Cream together butter and brown sugar until well blended and creamy. Add one egg yolk at the time and mix it well together. Sift in the flour and carefully fold it into the batter together with the ground almonds. Add in the milk and orange zest. Stir as little as possible until you get an even and sticky batter.
In a grease-free bowl, whisk the egg white with an electric whisk (or by hand). When soft peaks forms add in the cane sugar little by little. Whisk until stiff peaks forms. Carefully fold the sugar and egg white mixture into the batter and keep folding until the batter is evenly blended. Be careful not to over stir.
Pour the batter into the greased and breaded spring form pan.
Bake at 350°F (175°C) for 25 minutes at the lower part of the oven. While cake is baking prepare quickly the almond & caramel topping.
Melt the butter together with the brown sugar. In the mean time chop the rest of the blanched almonds roughly. When the butter and sugar is melted add the almonds and stir together until it thickens.
Take out the cake from the oven (if the cake feels too wobbly let it bake a little longer). Poor the almond & caramel over, carefully spread it evenly. Bake the cake for another 10 – 15 minutes or until cake had got a nice color and a toothpick comes out clean when inserted to the thickest part of the cake.
Remove the cake from the oven and let cool. Once cool, remove the cake from the pan.
*
This post was also published at Foodie Underground.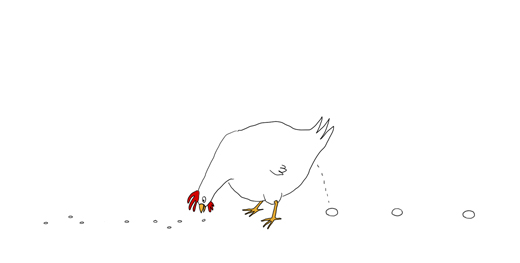 Other articles by Anna & Johanna
Mazainer – Swedish Pastry Classic
Lussebullar – Swedish Saffron Buns
Kanelbullar & kardemummabullar
and
Anna is also my partner for my 1st book (Ten Speed Press, Spring 2015)