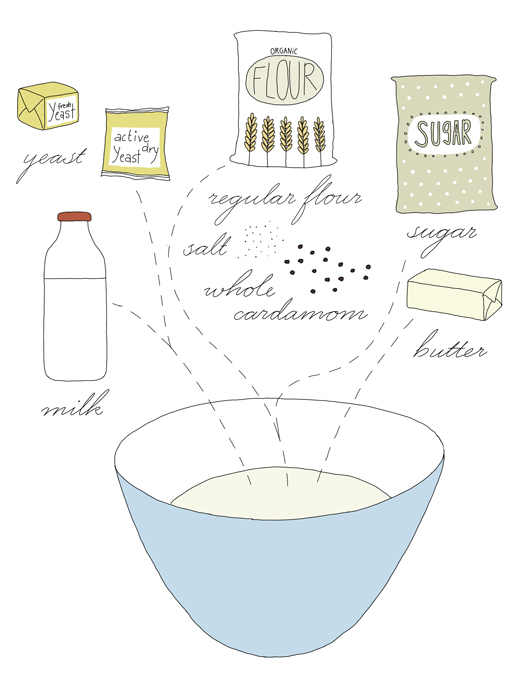 Yesterday was the day of Kanelbullen (the cinnamon bun) which Swedes celebrate by having 'fika' (a traditional coffee break in Sweden).  If you are as serious a bun eater as Anna Brones and myself, you will bake them yourself and have "fika" all day. Below is our last  article together on EcoSalon. It may be the end of EcoSalon, but it will not be the last time you see something from Anna and me, our collaboration will continue one way or another. This article was 1st published at EcoSalon, 4 October 2012.
Baking and Celebrating Swedish Cinnamon Rolls (on Cinnamon Bun Day!)
by Anna Brones (text & recipe) and Johanna Kindvall (recipe & illustrations)
Sweden is equated with many things, but there is nothing as iconic as the cinnamon roll. In Swedish culinary culture, every cup of coffee deserves to be served with a baked good. This tradition is called fika and at its core is the cinnamon roll.
I don't mean the cream cheese frosting topped, so-sweet-it-makes-you-cringe version that is served in the U.S., I mean the classic Swedish pastry, with a hint of cardamom and just sugary enough. In a country where cinnamon rolls are a staple in every cafe and bakery, and every respectable Swede has made their own batch at least once in their lives, it should come as no surprise that Sweden is in fact the cinnamon roll's presumed country of origin.
The beauty of the Swedish cinnamon roll is in its versatility. Depending on your mood, you can switch out a few key ingredients for a completely different taste. Cardamom infused filling instead of the standard cinnamon and sugar mix for example (kardemummabullar).
October 4 marks Kanelbullens Dag (Cinnamon Roll Day) – an entire day devoted the the baked good. Since you probably don't have the chance to sit in a warm Stockholm cafe on a crisp autumn day and order a kanelbulle from the counter, here are a few versions you can make yourself. Just be sure to serve with coffee.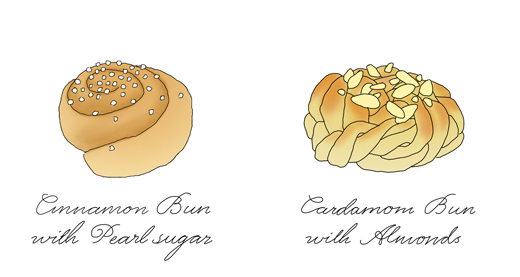 Kanelbullar – Swedish Cinnamon Rolls
Makes about 30-40 buns
dough
2 1/8 cup (500 ml) milk
25g fresh yeast (or 2 envelopes dry active yeast)
2/3 cup (130 g) brown sugar
5 7/8 cups (840 g) flour
2 teaspoons whole cardamom seeds
½ teaspoon salt
5 ¼ oz (150 g) butter (at room temperature)
alternative 1: cinnamon filling
4 ½ oz (about 125 g) butter (at room temperature)
1/3 cup (65 gr) regular sugar
2 ½ teaspoon cinnamon
alternative 2: cardamom filling
4 ½ oz (about 125 g) butter (at room temperature)
1/3 cup (65 gr) brown sugar
4 teaspoons whole cardamoms
(optional: 1 teaspoon cinnamon)

topping
one small egg (whipped together)
pearl sugar or sliced almonds
Prepare the dough: Crumble the yeast (if using dry yeast prepare it as required) in a big bowl. Heat milk until it is warm to the touch, about 100ºF (about 110ºF for dry yeast). Add the milk to the yeast and stir until yeast has dissolved.
Crush the cardamoms in a mortar and pestle.
Mix together flour, sugar, cardamom and salt before adding it to the milk and yeast mixture. Add in the butter in small cubes. Blend well, either by hand or by using a food processor. Knead it well for about 5-10 minutes.
Cover the dough and place in a draft free place and let it rise for at least 40 minutes.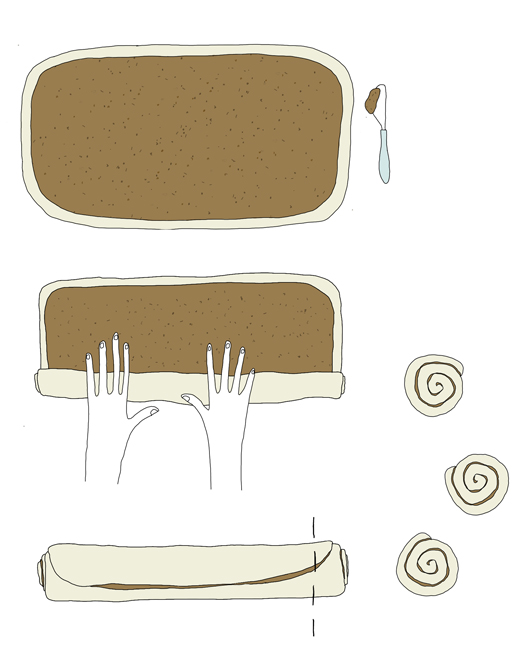 Filling: Mix all ingredients for the filling to an even batter. It is important for the butter to be at room temperature so it's easier to spread.
Divide the dough into two pieces and using a rolling pin (or a wine bottle), roll each of them out separately to the shape of a rectangle (see diagram above).
Spread half of the filling onto each piece of rolled out dough so that it covers the entire area. Roll the dough up beginning with the long side. Slice the roll into about 20 equal sized (about 1 inch wide) slices and place them with their cut side up on baking sheet. Repeat above procedure with the last piece of dough.
Let them rise for about 30 minutes.
In a small bowl, whisk the egg and brush all buns and sprinkle pearl sugar or sliced almonds on top.
Bake them in the oven at 225ºC (about 440F) for 8-10 minutes.
Note: You can also fold the dough as shown below which is more common when making the bun with cardamom filling.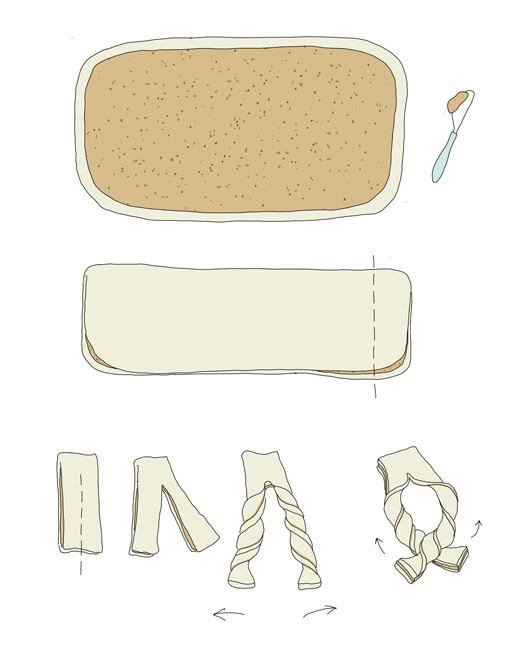 This dough recipe was adapted from Mia Örn's recipe on Kardemummabullar.
More Swedish baked classics
Kardemummabullar – recipe from the Fika book
Semlor – cardamom rich bun is filled with almond paste and heavy whipped cream
Pepparkakor – Ginger Bread Cookies (at EcoSalon)
Lussebullar – Saffron Buns
Mazariner – Guest post by Anna Brones
Variations of my recipe: Swedish Cardamom Rolls by Fix Feast Flair