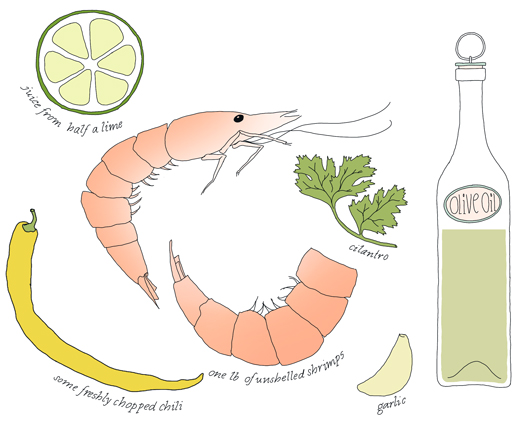 Instead of enjoying the Swedish summer by growing vegetables and foraging for berries and mushrooms, I have been stuck with NY's summer heat. I can't say it has all been miserable though, it just hasn't been the same. In Sweden I would have picked wild black cherries instead of gluttonized on local peaches. I would also have picked yellow chanterelles instead of trying to grow my own oyster mushrooms. Its all good as both places have their own unique quality.
I have found it a little hard to be in my kitchen cooking when the city gets too hot and humid. Some nights I end up just eating cold watermelon with feta or something like that. Delicious and simple. Luckily we have had direct access to a really lovely garden so many dinners have been cooked outside on the terrace. Often vegetables such as eggplant, zucchini and field mushrooms (sliced up and simply marinated with herbs, garlic, olive oil and tamari) served together with steak, just barely grilled and thinly sliced.Other specialties are BBQ'd mussels and shrimps (see below). The mussels can be BBQ'd as is and eaten with squeezed lemon. You can also precook them and grill them topped with garlic butter and breadcrumbs.
Grilled Spicy Shrimps
one lb un-shelled raw shrimps, small or medium
about ½ cup olive oil
juice from ½ a lime
fresh chili (what kind depends on how spicy you want the shrimps)
two cloves of garlic
plenty of cilantro
sea salt (seasoning)
Rinse the shrimps and let them dry. Mix together olive oil, lime juice and finely chopped cilantro, garlic & chili. Season with sea salt. Place all the shrimps on the grill on high temperature (but no flames). Turn the shrimps over to the other side when they have got some nice color (after about a minute). They are done when they are cooked through and they all have a nice pink color.
Drop the shrimps directly from the grill into the olive oil mixture. Stir around and serve immediately together with bread and salad.
This article was originally published at Honest Cooking, 27 August 2012
Before buying any fish check with Seafood Watch (US) for the most sustainable options.