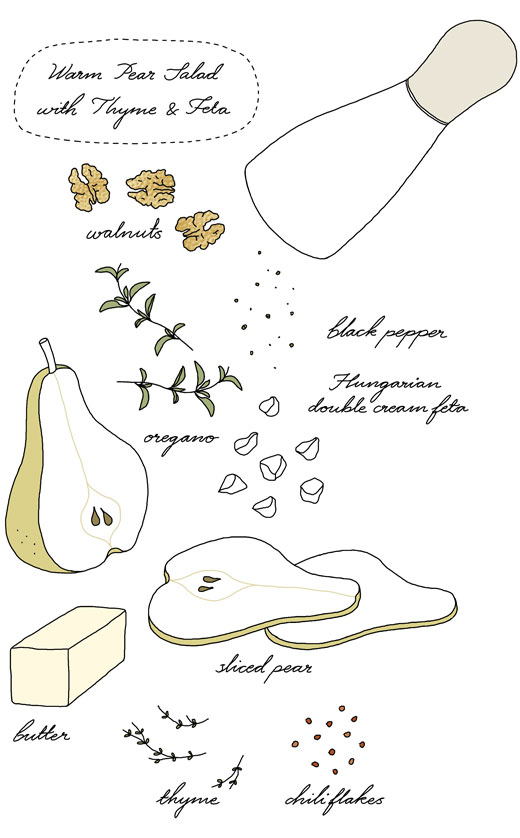 One of my current favorites is this warm pear salad that's inspired by Ilva Beretta & Jamie Schler's beautiful Winter Pear Salad. This is a warm salad with the fabulous combination of pears, blue cheese and walnuts. A combination that shouldn't really be changed in any way. But the other day, the blue cheese I thought I had, had miraculously been eaten by a mouse (or maybe it was M), so I needed to come up with a quick substitute. I must say, the Hungarian double cream feta I had on hand did a great stand-in job. Not the same, but excellent in another way.
Serve it as a starter or as I did, with hanger steak (medium rare) and a watercress salad.
Warm Pear Salad with Thyme & Feta
(for two)
Slice one pear thinly (about 1/8 inch, 3 mm) from top to the bottom. Saute on medium to low heat together with some ancho pepper flakes (or red pepper flakes) and thyme (dried or fresh) until nicely brown on both sides. Arrange pears neatly on a plate. Topp with creamy feta, toasted chopped walnuts and chopped fresh herbs (oregano or thyme). Sprinkle some freshly hand cranked black pepper over. Serve immediately.
Enjoy!
Pssst this illustrated recipe is available as an art print in my Society6 shop.
*
related links
get more of Ilva and Jamie's mouth watering stuff at Plated Stories
Minty Zucchini Salad – kokblog recipe
Chickpea Salad with Rosemary & Almonds – kokblog recipe
Spinach Salad with Warm Brown Butter Dressing – Sarah Crowder @ TheKitchn