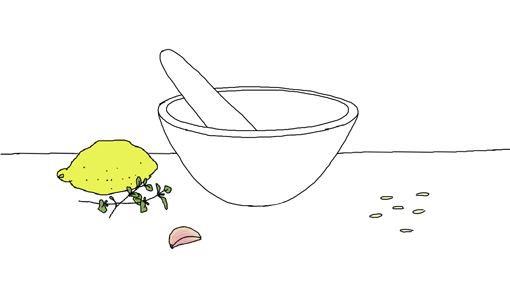 My favorite store has stopped selling tahini by the cup. Now I can only buy tahini in enormous and rather expensive containers. So I started to think it must be possible to make tahini yourself, as its just a sesame seed paste.
Sesame Paste – Tahini
50 ml  (¼ cup) sesame seeds
(a little water or mild olive oil)
Toast the sesame seeds until they start to pop in a skillet (the toasting gives the seeds a much richer taste). Pour them immediately into a mortar and start grinding (you can also use a food processor or even a coffee grinder). Add a dash of water or olive oil at the end to combine the mixture into a paste.  The paste can be stored in a sealed container in the fridge for a couple of weeks.
Tahini Sauce
eq. part raw tahini paste (see above)
eq. part cold water
some lemon or lime
garlic (pressed)
some parsley or oregano (optional)
salt
Slowly stir a little water at a time into the tahini.  At first the mixture will thicken, but it gets looser as you slowly add more water.  If you want a thicker tahini sauce, just use less water as described. Season w/ garlic lemon/lime juice, parsley and salt.
I serve the tahini sauce on sautéed spinach (or other green vegetables). More traditionally you have it with falafel but it works on salads and BBQed meat and vegetables as well.