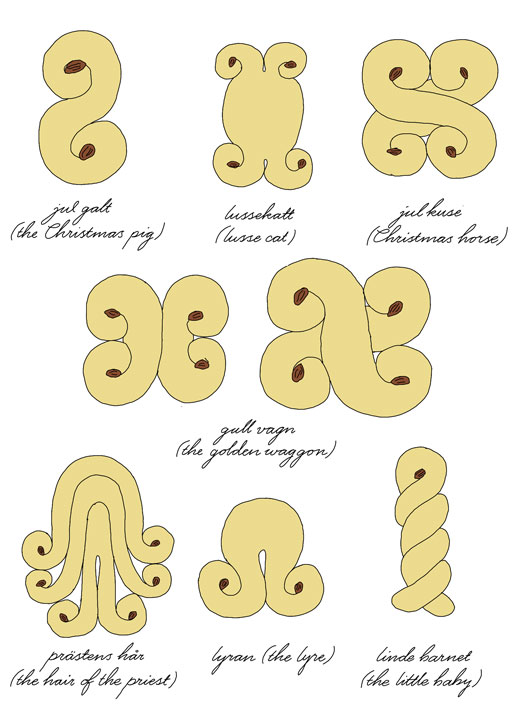 The 13th of December is the day when Swedes celebrate Saint Lucia by lighting up the darkness with candles and crowns on their heads. The Swedes also sing songs and eat funny shaped buns they call Lussebullar (Lussekatter, Saffron Buns). Even if Lucia's day has already passed, anytime is ok to bake and enjoy these saffron rich buns. Below is Anna Brones' recipe. Please read her Lucia article over at Foodie Underground (with more illustrations by me).
Saffransbullar – Saffron Buns
recipe by Anna Brones
1/8 teaspoon saffron
1/2 cup + 3 tablespoons butter
2 1/2 cups milk
2 tablespoons active dry yeast
1 teaspoon salt teaspoon salt
1 cup sugar
7 cups flour
1/4 cup currants
One egg + Currants for decoration
Crush saffron in a small bowl with a little bit of sugar. Melt butter in a small pot and add milk. Heat until warm (you should still be able to stick your finger in). Measure out yeast in a large bowl and mix in a couple tablespoons of the butter and milk mixture until the yeast dissolves. Mix in the rest of the milk and butter. Add in sugar and salt.
Add in almost all of the flour (you want to reserve some for rolling later) and mix and knead it together for about 10 minutes. Knead until the dough no longer sticks to the sides of the bowl. Dust a little flour on top of the dough, cover and let rise for 30-45 minutes.
Knead dough on floured surface. Roll into classic saffransbullar shapes. The most common is the "S" shape, but get creative. Place on a baking sheet with parchment paper or a nonstick baking mat. Cover with and let rise for 30 minutes. Decorate with currants (they traditionally go in the center of where the bun is rolled) and glaze with a beaten egg. Bake at 400 F for 8-10 minutes.