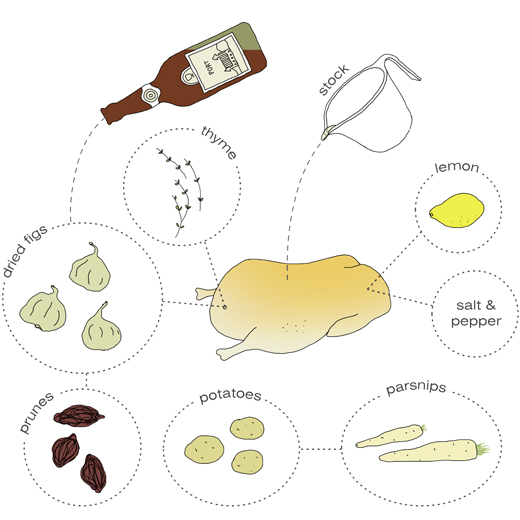 I will as I always do, cook duck for Thanksgiving. The reason is the fat. A duck may look slimmer but when cooked it rarely dries out, while a turkey that's leaner often does. To choose a leaner meat may be a good idea in general, but I definitively prefer something tastier for a holiday like this.
If you think the duck renders too much fat while baking, I suggest you spoon off the overflow for use in other treats. Potatoes fried in duck fat are heavenly and a duck fat omelet is marvelous. When done right duck fat stores really well.
I also recommend using all the parts that come with. The liver can be chopped up and sautéd with shallots, coriander and cumin. Seasoned with lime and cilantro and you have a perfect appetizer. The neck (head and feet) and rest of the giblets make a great base for a stock (see below). This week's recipe is my own creation, but I learnt the baking method from both my mother and Elizabeth David (French Provincial Cooking, 1960). Happy Thanksgiving.
Duck in Port
4 people
one duck (about 5lb/ 2.5 kg) free range/ wild/ organic
one lemon
2-3 teaspoons salt
pepper
fig and prune stuffing
10 prunes
10 dried figs
one cup (240 ml) port
thyme
under the duck
about 2 lb (almost a kilo) small potatoes, cut in wedges
4 parsnips, cut in wedges
some sprigs of thyme
salt & pepper
for the stock (will be used to baste the duck)
duck neck and giblets (head and feet if available)
one small onion, sliced
one small carrot, sliced
small piece of celery (or any other vegetable that you may have)
one cup (240 ml) white wine
5- 6 leaves of sage (or any other herb you have at hand)
6 black pepper corns
2 teaspoons salt
water
The day before: Cut the figs and prunes into small pieces and soak them with port overnight or at least for 6 hours.
About an hour before you roast the duck you need to prepare the stock. Take out the giblets and the neck from the duck. Sauté the different parts in a saucepan. When brown add the sliced onion, carrots and pour in the white wine. Let it bubble and reduce for a couple minutes. Add thyme, sage, pepper corns and salt. Cover with water and let simmer for about an hour. Taste and season with more salt if necessary.
Rinse the bird under running cold water. Rub the duck inside and out with lemon. Rub on some salt and pepper. Fill the duck with the fig and prune stuffing (reserve the remaining juice for the sauce below or add it to the stock)
Put the duck on its side on a rack in a roasting pan. After 30 minutes in the oven @345°F (175°C), turn the bird on the other side and pour ½ – one cup of warm stock over the bird (keep some for later if making a sauce). Let it cook for another 30 minutes.
In the mean time prepare the potatoes and parsnips. Place them in a bowl and sprinkle on some thyme,  salt & pepper. Toss well together with your hands.
Take the duck out and turn the bird facing up. Place the potatoes and parsnips at the bottom of the pan. Stir around a little so the potatoes and parsnips get well coated with the duck fat and stock. If there is too much liquid or fat jut take it aside for later use. Put the bird back into the oven and cook for about 45-60 minutes. The breast should be gorgeously brown and the legs loose. Take out the bird and let it rest for about 15-20 minutes before carving. The potatoes and parsnips should be ready about the same time but depending on the duck they may need less or longer to get ready. They should be soft inside and slightly crisp on top.
While the duck is resting you can make a simple sauce (optional) to go with the bird. Heat up some butter or some of the duck fat that you have set aside. Let a couple of the stuffed figs and prunes cook with it. Add some of the remaining stock and port juice. Let simmer for a bit before adding a little cream. Season with salt & pepper.
Other nice sides are: lingonberry or cranberry sauce, gherkins, string beans, Brussels sprouts and baked cabbage (check out my own recipe at the bottom of this post).
For more Thanksgiving articles see An Alternative Menu for Thanksgiving. 
This recipe works also with most poultry. Depending on the size of the bird, you will have to adjust the ingredients and the cooking time. I think this recipe works really well with chicken. 
Story and recipe was originally posted at EcoSalon on 10th November 2011.