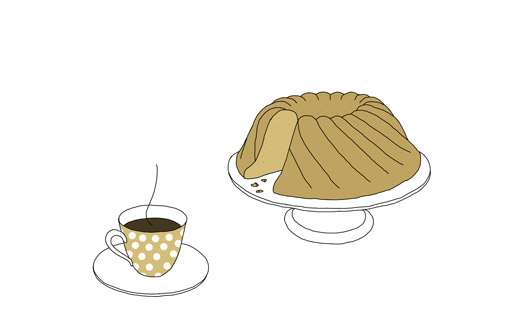 Despite different time zones, my book collaborator Anna Brones and I always find time to bake "together". And for our regular skype meetings we always treat ourselves with strong coffee and something sweet to nibble.  This week we are celebrating a little extra; Fika just got listed in Saveur Magazine's 100 cooks' edition list! (issue 171, January & February 2015). We wish you all a wonderful and sweet Holiday and a Happy New Year.
Julbak: The Art of Swedish Holiday Baking (With a Recipe for Ginger Spice Cake)
Text by Anna Brones
If there's one thing that's essential to a good December in Sweden, it's julbak. It might come as no surprise that "Christmas baking" is of the utmost importance in a country where December is cold and very dark month; what's better on a chilly winter day than a warm kitchen wafting of freshly baked gingersnaps? Not a whole lot. Well, except for a kitchen wafting of freshly baked gingersnaps AND a pot of glögg.
Holidays, no matter what they are and what culture they are celebrated in, are often linked to certain foods. The act of preparing a particular dish ties us to the tradition and the celebration. While we may find ourselves far from family, friends and the place that the tradition comes from, if we prepare a certain food, we are immediately transported back.
Julbak is this kind of tradition, and you'd be hard-pressed to find a Swede, whether they're living in Sweden or elsewhere, that isn't craving pepparkakor come the month of December.
While julbak can consist of a whole variety of baked goods, there are a few Swedish classics that are indicative of this time of year:
Pepparkakor – Swedish gingersnaps, rolled out thinly and cut into traditional shapes like hearts, pigs and adorable gingermen and gingerwomen. Ready to try pepparkakor? Here's a recipe.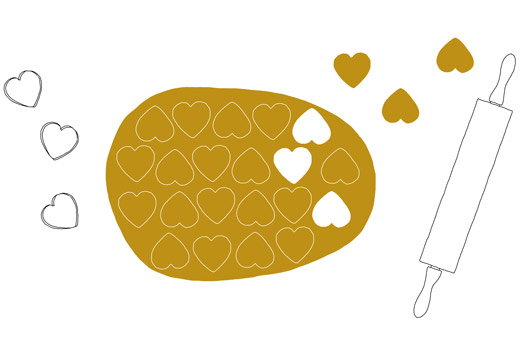 Lussekatter – Also known as lussebullar or saffransbullar, these are the beautiful sweet buns baked into a golden yellow. The color comes from the addition of saffron, and the buns are decorated with currants. They are commonly baked for St. Lucia day. Here's a recipe if you're feeling up for it.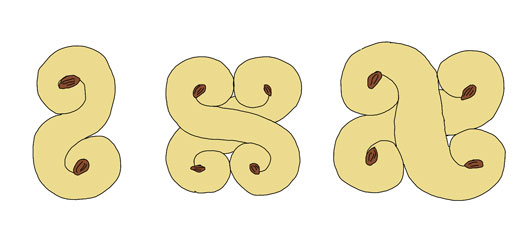 Glögg – While the Swedish mulled wine isn't a baked good, you can't eat all of the julbak treats without a nice mug of glögg to go with them. Here's a recipe to try.
Of course, the problem with both pepparkakor and lussekatter is that you need time to bake them, and not everyone always has it. But because the flavors are so iconic, in the modern Swedish baking world, you'll see saffron and the spices used pepparkakor incorporated in a variety of creative ways in other recipes, all helping you get the traditional flavors of December with a little less kitchen work.
Last December, Johanna and I were caught up testing all of our classic Christmas recipes for our book Fika: The Art of the Swedish Coffee Break – which is coming out in just a few months – so this year we thought it might be fun to do something a little different. In Sweden, the pepparkaka can take many forms. In our book for example we have the classic version as well as the softer ginger cookie, which the Swedes smartly call a lunchpepparkaka, because it's so dense you can in fact eat it for lunch. This recipe takes the form of a soft ginger cake, but still includes all the spices normally used in a traditional pepparkaka. The end result is a tasty gingersnap spice cake of sorts. Perfect with glögg or just a strong cup of coffee.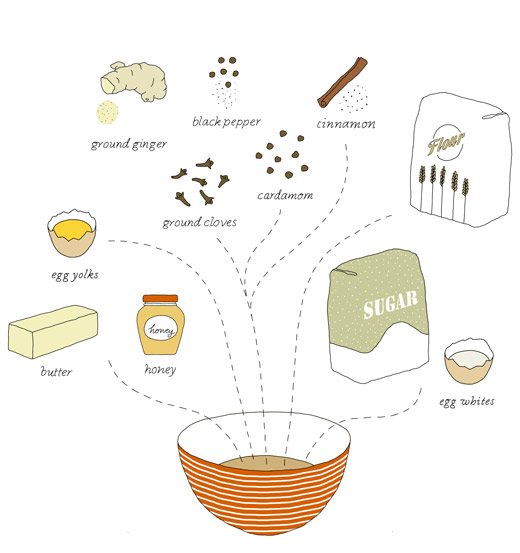 Anna & Johanna's Ginger Spice Cake
makes one 6-cup Bundt cake
10½ tablespoons (5¼ ounces, 148 grams) unsalted butter
3 egg yolks, room temperature
¼ cup (2½ ounces, 70 grams) honey
2 teaspoons whole cardamom seeds, crushed
2 teaspoons cinnamon
2 teaspoons ground ginger
1½ teaspoon ground cloves
3 tablespoon milk
¾ cup (3¾ ounces, 106 grams) all-purpose flour
3 egg whites, room temperature
¾  cup (5¼ ounces, 148 grams) natural cane sugar 
Preheat the oven to 350°F (175°C). Grease and flour the Bundt pan. 
In a bowl, cream together the butter with the honey until well blended. Add the egg yolks one by one followed by the milk and the spices. Mix the batter together.
Sift the flour, then stir it carefully into the batter, stirring as little as possible until you get an even and sticky batter. The batter is quite stiff but will get lighter in the next step. 
In a separate bowl, whisk the egg whites, ideally with an electric mixer. When soft peaks form, add the cane sugar little by little. Whisk until stiff peaks form. Carefully fold the sugar and egg white mixture into the batter and keep folding until the batter is evenly blended. Be careful not to overstir. Pour directly into the Bundt pan. 
Bake for 40 to 45 minutes. The cake is done when a knife or toothpick comes out clean when inserted at the thickest part of the cake. If the cake starts to get a golden brown color earlier (which can happen after 20 minutes), remove it from the oven, cover it with aluminum foil, and put back in the oven. This will prevent the top of the cake from burning. 
Remove the cake from the oven and let cool for a bit before inverting it onto a plate.
*
more by Anna Brones and me
ToscaKaka with Orange (recipe)
Kanelbullar (recipe)
Mazariner (recipe)
Semlor (recipe)
Amuse Bouche (illustrated food caption series, Foodie Underground 2012-2013)
Fika – The Art of The Swedish Coffee Break (about the book and where to pre-order)