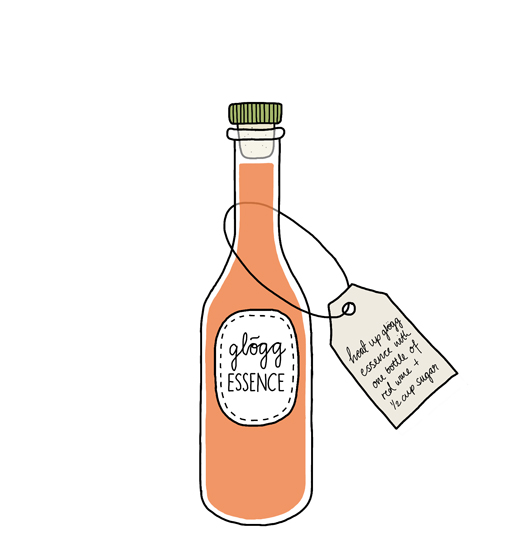 It's winter and a perfect time to warm up with glögg (Swedish mulled wine), pepparkakor (ginger cookies), and comforting lussekatter (saffron buns). My rum glögg, which is spiced with ginger, cinnamon, cardamom, cloves, and orange, can be enjoyed within a few hours. And if you bottle up the rum essence nicely, it makes a perfect gift together with a suitable red wine. This recipe gives you enough spiced rum for one bottle of red wine. But if needed, you can easily make several batches at once.
If you need some other ideas for holiday gifts, scroll down to see some of my suggestions.
Happy Holiday everyone!
Glögg Recipe
adapted from Fika: The Art of Swedish Coffee Break by Anna Brones & Johanna Kindvall
rum glögg essence
makes one 6 oz (175 ml) bottle (enough for one bottle of wine)
5 dried figs, cut in quarters
30 raisins
1 tablespoon orange zest
2 tablespoons chopped fresh ginger
3 cinnamon sticks
2 teaspoons whole cloves
5 whole green cardamom pods
3/4 cup (175 ml) rum
for the warming glögg
1 bottle (750 ml) red wine (Cabernet Sauvignon or Syrah)
1/2 cup (3.75 oz, 105 g) brown sugar
few handfuls of raisins & blanched almonds
Soak dried fruit, orange zest, ginger, cinnamon, cloves, and cardamom in the rum for at least 6 hours or overnight.
Strain the essence through a sieve to remove the fruit and spices. Figs can be eaten as is or saved to serve with the glögg. Bottle the essence or heat it up in a saucepan together with the wine and sugar. Stir until sugar is completely dissolve. Make sure the glögg doesn't boil.
Serve hot with blanched almonds and raisins (and figs). Unused essence can be stored for at least one month (but probably much longer).
*
gift guide ideas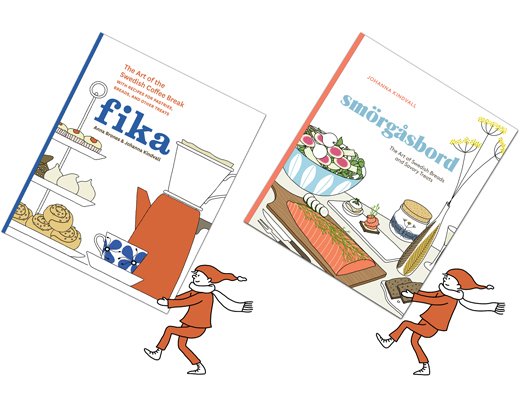 1.  something by me
Fika: The Art of Swedish Coffee Break
by Anna Brones & Johanna Kindvall, Ten Speed Press 2015
Smörgåsbord: The Art of Swedish Breads and Savory Treats
by Johanna Kindvall, Ten Speed Press 2017
Art Prints and Printed Products
illustrated by Johanna Kindvall
Pattern Design on Fabric
by Johanna Kindvall
Tea Towels
by Johanna Kindvall
*
2. gift a book (new and old)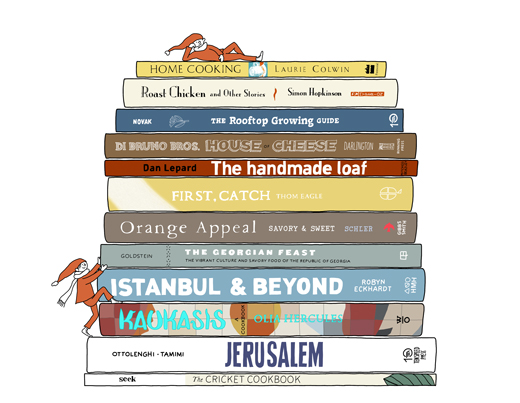 *
3. cooking related gift ideas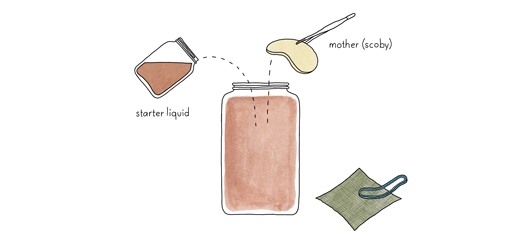 Cooking Class at Archestratus 
Greenpoint, Brooklyn
Cooking Class at COOK
Philadelphia
Beer Brewing Kits & Classes
at Bitter & Esters, Brooklyn
Live Sourdough Starter
by Breadtopia
Kombucha Starter Kit
by Kombucha Brooklyn
Wine Vinegar Making Kit
with a beautiful vase by Cult Vinegar (UK)
Live Vinegar
by Cult Vinegar (UK)
I especially love the Riesling, Moscatel, Sake, and Port Vinegar!
Swedish Cookies
by Unna Bakery
(with my pattern design on the package)
My favorites are the Ginger Snap and the Raspberry Cave Cookies.
Norwegian Knekkebrød
by Norwegian Baked (Brooklyn)
(I designed their label)
Animated Glögg recipe for my dear friend Alice Brax, 2017.
Music:  "Dance Of The Sugar Plum Fairies" by Tchaikovsky, played by Kevin Macleod